Zombie Apocalypse Slot Review

We recently got an email from Expanse Studios asking us if we would want to review one of their games. In truth, while we were aware of this provider, we could not name more than two of their games. The ones we had played before Expanse's team reaching out were Pia and Zombie Apocalypse.
No one should feel shame about not knowing this company, as we have rarely seen their games at the crypto casinos we have reviewed. They got up and running in the interactive gaming sphere in 2017, operating out of Malta, focusing primarily on slots, video poker, and table games. Zombie Apocalypse arrived at online casinos on the 19th of January 2023, and is not to be confused with Zombie aPOPalypse MultiPop by AvatarUX, which came out four months before it.
Theme & Design
By the name of this game, it is clear what one can expect to see inside it. Zombies, as a concept, originated from Haitian folklore, with this word chiefly referring to dead bodies reanimated through dark magic, such as voodoo. Though zombies in the modern form, as most know them now, and as they exist in current-day pop culture, got created, more-or-less, by filmmaker George A. Romero, who set the groundwork for the zombie movie horror genre with his 1968 classic, Night of the Living Dead. It was this movie from where many of the rules commonly associated with zombie lore stemmed, such as the plodding movements of these undead creations, their lust for human flesh, and the notion that they can only get killed by their brain getting destroyed.
We looked into Zombie slots, and to our shock, close to one hundred and twenty of these games exist, far more than what we would have predicted. The most famous ones at the time of writing are Zombie Carnival from Pragmatic Play, Granny vs. Zombies by Pear Fiction, and Relax Gaming's Zombie Circus.
We must say that the presentation of this Expanse Studios release took us a little by surprise. We saw this game when it came out. But we had forgotten how crisp it looked. The visuals here are painterly graphics that get smoothly paired with gif-like animations, a combination that gives this title a video game feel. The illustration style used in Zombie Apocalypse is not identical in every area of the game. The symbols here implement the Pragmatic Play cartoony look, while the backdrop has more of a cinematic feel.
Without question, this spinner has gotten heavily inspired by the Walking Dead franchise, and there is nothing wrong with that. Those shows/comics have millions of followers, so why not tap into that fanbase? However, we would have liked Expanse Studios to have put more effort into the audio side of things here instead of trying so hard to mimic the post-apocalyptic world of that franchise. The soundtrack feels like some atmospheric music from an early-2000s FPS PC video game, and the audio effects do not gel well with it.
You can find the spin functions in Zombie Apocalypse in the middle of the bottom screen buttons panel, with the bet adjuster left of them and the winning info to the right of this group of three spin options.
Specs & Gameplay
Zombie Apocalypse is a 5×3 slot with twenty paylines. It has a betting range that starts at $0.2 and finishes at $40. The RTP of this slot has gotten set at 96.01% for the base gameplay, and it improves to 97.01% in the bonus round. The variance here seems to be high, and the most you can win on this game is a prize worth x6,750.
Wins in Zombie Apocalypse form when you hit at least three matching symbols on adjacent reels on one of the twenty pre-defined paylines. The wild here is a green lab container. It substitutes all the pay tokens except for the hazard scatter. On each spin, wilds can have multipliers of x2 or x3, and these symbols only appear on the game's middle three reels.
The low-pay tokens in Zombie Apocalypse are 10-A royals, supplying rewards of x0.6 to x1.25 for combos of five identical ones landing on the same spin. Their premium counterparts are a zombie dog, a reinforced vehicle, and four characters, paying wins of x2.5 to x18.75 for five-of-a-kind combos.
Bonus Features
If the three bonus symbols/scatters stop in view, appearing only on the first, third, and fifth reel, you will get access to the free spin round, where nine to fifteen on-the-house reel rotations randomly get awarded before its commencement.
You can opt to gamble your winnings each time by pressing the gamble button, which will pop open a mini-game where you get to pick red or black, and depending on which color card comes up, you double your prize or lose it.
In specific jurisdictions, you have the option to boost the base game for a fee, which increases your odds of gaining entry into the free spins, and you can buy your way into this mode. A progressive jackpot is also in play, consisting of three different types of mega prizes, with each player spin contributing to this slot's accumulating reward pool.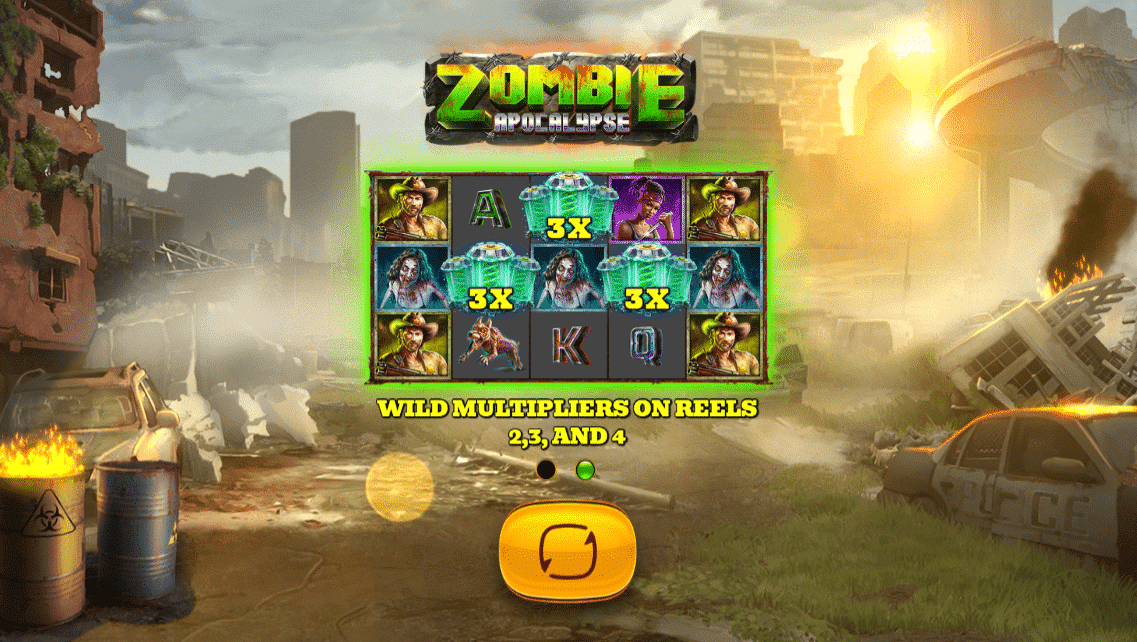 GOSU Verdict
Zombie Apocalypse looks nice, and we are always fans of gambling features. Aside from its surprisingly decent presentation, unfortunately, this spinner offers nothing exciting, particularly gameplay-wise. Its max exposure setting is Okay, and its RTP is slightly above-average. That said, it lacks bonus features, and the music/effects it has, do not do it any favors. It is a so-so game in our eyes, but nothing that we would recommend you go out of your way to seek out. The mentioned Granny vs. Zombies slot by Pear Fiction is a much better zombie-themed release in our eyes that is infinitely more playable.
Best Bitcoin Casinos with Zombie Apocalypose Slot