Best Decentraland Casinos – Crypto Casinos with Decentraland (MANA)
Decentraland is much more than cryptocurrency. It is a virtual world platform and one that facilitates the sale of NFTs (including clothing and accessories) in the virtual space. However, it also has its own cryptocurrency, MANA, that can be used to gamble online. Join us as we explain how it all works on this page. First, though, let's explore the types of casinos where you can use MANA to gamble online today.
Best Decentraland Casinos
What is Decentraland?

Decentraland (MANA)
Decentraland isn't a cryptocurrency – it is a digital environment, a virtual world, and a metaverse casino run by Decentral Games. Naturally, this allows you to play virtual online casino games from the metaverse, using NFTs but also Decentraland's own cryptocurrency, which is known as MANA.
MANA is an ERC-20 token that can be purchased and traded at an ample number of markets. Its value has suffered a fair bit since it debuted in 2017, but its uniqueness and practical application in the metaverse ensures that it is currently one of the top thirty cryptos currently being used in the world.
What Are Decentraland Casinos?
While the metaverse casino world is growing, it remains considerably small right now. Just a handful of sites currently use MANA and operate in the metaverse in general. Given this, we would actively consider any betting site that facilitates deposits and withdrawals using MANA to be a Decentraland Casino, although, technically, only Decentraland Casino itself could be argued to fit the bill here.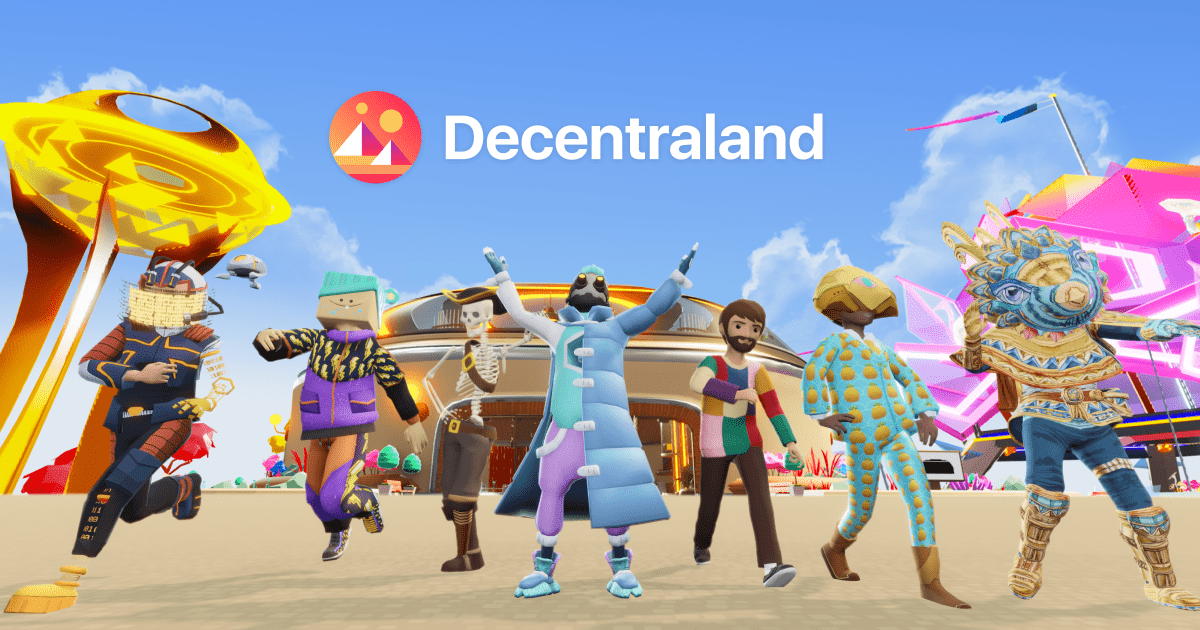 Playable Decentraland Casino Games
At present, around 6,000 people have gotten involved monthly at Decentraland casinos to gamble. That doesn't sound like a lot, but it is a decent chunk for an emerging cryptocurrency and virtual space (the metaverse). Once you're inside the metaverse and sites like Decentraland Casino, you can find in-house games that actively support stakes using MANA. However, these are not mainstream titles from the world's biggest software providers but homebrew games, so their authenticity and fairness are tricky to gauge. Such games include a handful of token slots and RNG table games, although this market is growing.
The Advantages of Playing with Decentraland at Crypto Casinos
We've taken a quick look at the advantages of playing with MANA in Decentraland and drawn the following conclusions:
Ideal for NFT Backing and Gambling
If you're interested in playing in metaverse casinos and gambling with NFTs overall, then MANA is the perfect option. It is custom-built for this type of experience and isn't ported like other, more mainstream cryptocurrencies.
Regularly Updated
MANA is a cryptocurrency that is constantly undergoing changes to make it better. It regularly receives upgrades to keep it up to date and new protocols to ensure that it remains safe.
The Disadvantages of Playing with Decentraland at Crypto Casinos
We identified some downsides to MANA, too, and these include:
There Isn't Much Content
Right now, there isn't much content to be found in the metaverse, especially when it comes to metaverse casino games. Therefore, you won't find too much to bet on with MANA in this environment.
Little Use Outside of the Metaverse
Because MANA is committed to Decentraland's virtual space and metaverse, it doesn't have too many practical uses outside of that scene. For instance, it is not a coin you'll find readily accepted at your average cryptocurrency casino.
How to Choose the Best Decentraland Casino
Here is everything you need to know about choosing the best Decentraland casino.
Ensure that your chosen metaverse casino operates in Decentraland's virtual space.
Check the array of games you can use MANA on – there may not be as many as you think.
Double check the fee associated with MANA deposits, as they can be high.
Find out if MANA is used to gamble or purchase NFTS in the digital space.
Some Dencentraland casinos use DAO and $DG, so be sure that yours doesn't.
Featured Decentraland Crypto Casinos
Here are some top metaverse casinos that currently accept Decentraland's cryptocurrency:
BC.Game
Start Playing at Decentraland Casinos Today
To get involved with Decentraland today, just follow these short steps:
Open a wallet at a leading crypto exchange, like FTX or Kraken.
Use your exchange (or others like KuCoin, Binance, or Crypto.com) to purchase MANA.
Many sites permit USDT to MANA trading, or you can buy MANA with a credit card.
Choose one of our recommended Decentraland casinos to play at.
Sign into your account and make your deposit using your wallet and the keys displayed on the site.
Conclusion
If you're actively seeking to bet in the metaverse and you want to head to Decentraland casinos, then MANA is your currency of choice. If not, and you just want to play at conventional crypto casinos, a standard option like BTC or ETH would suit you better.
Decentraland FAQs
Do all crypto casinos accept Decentraland?
No. In fact, most of the casinos that accept MANA are based in Decentraland's virtual space and the metaverse.
Can I play live dealer games with Decentraland?
At present, there aren't many of these games available, but that could change in the future.
Can I claim MANA online casino bonuses?
That is down to the casino in question, but we didn't see any when we were researching Decentraland.
Is it safe to wager with Decentraland?
Yes. MANA is constantly receiving upgrades and new protocols to make it safer.
Are MANA deposits free from fees?
No. Fees typically cost around 8.5 MANA, so it isn't the cheapest option out there.