Spaceman Crash Games Guide – Best Bitcoin Spaceman Crash Games
Crash gambling games, inspired by the Bustabit website, which markets itself as the original title in this genre, launched as MoneyPot in 2014, are a dime a dozen. They all work in a virtually identical manner. And in 2022, Pragmatic Play decided to enter this game category, introducing higher-end graphics and a 50% cashout option, similar to the one in Evolution's Cash or Crash.
What Are Spaceman Crash Games?
They are dominantly third-party crash games with more advanced visuals than their proprietary crash counterparts. And they may have some bonus features on hand. Essentially, Spaceman, and crash titles, in general, seek to capitalize on a phenomenon called – the fear of missing out. Each round in every entry in this genre starts with a multiplier growing, which can crash at any moment, arbitrarily decided by an RNG. It is your task as the player to hold on to as long your intuition tells you it is okay to do so before sensing that it is time to bail. If you do so successfully, you will grab the on-screen multiplier, which will then get applied to your stake. If the multiplier crashes before you opt to cashout, you will lose your wager.
As mentioned, the primary attribute of Spaceman crash games is their main character, often a small human wearing an astronaut suit. Though, this description is not always valid.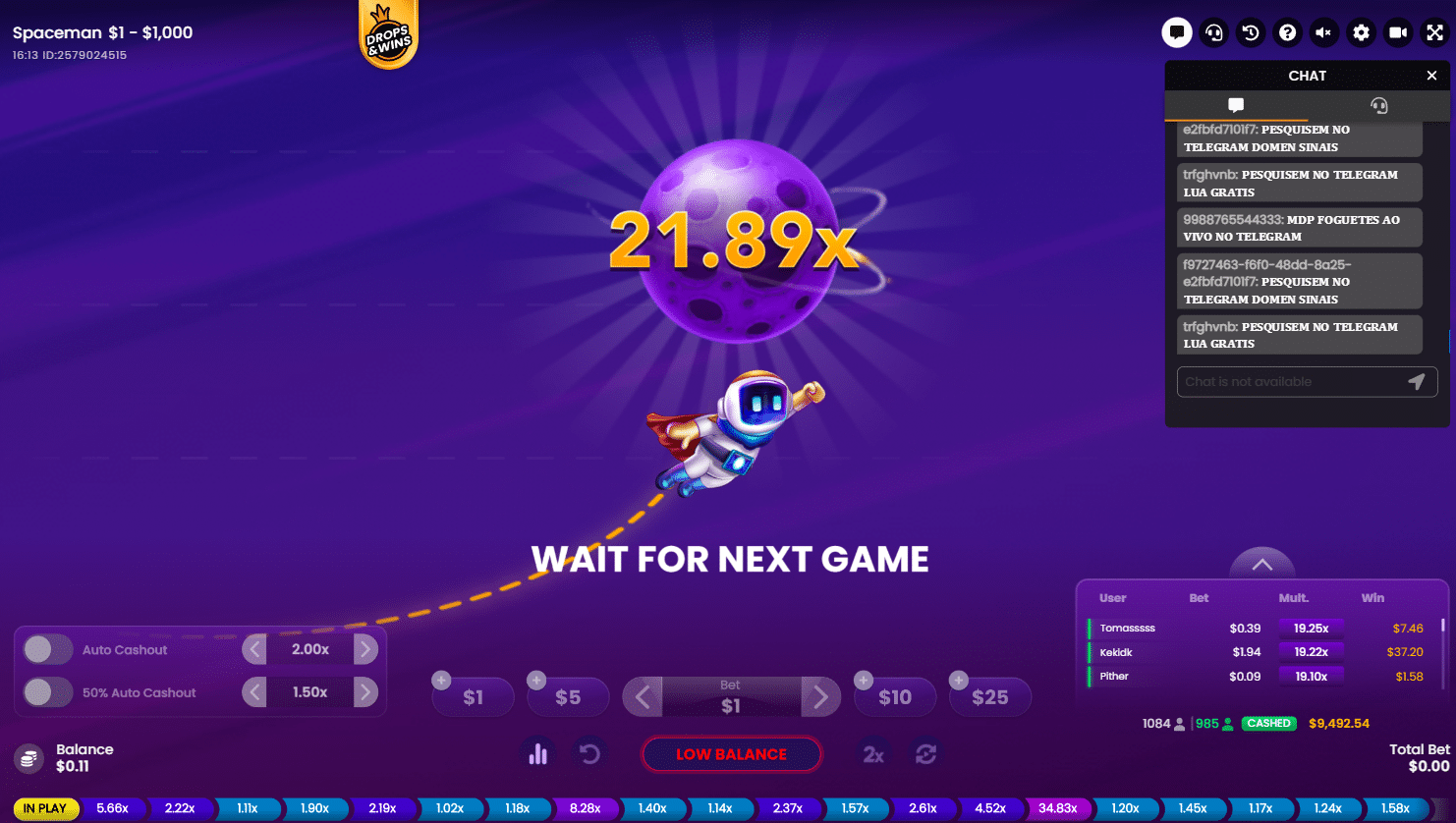 Our Top Recommended Spaceman Crash Games
Our five favorite ones are:
Spaceman by Pragmatic Play
Magnify Man from Fugaso
Space Cowboy from Nocturne Studios
Arcadem's Rocketman
The latter can also get called a rocket crash game, but aside from a rocket, it prominently features an astronaut/spaceman. The same applies to the two cited FunFair AstroBoomers titles and Arcadem's Rocketman, which can also get placed in both categories.
How We Pick the Best Spaceman Crash Games
We use the same evaluation standards as we do when apprising crash games from other categories. They are:
High maximum winning potential.
Above-average RTP.
Low variance.
Bonus gameplay options.
Group chat.
Plus, given the high bar that Pragmatic Play's Spaceman set, the visual appeal here plays a more important role in the game selection of titles from this batch. That is so because the expectations are high, as all the products from this sub-genre will inevitably get compared to Pragmatic Play's release.
Which Crypto Casino Has the Best Bonuses for Playing Spaceman Crash Games?
From what we could tell when writing this page, that honor got bestowed on BC.Game, Stake, Metaspins, and WOLF.BET. All of these are high-quality crypto casino platforms that supply sizeable sign-up deals and above-average promos for existing users. So, be sure to check them out.
Which Spaceman Game Has the Best/Highest RTP?
We do not remember running into a Spaceman-themed proprietary crypto crash game. But, if there is one, that would likely supply the best winning probability, as most provably fair picks have house edges in the 1% to 3%-range. From the list of third-party titles we rattled off above, Space XY has an RTP of 97%. That is if you would choose to rank it as a Spaceman game. If not, then Pragmatic Play's Spaceman is the next best choice, RTP-wise, with a default return-to-player setting of 96.5%.
Can You Play Spaceman Games with Different Crypto Coins?
Without question, yes. Every virtual currency your chosen crypto casino accepts can get staked on any of the Spaceman crash games it houses.
How Does the Gameplay Work with Spaceman Crash Games?
Cashout before the Spaceman crashes and burns to win a prize.
How to Play
You have several seconds to set your stake before the spaceman takes flight. When he does, he can fall/explode to his demise at any point. No one can predict when this will happen. Clicking cashout before that occurrence will win you a reward, your bet multiplied by the value on screen at the moment of the cashout.
How to Bet
Below the spaceman, or game graph, there should be a betting panel where you can choose your stake size by pressing arrows or plus/minus icons or selecting one of several fixed amounts. You then must confirm your wager and wait for the round to start.
What Are the Key Features of Spaceman Crash Games?
A mini-human with an oversized helmet (or any that can fly) is the main feature, followed by the classic Bustabit-like gameplay, high max bets, and a 50% cashout option in many instances.
Do Any Strategies Work with Spaceman Crash to Increase Winning Chances?
Not really. You could try the standard progressive (negative/positive) betting pattern. These systems should work with around the same degree of success as they do on games like roulette. We would recommend always cashing out before the multiplier reaches x1.3. Yes, this wouldn't lead to modest profits, but slow and steady wins the race, in our opinion.
Why Is Spaceman Crash Better Compared to Other Crash Games?
In terms of coin-winning potential, Spaceman crash games are, as a rule of thumb, not better than site-specific provably fair ones because proprietary picks have lower house edges/higher RTPs than third-party products. They are better in that they look nicer and are more dynamic to play. So, there is that.
Do Spaceman Crash Games Perform Well on Mobile Phones?
Yes, 100%. You should have no problem enjoying Spaceman crash games on your smartphone. Most of these titles occupy two to three times less memory on servers than lower-end slots. Thus, they should play smoothly on all devices if you have a decent internet connection.
Are All Spaceman Games Provably Fair?
Third-party products are generally not. But, their fairness likely gets periodically checked by independent testing agencies like iTech Labs and TST if you are playing at a licensed crypto casino. If you find a proprietary Spaceman crash game, then that one will probably have an option for you to check the fairness of your round outcomes yourself.
Can You Play Any Spaceman Games for Free?
In most cases, yes. That should not be an issue. Most operators these days permit demo play and may even do so on their collection of provably fair gaming гoptions.
Video of Spaceman Gameplay
Summary
If you like crypto crash gambling but hate the rudimentary visuals most additions to this genre have, then Spaceman crash games are the thing for you. We cannot think of a better-looking crash gaming product than Pragmatic Play's Spaceman, and the same goes for FunFair's AstroBoomers series. Moreover, the win potential in some of these games is on par with higher-level slots at more than acceptable RTP levels. Consequently, if that sounds enticing, check them out at one of our highlighted crypto-gambling hubs.