Keep Your Eyes Peeled on Eyecon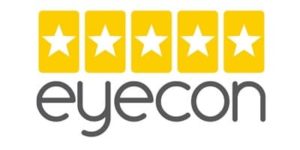 Eyecon is a developer you may already be familiar with if you've tried gambling with FIAT currencies at UK bingo sites. The software provider has a major presence in that sector. It continues to be important to the UK internet gambling sector (including casinos) overall, though. However, in recent times, Eyecon has also branched out into cryptocurrency gambling.
Right now, we're going to look closer at Eyecon and see what this Australian software developer can offer bettors at Bitcoin casinos and crypto sites. First, let's look at a few of these top domains.
Join Our Top Eyecon Crypto Casinos
Eyecon Comes from a Land Down Under
Eyecon was originally founded in 1997 and had its origins in Australia. Like most Aussie casino software providers, Australia's gambling laws ensure that the homegrown company must cater to players based elsewhere. With so many internet casinos and crypto casinos catering to the masses, though, this has never been a problem for Eyecon. As explained, it has found a huge audience in the UK, for instance.
What we would note about Eyecon is that this is a casino software provider that hasn't grown much since its foundation. Moreover, Eyecon doesn't seem overly interested in expanding its business and becoming one of the bigger players in the market. They may be a reason for this. In 2017, Eyecon was acquired by Playtech for £50m (a modest sum in this market). As Eyecon operates under Playtech's banner and all their games appear at Playtech sites, there is no reason for Eyecon to have to push itself to expand. Eyecon seems content to continue as it is.
Eyecon's Most Notable Features
Playtech does not interfere with Eyecon's game development department, although it does fund it. This means that Eyecon is relatively free to develop all manner of slots without having to worry too much about costs. This has seen quite a few systems developed, with these mechanics not necessarily available in titles from other providers.
For instance, you can expect to see the Cootha system present in some games, particularly Eyecon's branded slots. You may also find the FIRE system available in progressive jackpot slots developed by Eyecon. Eyecon has also done a bit of work in the live casino game department for its parent company (Playtech), allowing them to get a slice of this lucrative market, too.
While some Playtech games are not yet available for a cryptocurrency audience, the company is far less concerned about Eyecon slots. As a result, Bitcoin bettors are likely to find a decent chunk of Eyecon games available at their favourite online casinos. Many of those crypto casinos can be found here on this page.
Eyecon's Top Crypto Casino Games
Eyecon games tend to be designed in a classic manner. You shouldn't expect to see too much in the way of inventive features, although some game mechanics (as mentioned above) are exclusive to Eyecon slots.
Most Eyecon games feature five reels and twenty-five lines. Moreover, they tend to have straightforward free spin bonus rounds, click and win features, and a dated, retro feel to their graphics and animations. However, Eyecon games offer value for money, are suitably cheap to play and can yield decent prizes. Most tend to be low to medium variance affairs and have fair RTP rates.
Eyecon games can often be played for free or with real crypto stakes. If you pop into any casino offering Playtech software, you'll usually find Eyecon slots (and those from Ash Gaming) to boot. What will you play, though? While you are free to test drive Eyecon's slot in the free-to-play demo mode, we'd recommend having a crack at their biggest slot releases. These games include:
Sugar Train
Enchanted Prince
Shaman's Dream
Irish Luck
Fluffy Favourites
Eyecon FAQs
Before you start playing Eyecon games, be sure to check out this brief FAQ guide to ensure that you haven't missed anything.
What Are Eyecon's Most Popular Bitcoin Slots?
Eyecon has several popular slots, including those listed above. However, there is one clear favorite and stand-out game that deserves a special mention. Fluffy Favourites, Fluffy Jackpots, and their sequels and spin-offs are clearly some of the most popular titles in the entire Eyecon catalog.
Can I Play Table Games from This Provider?
Yes and no. Eyecon hasn't really developed a fully-fledged array of table games. You shouldn't expect to see RNG (random number generator) table games or live casino games in any great number from this developer. However, Eyecon has assisted its parent company, Playtech, in its development of these games. You could argue that this should count.
Is Eyecon a Fair and Safe Crypto Casino Software Provider?
Unquestionably so. Eyecon has acquired a host of licenses (some through Playtech). Its games are RNG certified and regulated to ensure fair play. The RTP rates in these games are fair. Some do dip below the 95% mark, but most don't. We find Eyecon slots to be affordable, crypto-friendly, and generally fair. Of course, you don't have to take our word for it – you can play them for free at crypto casinos and see for yourself.