Line Graph Crash Games Guide – Best Bitcoin Line Graph Crash Games
Bustabit is a gambling site that appeared online in 2014. It offered a simple and fast-paced game that permitted gamblers to wager on a growing multiplier value, with the objective being that they must opt out of their round before it randomly crashes to win a prize. Little did anyone know that this rudimentary, visually unstimulating game would create an interactive gaming genre that would act as one of the foundations of crypto gambling, particularly of the provably fair kind.
What Are Line Graph Crash Games?
They are crash gambling games where the visual presentation consists only of a line graph. Hence, all players see is an x-axis and y-axis, boasting respective variables or units of measurement. Such a graph may also have a title or legend that explains its specific datasets or lines, and it will usually feature gridlines to aid players in reading its values correctly.
Moreover, the rising multiplier in these games gets represented by nothing more than a line/arrow. Thus, no rocket, plane, or small space-man is flying through the air in them, just a line/arrow hurdling diagonally through the graph. We should not make a distinction between site-specific and third-party line graph crash games. The second type may surprise some, given the simplicity of the genre. But yes, those kinds of games are a thing as well.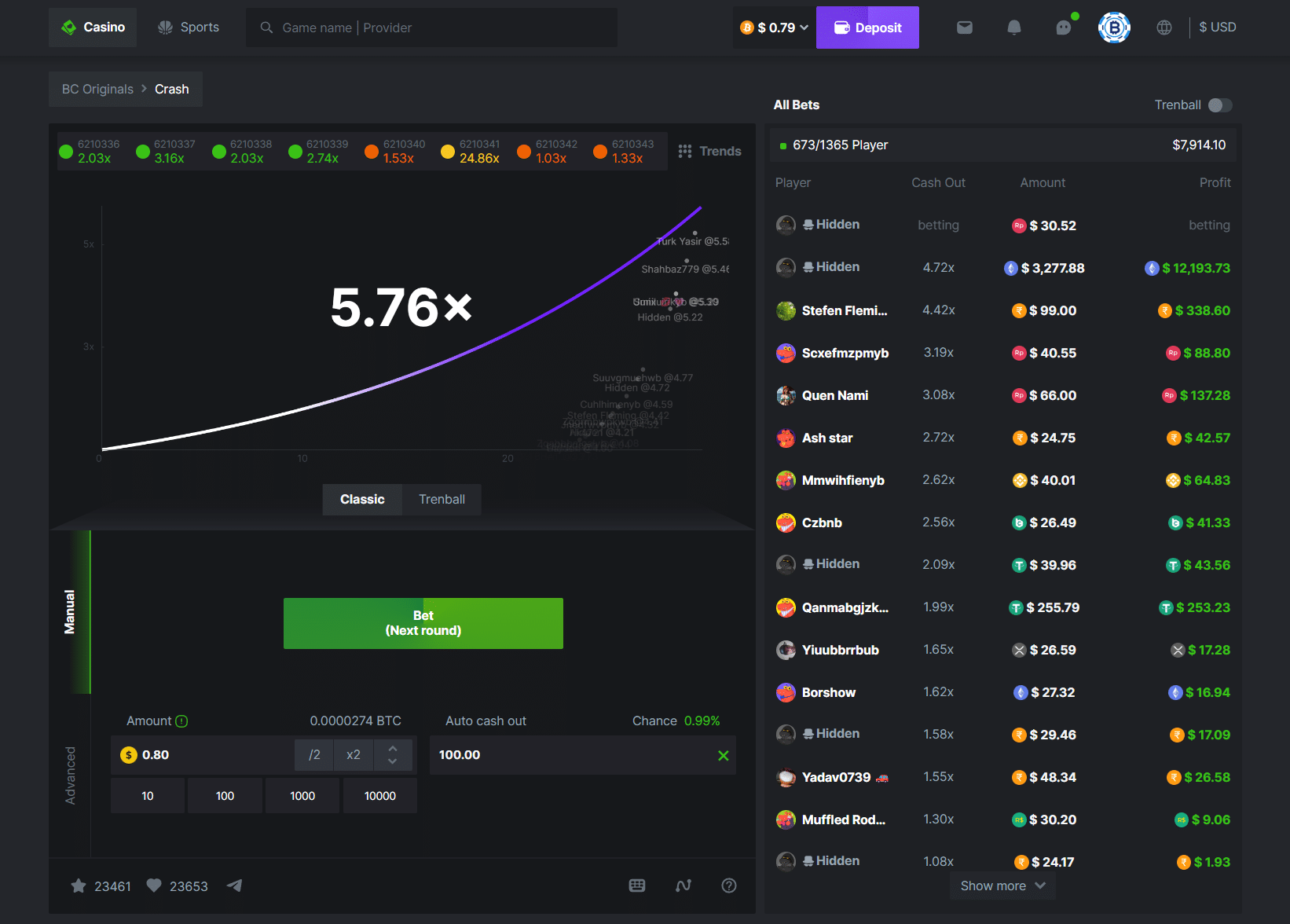 Our Top Recommended Line Graph Crash Games
The offer of line graph crash games online is pretty decent. Our five favorite ones are:
Lucky Crumbling by Evoplay
TrustDice's Crash Gambling Game
Weekend Binary from Candle Bets
The last one is a bit of a cheat, as it attempts to mimic a stock market tracking app, and presentation-wise, it is a bit more complex than your traditional line graph game, but we think it still qualifies as one.
How We Pick the Best Line Graph Crash Games
When selecting line graph/Bustabit crash products that we recommend to our readers. We consider several evaluation criteria as the most vital. They are:
Win potential.
House edge.
Starting multiplier.
Chat functions.
Game speed.
Manual fairness checking.
Naturally, the odds in play are our primary selection factor, preferring titles with house advantages that range from 1% to 3%. Since line graph games do not rely on fancy presentation, a low house edge is, without a doubt, the main criterion we look to when analyzing these games.
Which Crypto Casino Has the Best Bonuses for Playing Line Graph Crash Games?
The site-specific provably fair games mentioned above offer some decent deals. Especially BC.Game, which has a reputation for delivering stunning welcome packages and promo deals for existing players, such as rakeback and recharge bonuses. TrustDice also usually offers a mouth-watering sign-up promotion, and Stake traditionally likes to focus on offers for their current player pool.
Which Line Graph Game Has the Best/Highest RTP?
Of course, proprietary picks will have the best RTPs. For example, Stake's crash game has a house edge of only 1%, meaning an RTP of 99%. That said. The mentioned Weekend Binary from provider Candle Bets lists a comparable RTP of 98.65%. So, it is a choice worth considering, especially for those who crave a bit more visual flair from their line graph gambling sessions.
Can You Play Line Graph Games with Different Crypto Coins?
Yes. That should not be an issue at all. Any site that houses a line-graph crypto crash game will let you bet on it using all the cryptos it accepts for depositing.
How Does the Gameplay Work with Line Graph Crash Games?
It is virtually identical to every other interactive gaming option incorporating the Bustabit/crash mechanic.
How to Play
You have a designated amount of time to join a gambling session. And if you do, your job is to bail out of the round before the growing multiplier crash, taking the value presented on screen and multiplying your bet using it. If you do not do this, and the multiplier crashes, in that case, you will lose your wagered sum.
How to Bet
You do that by fiddling with the bet adjuster, bringing it to your desired amount by pressing plus and minus icons, selecting a sum from a presented range, or inputting it manually.
What Are the Key Features of Line Graph Crash Games?
Elementary gameplay and presentation create a simplistic gaming experience featuring a low house edge.
Do Any Strategies Work with Line Graph Crash to Increase Winning Chances?
It is vital to understand that, like in all gambling games, line crash gaming is super unpredictable, and outcomes get based entirely on chance. Realistically, you cannot do anything to affect the results in game sessions. Still, some players like to implement various strategies on Bustabit/crash gameplay that they use in other gambling games. Some of the more established choices that get put to use on products from this genre include cashing out early, using a fixed percentage tactic (wagering a fixed percentage of one total bankroll on each bet), and putting to use various progressive systems like the Martingale and the Paroli.
Why Is Line Graph Crash Better Compared to Other Crash Games?
It is not. It is the same. Picking games that implement this theme is only a matter of preference, nothing more. The only benefit they have is that most of them, on average, have lower house edges than their competitors, owing to their simple nature.
Do Line Graph Crash Games Perform Well on Mobile Phones?
Yes, they do. They should run smoothly on all types of devices.
Are All Line Graph Games Provably Fair?
The site-specific ones, like those up on Stake and BC.Game, yes. The third-party ones we discussed above are not, but independent fairness auditors are likely to check their randomness at most crypto gambling sites.
Can You Play Any Line Graph Games for Free?
That depends on the chosen platform. But, in most cases, this is a possibility for both provably fair picks and provider ones. Though, do not get surprised if a crypto casino tells you that you have insufficient funds to play if you try to demo-play one of these games upon signing up at even some of our listed hubs.
Video of Line Graph Gameplay
Summary
For lovers of super simple gaming and for hardcore crypto fanatics who remember the buzz Bustabit created upon its launch in the crypto gambling sphere, line graph crash games are the ideal choice for gaming fun. They are rudimentary products where you click play and let your intuition advise you when to cash out. Provably fair choices are undoubtedly the best option from this batch, but playing Weekend Binary from Candle Bets is not a bad option either. Accordingly, consider it a potential pace change when enjoying TrustDice's, Stake's, or BC.Game's crash games.