Ball and Cricket Crash Games Guide – Best Bitcoin Ball and Cricket Crash Games
The online gambling sector, for more than a decade and a half, game-wise, hardly changed, with slots and RNG tables dominating the internet gaming landscape. However, at the start of the 2010s, Bitcoin casinos popped up, and three years later, Bustabit launched the first crypto crash game, creating a novel genre that would act as one of the foundations of the crypto betting sphere. Developed by a man known as Ryan, Bustabit's super simple game mechanic quickly got copied by loads of gambling sites featuring provably fair gaming.
What Are Ball and Cricket Crash Games?
They are typical crash games where the growing multiplier gets represented as a soaring ball. In most cases, the gameplay revolves around a simple yet thrilling concept. You bet on a multiplier whose value starts at x1 and increases with every passing second. The goal here is to cash out before the multiplier crashes.
Know that the multiplier can rise significantly. Yet it will eventually fall x0 at some point, resulting in a loss for you if you happen not to bail out in time. Hence, the challenge lies in predicting the optimal cash-out timing. That means balancing the risk of losing your stake with the desire for a higher prize.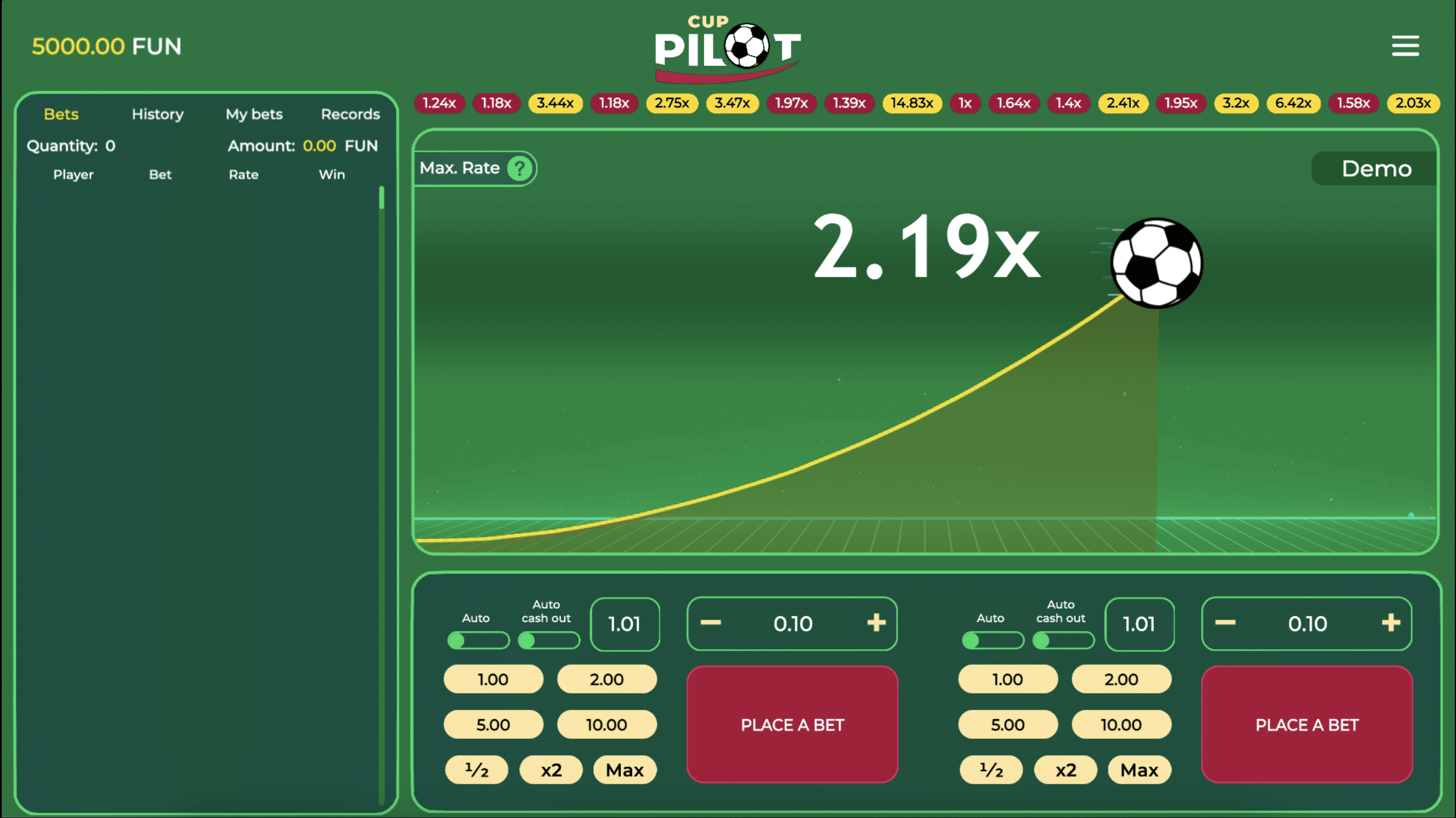 Our Top Recommended Ball and Cricket Crash Games
There are not loads of ball or cricket crash games, but enough are around to create a list of our five favorites. They are:
Cricket Crash by Onlyplay.
Odd Ball from Pascal Gaming.
Smartsoft's Cricket X.
Punt by FlipLuck.
Pilot Cup by Gamzix.
The last mentioned one, Pilot Cup, has the most traditional charm of this batch. In our eyes, the best from this group of five is Onlyplay's Cricket Crash. We believe it has the most flair, and on top of that, there's also a progressive jackpot here. That said, Cricket X is also not a bad choice, listing enticing odds.
How We Pick the Best Ball and Cricket Crash Games
When creating a selection of ball and cricket crash games we recommend to our readers, we look that they offer:
Above-average payouts.
Decent winning potential.
OK presentations.
A simpler user interface.
Varied betting functions.
Social features.
The latter option is rarely available in third-party games and is predominantly something found in site-specific crash gaming products.
Which Crypto Casino Has the Best Bonuses for Playing Ball and Cricket Crash Games?
It is somewhat difficult to advise on the best crypto casinos that host ball and cricket crash games, meaning the ones with the most lucrative promotions, as gambling platforms regularly change their promo offers. Still, at the time of writing, the most attractive such hubs were Metaspins, BC.Game, Bitstarz, and Stake.com. All of these websites house one or more ball and cricket crash games.
Which Ball and Cricket Game Has the Best/Highest RTP?
Based on our research, that would be Cricket X from Smartsoft Gaming, as its RTP can reach up to 98.8%, comparable to most proprietary crypto crash provably fair options, which usually list a house edge of 1% to 3%.
Can You Play Ball and Cricket Games with Different Crypto Coins?
We foresee no problem in this department. Any gambling platform housing ball and cricket crash games should allow you to play them using any of the cryptos they permit for depositing.
How Does the Gameplay Work with Ball and Cricket Crash Games?
It's the tried and tested method that millions know and love.
How to Play
Instead of a graph or line, a ball, a cricket one, or otherwise gets used to represent the game's multiplier. It gets hit in some way so that its initial trajectory gets established. From that point onwards, it begins to rise, with a multiplier value increasing alongside it. You wager that you will pull out of the round before the ball crashes, and if your gut is correct, you win a prize, claiming the displayed multiplier at that time. The longer the gameplay goes on, the higher the reward supplied becomes.
How to Bet
After you create an account with your desired platform and deposit funds in your balance, you must open the ball and cricket crash game that tickles your fancy, determine the sum you wish to bet, and select your preferred bet size using the in-game bet adjuster and press play. Note that each title will have minimum and maximum bet limits.
What Are the Key Features of Ball and Cricket Crash Games?
They are a ball, simple gameplay, attractive winning odds, and an acceptable max prize.
Do Any Strategies Work with Ball and Cricket Crash to Increase Winning Chances?
Not really. That may not be what you want to hear. But it is the truth. As in any crypto crash game, the safest approach is to bail out as early as possible and remain satisfied with low-amount prizes. Conversely, you could try progressive betting patterns on these products, but we would not recommend that.
Why Is Ball and Cricket Crash Better Compared to Other Crash Games?
There is not much difference, as they should play the same. Nonetheless, since most additions to this sub-category are from third-party game suppliers, expect them to be more visually stimulating than classic crypto crash games.
Do Ball and Cricket Crash Games Perform Well on Mobile Phones?
Yes. In most cases, they have rudimentary graphics and elementary gameplay to match. So, they can run with minimal processing speed used on any device type, even smartwatches.
Are All Ball and Cricket Games Provably Fair?
The third-party ones seldom are, but virtually all of the site-specific games should be.
Can You Play Any Ball and Cricket Games for Free?
It depends on the site. In our experience, we would say that around 80% of crypto-gambling hubs on the internet nowadays allow demo play. However, do not get surprised if you try to use this option on some platforms and get met with a message telling you that you have insufficient funds to play if you have not deposited any.
Video of Ball and Cricket Gameplay
Summary
Playing ball and cricket crash games delivers an exhilarating experience packed with anticipation and risk. Like most Bustabit-like gaming products, the ones in this sub-category also create a thrilling atmosphere where timing is crucial. The excitement lies in predicting the perfect moment to cash out, maximizing potential rewards. Hence, take part in these games and embrace the adrenaline rush of making split-second decisions regarding how high a ball will travel. Join the fun at one of your highlighted sites to test your instincts and see if you can conquer the crash!