Dragon Crash Games Guide – Best Bitcoin Dragon Crash Games
For many online casino newbies, crash gambling is an entirely new concept. Yet, for those who have spent some time in this sphere, betting using digital coins, this is one of the most established forms of provably fair gaming out there, one that has existed for almost a decade. Its gameplay revolves around an object, over time, accumulating a bet multiplier that can crash at any time. Hence the name of this gambling genre.
What Are Dragon Crash Games?
These are standard crash games but with a dragon twist. Now, it is pivotal for everyone to note that all the titles that get grouped in this category do not feature dragons. Some have an Asian motif and only boast the word dragon in their name. However, they do not actually feature giant fire-breathing serpents. Since the offer of dragon crash gaming products is not robust, these get piled in with the ones that have these famous mythological beasts as part of their presentation.
Dragon crash games work as any other. The goal in them is to cashout before the rising multiplier crashes, which can happen at any point, randomly. Third-party options will have a defined max multiplier limit, while proprietary ones may not.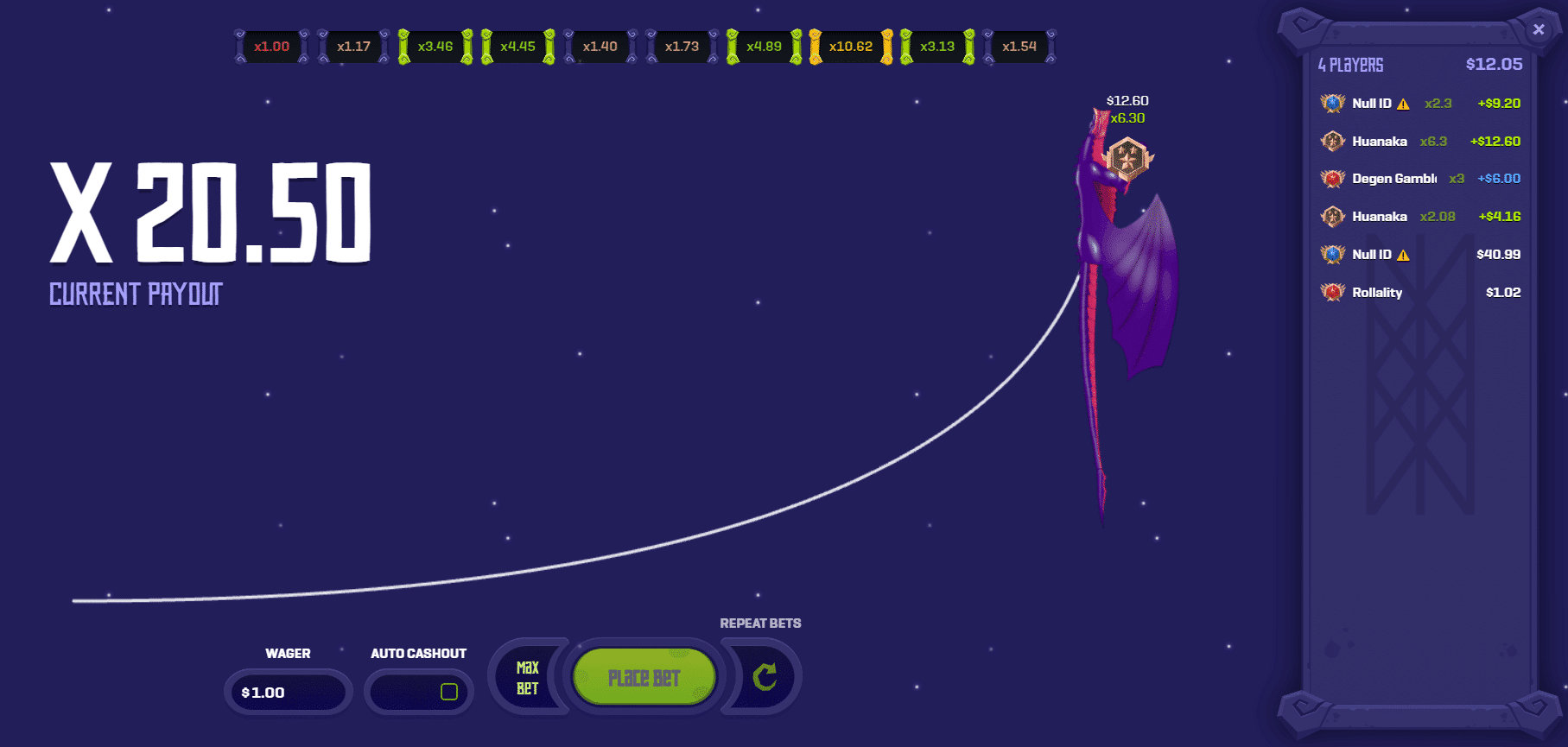 Our Top Recommended Dragon Crash Games
Without argument, X-Crash, also known as Dragon Crash, is the most renowned dragon-themed crash game in the crypto casino industry. It is a provably fair title found at Rollbit (a proprietary pick) with an RTP of 95% and a payout multiplier that can go up to one million. It boasts flat Web-like graphics and a massive winged creature that is awfully similar to the ones seen in the Game of Thrones series.
Other notable entries in the Dragon class are Dragon Fight from Manna Play and Dragon or Crash by Dragoon Soft. Though in these, the rising multiplier gets represented by a rocket and a fish, respectively. Not a dragon-like in Rolbit's game.
How We Pick the Best Dragon Crash Games
We primarily look for:
Substantial max reward potential.
Low house edge/high RTP.
Engaging visuals.
Low volatility.
Potential bonus modes and perks.
Most crash games are rather basic. So, in our eyes, something that brings a sense of novelty should always get highlighted and rise to the top of the table. But, the listed criteria above are the main things we hope a dragon crash game will have.
Which Crypto Casino Has the Best Bonuses for Playing Dragon Crash Games?
We suggest checking out our Best Bitcoin Crash Games page for a table of BTCGOSU rankings of crypto gambling sites that house crash games in a dedicated table, where their welcome packages get listed. That should provide a simple and clear rundown of all the crash game-carrying platforms and their registration promos. Naturally, not all of these will feature dragon crash titles. So, it is up to you to see if one's that tickle your fancy do or not.
We cannot supply an ever-green shortlist of hubs with the most lucrative sign-up promos that also host dragon games, as operators frequently change their promotional offers. The same goes for which games they house since they often abruptly stop working with specific providers and add new ones at a whim.
Which Dragon Game Has the Best/Highest RTP?
Manna Play's Dragon Fight has an RTP of 95% to 97%. The precise percentage depends on how one chooses to play this game. And based on our experience with this sub-genre, Dragon Fight is the best dragon-themed crash gambling choice regarding winning odds supplied.
Can You Play Dragon Games with Different Crypto Coins?
Yes. If a crypto casino lists a wide range of digital coins for deposits and withdrawals, all of these should be available to get staked on any of its hosted gaming products, dragon crash games included.
How Does the Gameplay Work with Dragon Crash Games?
Dragon crash games, and all interactive gaming options implementing the crash/Bustabit mechanic, are super simple to play.
How to Play
In the most basic terms, you just pick a wager amount, hit play, and press cashout when you feel the rising multiplier may plummet. The more you hold on, and it doesn't, the higher your winning amount will grow.
How to Bet
Usually, in the center section of the bottom of your screen, you shall see a button panel where a bet adjuster will sit. It can have plus or minus icons or allow you to set your bet by picking from a set of provided amounts. You should also have an auto-play function on hand, which will permit you to enter detailed parameters for your gaming session and let the game do all the betting over an extended period.
What Are the Key Features of Dragon Crash Games?
They are simplicity, low-house-edge gameplay, and a dragon/Asia motif. Don't expect to find bonus modes in dragon crash games, nor any high-end graphics. But expect to see wide betting ranges and high max wager options.
Do Any Strategies Work with Dragon Crash to Increase Winning Chances?
Most will suggest the Martingale, which involves doubling your bets after a loss and resetting following a win. That is a progressive system, and other popular ones from this group are the Fibonacci, the D'Alembert, the Reverse Martingale, and the Paroli. Nevertheless, we would not recommend these, although they have somewhat of an Okay track record of working on almost 50/50 odd games. We would advise incorporating a fixed-bet approach and looking to bail out at around the x1.3 to x1.5 continuously. That tactic will not make you rich but hopefully will help you stay in the black.
Why Is Dragon Crash Better Compared to Other Crash Games?
It's not. It is just different. If you like dragons or mythology, maybe these products would appeal more to you than other crash competitors. But, other than personal preference, there is no distinct reason we would tell you to pick products from this sub-genre over other established crash gambling choices.
Do Dragon Crash Games Perform Well on Mobile Phones?
Yes. As mentioned, these are, in essence, rudimentary games that are very undemanding. Most occupy less than 10 MB of memory and run smoothly on any device.
Are All Dragon Games Provably Fair?
No. All proprietary picks should be, but most third-party ones will not allow gamblers to verify round fairness manually.
Can You Play Any Dragon Games for Free?
That depends on the chosen operator. The majority of crypto casinos permit demo play on all third-party games. Though, this is not always the case. And when it comes to proprietary gaming products, free play is less common. Still, we have reviewed crypto gambling websites that have fun credit options for their original games.
Video of Line Dragon Gameplay
Summary
Dragon crash games can add a different flavor to crash gaming action, particularly for old-school gamblers who have been playing line-graphic picks for years. While presentation-wise, these products will not blow anyone's socks off. They aim to deliver enticing prize-accumulating odds and rudimentary gameplay. And for many online gamblers, that is what they are looking for, especially those who prefer using auto-play. If you fall into this group, head over to our Best Bitcoin Crash Game Sites page and look up some quality platforms with dragon crash games to enjoy.