Meet Amusnet, Formerly EGT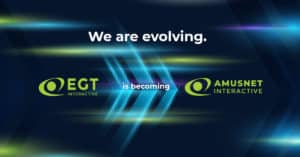 The chance that you'll never have heard of Amusnet is high. After all, they have only been around since 2022. However, you may recognize some of their games. Until very recently, Amusnet was known as EGT, and that is a developer you may be very familiar with if you've ever played at cryptocurrency casinos.
EGT is officially no more, but while the company is still in the early stages of rebranding, many of its games are still run under the EGT banner. The rebranding hasn't affected the games, or indeed the casinos that support those games at all. Therefore, it is easy to find a top place to wager on EGT's titles when you choose BTCGOSU-approved sites. Here are the very best sites and casino games you can expect to play from Amusnet (EGT).
Join Our Top Amusnet (EGT) Casinos Today
EGT Needed a Makeover
EGT first appeared in 2002. Since their debut, they have very much focused on delivering online slots that are reminiscent of the old slot cabinet games you'd expect to find in land-based betting venues. Many of their progressive jackpot games were samey, and a wealth of them was the same game, albeit with different paint jobs. Given things were starting to stagnate at EGT; we're not surprised they decided to rebrand.
Now known as Amusnet, EGT has a presence in over a hundred and five online casinos, some of which accept crypto deposit options. Amusnet (EGT) focuses primarily on the Eastern European betting industry, with Bulgaria (its home country), Latvia, Romania, Russia, and Ukraine all target markets. Amusnet also caters to players at Curacao-licensed offshore casinos.
EGT's Games Are Now Run by Amusnet
Amusnet (EGT's) games focus predominantly on slot machines. However, they have also produced a handful of RNG table games in the past, notably poker, baccarat, roulette, and blackjack entries. There are over two hundred and forty games for you to choose from, but almost all of these are slot machines.
Amusnet (EGT) slots are notoriously basic in terms of what they offer. Moreover, many games are clones, merely with new paint jobs. There is an overly excessive number of progressive jackpot-sporting fruit machines in this collection. Those jackpot prizes tend to be small and tricky to land, but there are several up for grabs in each slot. EGT's games have varying RTP rates, some of which are overly generous and some that dip below the industry standard of 95%-96%. All in all, Amusnet's (EGT) games seldom cause waves and are best deemed to be entry-level slots for beginners.
Amusnet's (EGT) Top Crypto Casino Games
Amongst the collection of cloned and identical slots, there are a handful of truly exciting and original releases from Amusnet (EGT). Some of those pop up at crypto casinos, and these include:
Mayan Spirit
The White Wolf
Burning Hot
40 Super Hot
Rise of Ra
FAQS: We Answer Your Amusnet (EGT) Slot Questions
Why and When Did EGT Become Amusnet?
EGT rebranded as Amusnet in 2022. They had been known as EGT for the previous twenty years. The rebrand was down to EGT wanting to freshen up its appearance.
Are EGT's Games Still Playable?
Absolutely. They are slowly being rebranded as Amusnet games, but some sites still use the EGT banner for the time being.
Isn't It Amusenet, not Amusnet?
SoftSwiss (which provides EGT games) has the company listed as Amusenet, but the company webpage (and many games) says Amusnet. Both names seem to apply, which could be down to licensing and regional reasons.