Stake
Stake.com is a provably fair crypto casino founded by the creators of Primedice. Stake is owned and operated by Medium Rare N.V. and has a Curacao Gaming license. It currently supports 8 different cryptocurrencies and offers 16 casino games as well as sports betting.
First Impressions
Stake looks great with beautiful and bright graphics, the variety of games really catches your attention and the overall interface is really intuitive. The chat is available in a wide range of languages including Spanish, French, Indian, Russian, German and many more. At the time of writing this review, there are around 2,000 people online so it's a fairly active chat.
The website is fully optimized for mobile phones and works flawlessly. The registration process was smooth and fast. Stake.com clearly cares about how the games look, all of the 16 offered casino games have unique looks and even though they are quite simple, we still personally loved them.
Games offered by Stake
The casino offers a great variety of games starting with the classic Dice game at only 1% house edge. The first game that caught our attention was 'Slide' where you pick a target payout and bet. Eventually, the slide of cards with different payouts will stop to a specific card with a specific payout with the maximum target payout of 4,294,967,000x, insane, right?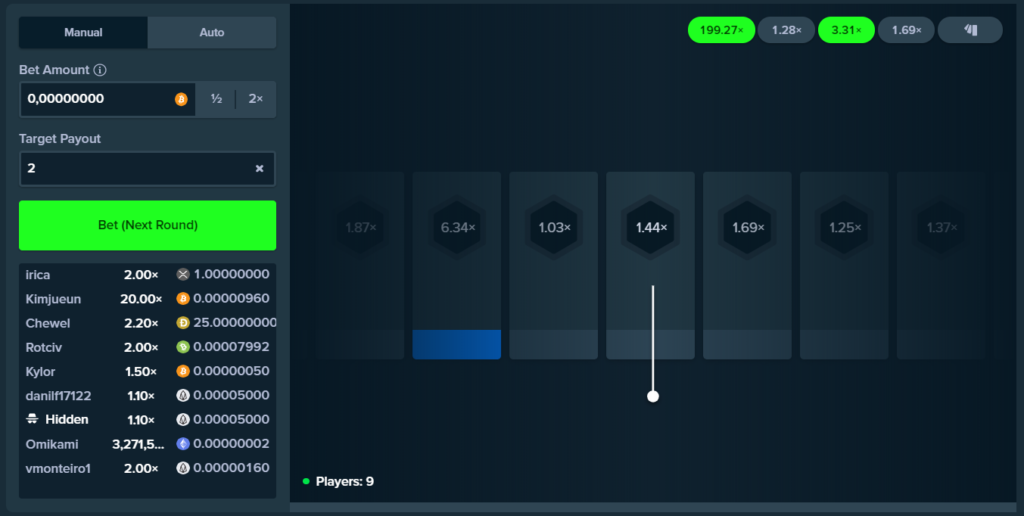 We also tried blackjack because it has only a 0.5% house edge. The graphics are extremely simple but still fun to look at. Everything worked perfectly as far as we could tell and all games had a provably fair system enabled. Video Poker also seemed like a nice game although the graphics were simple, again. Here is a table with all the games:
| | |
| --- | --- |
| Game | House Edge % |
| Dice | 1% |
| Limbo | 1% |
| Hilo | 1% |
| Keno | 1% |
| Mines | 1% |
| Plinko | 1% |
| Blackjack | 0.5% |
| Roulette | 2.7% |
| Slots (incl. Samurai) | 2.9% |
| Crash | 1% |
| Wheel | 1% |
| Diamonds | 1.7% |
| Baccarat | 1.1% |
| Video Poker | 1% |
| Slide | 2% |
Stake.com is also offering sports betting now on a wide array of sports including e-sports like Counter-Strike Global Offensive, Dota 2, and League of Legends. Players are allowed to bet on upcoming events as well as live ones. You can place a single bet or a multi-bet on more than a dozen sports. The minimum sports bet is 100 Satoshis, which is way below the minimums of most other sites, which is especially nice for smaller players to get a good shot at sports betting.
We like the sports interface but it sometimes has an error pop up, which doesn't really have a negative effect but can definitely be annoying.
Stake Bonuses & Promotions
One of the main bonuses offered by Stake is the 'Stake Race' where players simply need to wager more than their competition to win. There are several races available.
Daily $5,000 race, Weekly $5,000 race (1.5 hour duration) that overlaps with 10k race (Mega Race). Every day, there's about $1000 worth of incentives for the daily race, such as mini races (30 min $500, 15 min $250, $1 hour $1000) and various bonuses (top 20 get $25, even position top 40 get $20, X positions get $100 bonus, etc). Fixed bonuses allows smaller players to still grab a nice prize. Details for the incentives can be found in Stake's Telegram: https://t.me/s/StakeRaces
In addition to that, Stake is running weekly forum challenges for both small players (100 satoshi min bet or equiv) and larger players (10k satoshi min bet or equiv). These almost always end up +EV and can be a good way to grab an extra bonus or to build a bankroll from a small amount. Prize pools are usually around $700 for the smaller challenges and $2600 for larger ones. Sports challenges also exist with a $700 prize pool.
One less conventional but pretty funny bonus is definitely worth mentioning, too: Stake's site owner streams weekly on Twitch and gives away multiple prizes of $10-$500 every 10 minutes, absolutely for free.
Other than that, there aren't many other prizes or bonuses for free but Stake does offer an extensive VIP program. Any player can become VIP and a higher level by simply wagering.
Wager Requirement for each level:
Bronze: $10,000
Silver: $50,000 ($40k, with bronze $50k)
Gold: $100,000 ($50k, with bronze and silver $100k)
Plat1: $250,000 ($150k, with bronze, silver and gold $250k)
Plat2: $500,000 ($250k, with bronze, silver, gold and plat1 $500k)
Plat3: $1,000,000 ($500k, with bronze, silver, gold, plat1 and plat2 $1mil)
Plat4: $2,500,000 ($1,5mil, with bronze, silver, gold, plat1, plat2 and plat3 $2,5mil)
Plat5: $5,000,000 ($2,5mil, with bronze, silver, gold, plat1, plat2, plat3 and plat4 $5mil)
Plat6: $10,000,000 ($5mil, with bronze, silver, gold, plat1, plat2, plat3, plat4 and plat5 $10mil)
Diamond: $25,000,000 ($15mil, with bronze, silver, gold, plat1, plat2, plat3, plat4, plat5, plat6 and diamond $25mil)
The first promotion for high-level players is the 'Reload' feature which basically allows users to claim a bonus, like a faucet, every day and the reward is based on the previous 7 days wagered amount and net profit/losses. If you end up losing a ton, reload will go up quite a bit. Reload still ends up pretty decent if you win and can be very helpful if you lose. You have the option to claim daily, hourly (daily/10) or every 10 minutes (daily/40), which means there's options that suit all players.
VIP players can also access a Rakeback (10% casino games only) which basically lowers the house edge of all the games. The weekly boost is another bonus, also calculated based on your wagered amount the previous 7 days. The difference here is that the weekly boost does not take losses into account. It's another 10% rakeback and includes sports, which can be great as it means you get 0.3% of each sports wager placed back regardless of win or lose. Rakeback and weekly coupon are available at Bronze VIP (10k wager) and drop your house edge on 1% edge games to a low 0.8% ignoring all other bonuses.
The last bonus for VIP members is a monthly bonus given only once every month and calculated based on your wagered amount in the last 30 days plus your VIP level. Players below Platinum VIP get a reload set while Platinum+ get a coupon with a fixed amount of BTC (up to $75 based on wager in the past month). Also worth mentioning are the VIP level up bonuses. VIP level up bonuses at or above platinum 2 are personalized to you & can reach over $25000. Also, you get a VIP host for easy and convenient support that you can message on Telegram.
Deposits & Withdrawals
Players can deposit any of the 8 support cryptocurrencies that include Bitcoin, Ethereum, Litecoin, DOGE, BCH, XRP, Tron, and EOS. Deposits on Stake do not infer any extra fees. Withdrawals also have no extra fee besides the standard to cover for Blockchain costs. You will need to confirm your email before you are allowed to withdraw your funds. Stake has a flat 5k Satoshi withdrawal fee for Bitcoin – even if the mempool is extremely full. Since they pay a high priority fee, it's cheap and fast to get a withdrawal from Stake regardless of how full the mempool is.
Stake.com has an integraded CoinSwitch exchange, that allows you to exchange any of the supported cryptos for hundreds of other supported cryptos. This allows players to deposit other non-supported coins and exchange them for one of the 8 supported cryptos.
Stake Customer Support
Stake has a great customer support, that can be contacted via E-Mail, Live Chat or even on Bitcointalk. Unlike many other sites, we experienced that the Stake support actually has the power to help you. It's done in-house by people who know what they're talking about.
The support system offered by Stake is really professional with a live 24/7 chat. We sent them a request and the team answered in less than 10 minutes with a useful answer.
Security
Stake.com has all the standard security methods including a 2FA system. Players can also check their previous sessions which include the type of browser used as well as the IP address. Users can pass an optional KYC verification to further secure their accounts. It will allow you to recover your account in case of any problem.
GOSU Conclusion
Pros / Cons
Simple but intuitive interface
A great variety of games offered
Compatible with mobile phones
No free faucet to test games
Stake.com is one of the most experienced crypto casinos out there as it was founded by the creators of Primedice, perhaps the most popular Dice casino in the crypto industry. Stake offers great variety when it comes to casino games and the option to bet on sports. Graphics are good enough and the website is optimized for all types of devices.

Various Races for Free Cash
Play now