SUMMARY
Stake is one of the best known Bitcoin Casinos, offering various provably fair games, a big selection of 3rd party slots as well as sports betting.
INFO
Established 2017
License(s) Curacao
Deposit Options BTC, ETH, BCH, XRP, TRX, LTC, DOGE, EOS, BNB, USDT, APE, BUSD, CRO, DAI, LINK, SAND, SHIB, UNI, USDC
Minimum Deposit No Minimum Deposit
Minimum Withdrawal 0.00007 BTC
Customer Support E-Mail, Live Chat, Bitcointalk
Languages English, German, Spanish, French, Indonesian, Japanese, Korean, Polish, Portuguese, Russian, Turkish, Vietnamese, Chinese
Restrictions USA, Australia, Czech Republic, Curacao, Syria, Iran, North Korea
KYC Yes (Uncommon but possible if deemed necessary)
POSITIVES
Excellent game variety
Eighteen supported cryptocurrencies
Multiple promotions
Decent VIP program
NEGATIVES
No free faucet
No FAQ page
Your country is supported!
Stake Casino Review
Curacao-based Medium Rare N.V. owns and operates Stake Casino. The site launched in 2017, and in over three years, there have been more than 12 million bets placed on the platform. Medium Rare N.V. also runs Primedice, and in late 2019, it partnered with Betradar to establish its sportsbook. Stake targets a wide range of markets, but unlike other Bitcoin casinos, it focuses on Asia as well. With its extensive slew of promotions and games, it will no doubt capture players from all over. Check this detailed Stake casino review to learn more about the gaming experience and bonuses the casino site provides.
First Impressions
Our first impression of Stake was that the website looks very modern and works fine.
The site is available in fourteen languages, which is something you do not see every day. You can register by clicking the blue registration button at the top of the home screen, and you'll need to provide a username, password, and email address. Alternatively, you can sign up with your Facebook, Google, or Telegram account.
Once a member, you can click the speech icon in the top right to open up the chat window and talk to other members. We suggest going through your account page to learn about the VIP Club and to set up 2FA. Then you can click on the left-side menu and get familiar with the promotions page.
Games offered by Stake
When it comes to Stake games, your options are plentiful. To kick things off, Stake lists its provably fair games at the top of the stack under the name Stake Originals. These are sixteen games, such as Dice, Mines, Limbo, Plinko, Keno, Hi-Lo, Slides, Crash, Blue Samurai, Scarab Spin, Diamonds, Wheel, Blackjack, Video Poker, Roulette, and Baccarat. They are your usual crypto games, similar to what you can find at other sites. The house edge goes up to 2.9% at the highest for Blue Samurai, and 2.7% for Roulette. It is at its lowest on Blackjack with 0.5%. Nine games have a house edge of exactly 1%, and three others a percentage above it.
Provably fair games aside, in the slot section, you can find a ton of popular games from 35 providers, including titles from companies such as NetEnt, Playtech, No Limit City, Endrophina, Pragmatic Play, and more. There are 145 games that offer jackpot prizes, and 49 live dealer games from Evolution Gaming, Ezugi, and Playtech. You can access these through the main Live Casino tab, or you can go through them via their separate categories in the left-side pull-out menu.
There's a Stake sportsbook, where you can place bets on all kinds of sporting events from leagues all over the world. There's even a live betting option. You can also place multi-bets, and there's a bet-builder option. The sportsbook is on par with what you can find at other top betting sites. You can view your betting history and bet on things such as eSports, stock car racing, Gaelic Hurling, and so on.
Placing bets on virtual games is also something you can enjoy here, as there are nine such games on offer. You can bet on virtual football, dog racing, horse racing, motor racing, and virtual cycling.
One of their original games that particularly caught our attention was 'Slide' where you pick a target payout and bet. Eventually, the slide of cards with different payouts will stop to a specific card with a specific payout with the maximum target payout of 4,294,967,000x, insane, right?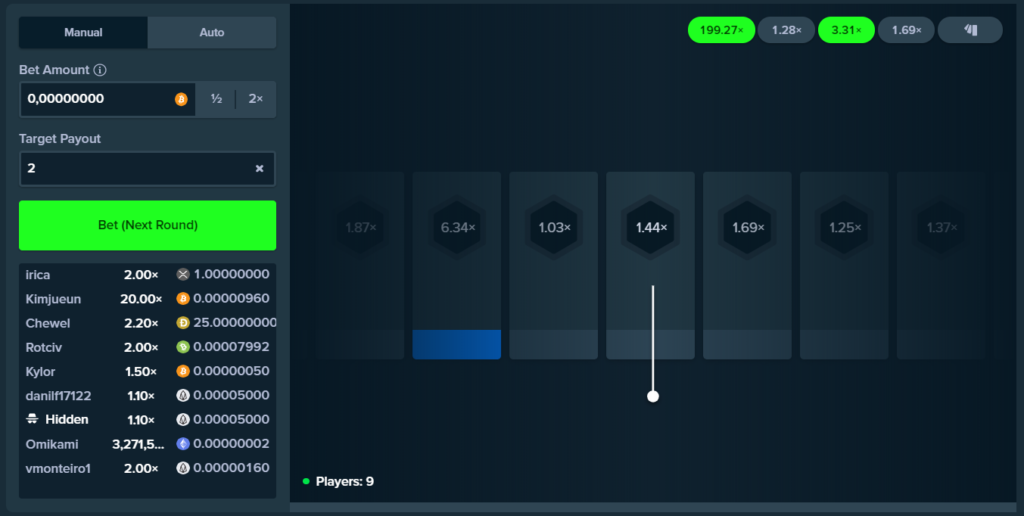 We also tried blackjack because it has only a 0.5% house edge. The graphics are extremely simple but still fun to look at. Everything worked perfectly as far as we could tell and all games had a provably fair system enabled. Video Poker also seemed like a nice game although the graphics were simple, again.
Here is a table with the Stake original games and respective house edges:
| | |
| --- | --- |
| Game | House Edge % |
| Dice | 1% |
| Limbo | 1% |
| Hilo | 1% |
| Keno | 1% |
| Mines | 1% |
| Plinko | 1% |
| Blackjack | 0.5% |
| Roulette | 2.7% |
| Slots (incl. Samurai) | 2.9% |
| Crash | 1% |
| Wheel | 1% |
| Diamonds | 1.7% |
| Baccarat | 1.1% |
| Video Poker | 1% |
| Slide | 2% |
Easy Access
At the moment, there is no Stake app of any kind. We talked to the site staff about it, and they said that there are no plans for a Stake Android app, nor one for iOS users. However, they also said that they are not ruling out developing one in the future, even though that's not a priority.
We opened up the site through an older Android phone with Android 7.0 OS and got some slow load times. We switched phones and accessed the site using a device that has Android 9.0 installed. We also tried NOX-player and set it to emulate Android 8.0. While our experience was better via these two methods, it still took more than a few seconds to load the home page.
Once we looked through the site, we noticed that the left-side menu moves to the bottom of the screen on a mobile phone. Thus, navigation is super-easy. You also get access to all the games that you can play on the desktop version. We didn't notice any omissions. A minor gripe is that some of the text may be a size too small on a mobile screen, design-wise, but it is still very readable. Overall, we would rate the mobile experience as more than decent.
Deposits & Withdrawals
Given that Stake crypto casino seems to be a popular choice among players, we expected to see that it supports multiple cryptos, and it does. The site allows players to use eighteen cryptocurrencies, and they are the following:
Bitcoin
Ethereum
Litecoin
Dogecoin
Bitcoin Cash
Ripple
Tron
EOS
Binance Coin
Tether
Ape
Binance USD
Dai
Chainlink
Sand
Shiba Inu
Uniswap
USD Coin
The platform has no deposit limits. You can put into your casino account as much as you want. It also has no maximum Stake withdrawal limits, but it has minimum ones. These are 0.0005 BTC for Bitcoin, 0.1 LTC for Litecoin, 0.01 ETH for Ethereum, 0.04 BCH for Bitcoin Cash, 50 DOGE for Dogecoin, 30 XRP for Ripple, 250 TRX for Tron, and 2 EOS for EOS.
Withdrawals should happen instantly, but will come with fees, which are 0.00007 BTC for Bitcoin, 0.0005 LTC for Litecoin, 0.003 ETH for Ethereum, 0.00001 BCH for Bitcoin Cash, 1.5 DOGE for Dogecoin, 0.0001 XRP for Ripple, 1 TRX for Tron, and 0.1 EOS for EOS.
The number of blockchain confirmations for each crypto differs. For Bitcoin, Ripple, Tron, and EOS, it is one confirmation. For Litecoin and Dogecoin, it is six. For Bitcoin Cash, it is two, and for Ethereum, it is twelve confirmations.
Be ready to provide KYC documentation, as Stake reserves the right to ask for it if it deems necessary to determine your identity and location.

Stake Bonuses & Promotions
The offer of Stake promotions is vast. First off, the site looks to nurture a community by stimulating users to participate in forums and chat discussions. If you are active in the chat, you can receive daily rain from the mods and participate in trivia contests and roll hunts. The platform has a Discord channel where it gives away free cryptos every day. There are also Stake Telegram challenges. You can join the official group and navigate to its challenges room when competitions start. The prize pools for these continuously change. Forum challenges are a thing as well, and they primarily focus on slots.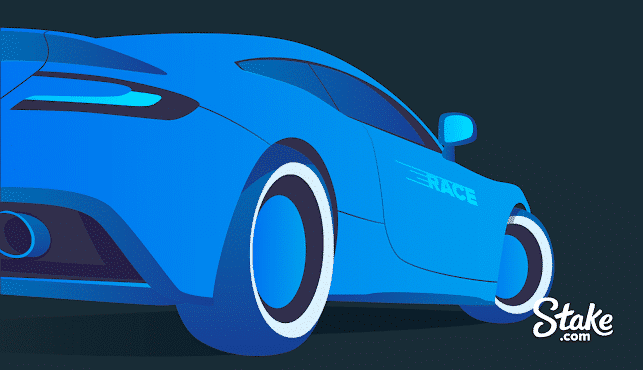 On the sportsbook side of things, the level of variety when it comes to promotions is impressive. You have different kinds of insurance that you can get on a variety of sports. There are also guaranteed payout specials on NBA games, NHL money-back specials, and exclusive promos for eSports.
The Stake races are a big thing here. You get to battle the community en route to prizes. You immediately enter a race as you bet and play, and you have to bet more than the competition to win. Different races have different prize pools and durations. At the high-end, prize pools of 5,000 in a 90-minute race await. Details for the incentives can be found in Stake's Telegram: https://t.me/s/StakeRaces
Stake also features Pragmatic Play Drops and Wins promotions, with different sized prize pools in the tens of thousands. Evolution-specific promos pop up on the platform as well. The site also organizes raffles for mind-blowing prizes, such as sports cars. You earn tickets by betting above a specific amount. Their weekly giveaways work in pretty much the same way. Stake employees and partners cannot get in on this promo, and the winners get subjected to KYC procedures. All prizes get paid in Bitcoin.
Eddie Miroslav is the founder of this platform, and he participates in the community via his set of promos on both the sportsbook and casino section. His deals mainly get titled Stake vs. Eddie and consist of fixed prize pools. Players win chunks of these by beating a multiplier Eddie was won on a specific game or boasting a more accurate prediction on a sporting event than Mr. Miroslav.
Exclusive BTCGOSU Bonus Alert: Get a free $7 Stake No Deposit Bonus & instant 5% Rakeback when signing up through our site. Register and send us an email with your Stake username to have your free $7 reloads ($1 per day) activated. Please note that the no deposit bonus is being credited manually, so make sure to check the VIP section of your Stake account within 48 hours after submitting your username. Please note that we are no longer going to respond to requests in the comments, you are required to email us!
In addition to all of that, Stake is running weekly forum challenges for both small players (100 satoshi min bet or equiv) and larger players (10k satoshi min bet or equiv). These almost always end up +EV and can be a good way to grab an extra bonus or to build a bankroll from a small amount. Prize pools are usually around $700 for the smaller challenges and $2600 for larger ones. Sports challenges also exist with a $700 prize pool.
One less conventional but pretty funny bonus is definitely worth mentioning, too: Stake's site owner streams weekly on Twitch and gives away multiple prizes of $10-$500 every 10 minutes, absolutely for free.
VIP Program
Is there a Stake VIP program? Yes, it emphasizes that you receive cumulative bonuses for every dollar you bet on the platform. As you advance through the tiers, more prizes become available. Entry is invite-only. You earn this privilege through your activity on the site.
Once inside, you get perks such as reload-bonuses, rakeback, weekly and monthly boosts, a VIP host, customized benefits, as well as VIP and level-up bonuses. What you get, or unlock, depends on your tier. There are technically five tiers, and these are Bronze, Silver, Gold, Platinum, and Diamond. The Platinum level has six sub-tiers. You get to Bronze by betting $10,000 with the site. To reach Diamond, you need to have played a cool $25 million.
You get a VIP host once you are a Platinum member, and the Diamond tier is where you get in on those customized benefits, daily and weekly bonus increases, exclusive monthly bonuses, and ones from your VIP host in the currency of your choice.
Wager Requirement for each level:
Bronze: $10,000
Silver: $50,000 ($40k, with bronze $50k)
Gold: $100,000 ($50k, with bronze and silver $100k)
Plat1: $250,000 ($150k, with bronze, silver and gold $250k)
Plat2: $500,000 ($250k, with bronze, silver, gold and plat1 $500k)
Plat3: $1,000,000 ($500k, with bronze, silver, gold, plat1 and plat2 $1mil)
Plat4: $2,500,000 ($1,5mil, with bronze, silver, gold, plat1, plat2 and plat3 $2,5mil)
Plat5: $5,000,000 ($2,5mil, with bronze, silver, gold, plat1, plat2, plat3 and plat4 $5mil)
Plat6: $10,000,000 ($5mil, with bronze, silver, gold, plat1, plat2, plat3, plat4 and plat5 $10mil)
Diamond: $25,000,000 ($15mil, with bronze, silver, gold, plat1, plat2, plat3, plat4, plat5 and plat6 $25mil)
The first promotion for high-level players is the 'Reload' feature which basically allows users to claim a bonus, like a faucet, every day and the reward is based on the previous 7 days wagered amount and net profit/losses. If you end up losing a ton, reload will go up quite a bit. Reload still ends up pretty decent if you win and can be very helpful if you lose. You have the option to claim daily, hourly (daily/10) or every 10 minutes (daily/40), which means there's options that suit all players.
VIP players can also access a Rakeback (5% casino games only) which basically lowers the house edge of all the games. The weekly boost is another bonus, also calculated based on your wagered amount the previous 7 days. The difference here is that the weekly boost does not take losses into account. It's another 5% rakeback and includes sports, which can be great as it means you get 0.3% of each sports wager placed back regardless of win or lose. Rakeback and weekly coupons are available at Bronze VIP (10k wager) and drop your house edge on 1% edge games to a low 0.8% ignoring all other bonuses.
The last bonus for VIP members is a monthly bonus given only once every month and calculated based on your wagered amount in the last 30 days plus your VIP level. Players below Platinum VIP get a reload set while Platinum+ get a coupon with a fixed amount of BTC (up to $75 based on the wager in the past month). Also worth mentioning are the VIP level-up bonuses. VIP level-up bonuses at or above platinum 2 are personalized to you & can reach over $25000. Also, you get a VIP host for easy and convenient support that you can message on Telegram.
Stake Customer Support
As far as Stake support goes, the first thing that caught our eye is the Live Support option, as you can see it on the left side menu and in the lower right. Once we did, it said that a representative should become available within five minutes. Thankfully, we didn't have to wait that long, as he was online within twenty seconds. During our chat, he was responsive, though there were a few small delays in-between messages. We received answers to all our test questions, and we found out that the support team operates from Serbia.
The support system offered by Stake is really professional with a live 24/7 chat and we got a response within 20 seconds.
The platform does not have an FAQ section. However, it does have email support at support@stake.com. They do not advertise this Stake contact option, as the staff told us that they prefer that customers reach out through the Stake live chat window. You can find the email buried within the site's terms and conditions. It says there that you should use it for complaints. That said, we still sent an email and got a response within two minutes.
Security
As you would expect, Stake has a Curacao gaming license. One from Curacao eGaming. It's one of four master license holders issued by the Government of Curaçao, and along with Gaming Curacao, it often ranks as one of the top two.
All data entered on the site gets encrypted via an RSA 2048 Bits key. Amazon provides this site's security certificate. Know that the platform may collect and store information that it acquires through communication with you, on top of what you leave via the registration and your KYC verification.
Be aware that any dispute arising or relating to the platform's service shall receive resolution through arbitration by the Hong Kong International Arbitration Center, in English. Curaçao law is the guiding law in this process, as stated in the arbitration clause.
Stake.com is a verified operator of the Crypto Gambling Foundation. Players can verify all bets placed through third-party websites that feature an open-source verification procedure or on the site itself.
GOSU Conclusion
There is no doubt that Stake is one of the most formidable crypto casinos out there. The experience accumulated through Primedice has been put to excellent use here. In three years, it has attracted a large following thanks to a variety of promotions and a terrific game catalog. The community presence is decent, and if you look through the site, you'll find that it has a rich news section. In the latter, the staff provides tips and predictions in its how-to category. It may not have an FAQ page, but it has 24/7 customer support through email and a live chat. If casino games aren't your thing, you can migrate to the sportsbook, which is equally impressive. Thus, anyone will have a hard time not recommending Stake casino and sportsbook to other gaming enthusiasts. In the past year, this platform has morphed into one of the most established brands in the online gambling sphere in general.
Can I bet on games at Stake Casino with cryptocurrencies?
Unquestionably so. Moreover, you can choose from several different cryptocurrencies to gamble on casino games with.
Does Stake Casino have a gambling license?
Naturally, Stake Casino has been awarded a gambling license by the Government of Curacao.
What cryptocurrencies can I use at Stake Casino?
You can take your pick from Bitcoin, Ethereum, Litecoin, Dogecoin, Bitcoin Cash, Ripple, Tron, EOS, Binance Coin, Tether, Ape, Binance USD, Dai, Chainlink, Sand, Shiba Inu, Uniswap, USD Coin and many more.
Is sports betting offered at Stake Casino?
Yes. More importantly, Stake is one of the leading cryptocurrency sportsbooks you can find anywhere on the net.
Are the bonuses and promos at Stake Casino fair?
Stake Casino doesn't have too many bonuses and promos listed on its platform. Instead, they arrive via e-mail and newsletters. However, as far as we can tell, they are perfectly fair.