Bitsler
Curacao-based Oyine N.V. owns and operates Bitsler. According to our research, this is the only gaming site that the company runs. It began operations in November of 2015, and since then has managed to attain quite the user base. It is one of the more active Bitcoin casinos on Bitcointalk, even though its social media presence pales in comparison to competitors. It features eleven provably fair games, likely the highest amount of supported cryptos, and it claims to give away over $1 million in promotions every year.
First Impressions
Once you visit Bitsler for the first time, you'll feast your eyes on the usual design structure and use of unsaturated blues. However, if you navigate to the left-side drop-down menu and select the Themes option, you can change the style to the Light variation, and brighten things up a bit.
Registration is simple. All you have to do is provide a username, and your account becomes active immediately, but hold your horses, as you'll need to set your password and email, then make a trip to your inbox to verify your address.
Once you complete these steps, it is best to learn how to earn Coins and visit the forums to get acquainted with other members of the site, as well as browse through the promotional page. Bitsler has an in-house exchange (5% in-house exchange fee, which is a bit high compared to Crypto.Games' 3%) where you can exchange any of the 22 supported cryptocurrencies. You can also claim free BTSLR tokens and test the games for free.
Games offered by Bitsler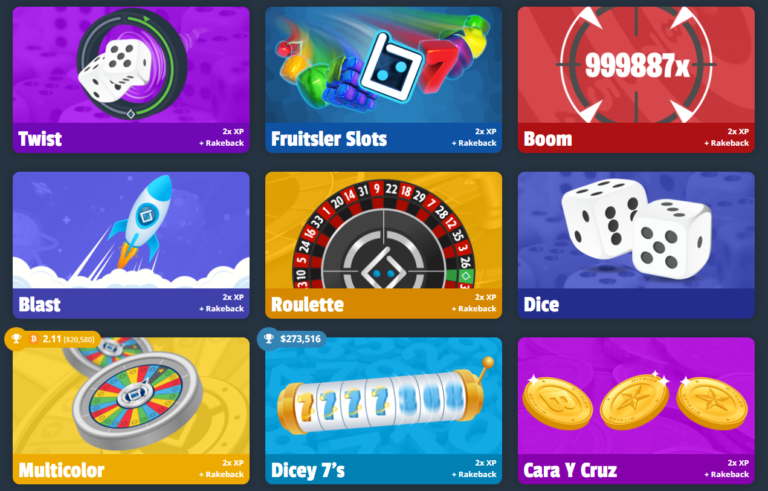 Though not a game, the platform features a robust Bitsler sportsbook that we have to mention. Once you access it through the sports tab in the top navigation bar, you will be able to bet on twenty-two sports, not including eSports and Specials bets. The sportsbook has a bet-builder option, and you can make in-play bets.
On the Bitsler game side of things, you can choose from one of thirteen provably fair games. We took the time to list them below, complete with their house edges.
| Game | House Edge | Minimum Bet | Provably Fair? |
| --- | --- | --- | --- |
| Twist | 2% | 0.00000001 BTC | Yes |
| Fruitsler Slots | 3% | 0.00000100 BTC | Yes |
| Crypto Thugs | 3.1% | 0.00000100 BTC | Yes |
| Boom | 2% | 0.00000100 BTC | Yes |
| Blast | 2% | 0.00000100 BTC | Yes |
| Roulette | 2.7% | 0.00000001 BTC | Yes |
| Dice | 1% | 0.00000001 BTC | Yes |
| Multicolor | 2% | 0.00000001 BTC | Yes |
| Cara y Cruz | 2% | 0.00000001 BTC | Yes |
| Dice 7's | 2% | 0.00000100 BTC | Yes |
| Blackjack | 1.463% | 0.0000100 BTC | Yes |
| Plinko | 2% | 0.00000100 BTC | Yes |
| Keno | 2% | 0.00000100 BTC | Yes |
Experienced players are likely aware of how most of these games work. If you're a newbie, you can go to the forums, look through the Help Center, and search through the Bitsler blog to find out the rules. However, we recommend hitting the tutorial button under each game to receive step-by-step instructions.
It is best to claim Bitsler Coins and test out the games using those before playing with real cryptos. As these are provably fair games, all of them are easy to grasp. The newest addition to the pack is Crypto Thugs, which is different in that, it is a modern-day slot.
Please note that all games except dice and blackjack have a house edge of 2% or higher, which is double the house edge of most sites.
As mentioned before, all Bitsler games use a provably fair system which means that you can verify if your bets are fair. You also have hotkeys for all games and the ability to 'turbo bet' or 'autobet'. We first started by testing 'Twister' which seems to basically work like your classic dice game. Basically you have to guess if the number is going to be over or under a specific number.
We personally loved 'Blast'. The idea behind this one is that you can bet any amount you want but you will not set the payout, instead a rocket will start flying and the more it flies the better the payout but you can cash out at any time. The auto cashout is set to 2 as default here.
Boom also seems to be a variation of dice with fairly simple graphics that are still appealing.  Multicolor is like roulette but using colors, you can bet on 5 different colors. Betting on more colors increases your chances of winning but lowers your profit.
Easy Access
Where are we on a Bitsler mobile app? Well, when you pop open the site, it will ask you to download an app that works on desktop computers, tablets, and mobile devices. Nevertheless, when it comes to phones, this is nothing more than an Add-to-Home-Screen option. It is not a dedicated Bitsler Android app or one for iOS devices.
That said, the Bitsler mobile version is decent. We used an Android phone with Android 9.0 to browse through the site. The top navigation bar with the drop-down menu, migrate to the bottom of your screen, and make everything accessible. Load times were fast, and all the games worked seamlessly, as far as we could tell.
If you resize the browser window on a desktop, you get an idea as to what the platform looks like on mobile phones. Overall, we have no gripes when it comes to the play-on-the-go experience.
Deposits & Withdrawals
Bitsler supports twenty-two cryptocurrencies, and it allows users to exchange these from one into another in the Exchanger tab. The list of supported cryptos is long, but we still decided to list them all. They are:
Bitcoin
Bitcoin Cash
Bitcoin Gold
Bitcoin SV
Ethereum
Ethereum Classic
Dogecoin
Dash
Ripple
Litecoin
Zcash
Tether
TRON
Digibyte
EOS
Stellar
NEO
Komodo
Stratis
Lisk
QTUM
WAVES
In rare instances, a currency may not be available due to maintenance. There are no minimum deposit limits, and the number of confirmations that a deposit has to go through on the blockchain is usually one. However, for Lisk, it can take up to ten.
The minimum withdrawal limits vary for each currency, and we obviously cannot list them here for all. Bitsler uses a dynamic minimum withdrawal system, so when you open the withdrawal tab and select your crypto, it will instantly display the withdrawal limit, and below it, the associated withdrawal fee. For instance, for Bitcoin, the limit is 0.0015 BTC, and the Bitcoin fee is 0.0002 BTC. You can select between a Low and High one, and according to the FAQ, there are no maximum withdrawal limits.
To protect from hackers Bitsler's verification system may mark some transactions as pending. Meaning, the system flags suspicious withdrawals that require manual verification by a team of four specialists.
Like other casinos, Bitsler allows you to exchange all supported cryptocurrencies for another one. This is a great feature that we love as it is really useful. The minimum amount is 0.0005 BTC and the maximum is 20.464 BTC which is more than enough for anyone. The rate is updated every 60 seconds so you are basically buying at the current market rate (5% fee).
Bitsler Bonuses & Promotions
The set of Bitsler promotions on offer is immense. If you access the Promotions tab in the left-side drop-down menu, you'll see everything that you can get in on, or you can see the top promotions appear in the banners on the homepage.
Know that wagering contests can appear at any moment on the platform. These contests should be available in all currencies, and the platform pays out the prizes within 24 hours from the end of the promotion. The timeframe of each competition may vary between 30 minutes up to one week. Bitsler markets that it gives away over $50,000 in prizes each week. Players who bet the most win the largest share of the prize pool.
You can also take part in daily challenges to win some crypto prizes. You claim free Bitsler Coins (BTSLR) by filling a captcha and use them to play games. Note that you cannot exchange, tip, or withdraw these Coins. They do not count toward your referral commissions and XPs. How much Coins you can claim depends on your VIP level. Every twelve hours, the twenty-five players with the largest BTSLR balances win a prize out of the $111 pool, paid out in BTC. Players from all levels can claim Coins fifty times a day.
There's a 'Billion Bets Event' promotion, where the player who makes the billionth bet wins the top prize out of the $5,000 pool, and the following 49 players who get the same roll attain smaller prizes. A player's bet amount and their VIP level play a role in how much of the prize pool they win. They need to be at least at the Silver level to participate, and their bet amount cannot be lower than $0.50. A player can only win once in each event.
Higher-level VIP players can take part in an hourly lottery where they win up to 0.04 BTC. All they have to do is make a qualifying bet and submit it to the lottery. If their bet result matches the lottery win, left to right, they win a prize. There is no cap on the number of winners per round.
The site also features a social raffle, an ongoing jackpot on a few games, and there's a referral program where you can earn a commission edge of 5% for every person you get to join the platform. You win the jackpot prize by rolling 77.77 and having the last two digits of your ID bet be 77 as well.
VIP Program
What about a Bitsler VIP Program, is there one? Yes, there is. You earn experience points or XPs by betting and playing games on the platform. As you accumulate these, you move up the Bitsler levels en route to better prizes. Betting $1 in Dice and Blackjack will yield 1 XP while betting $1 in other games will provide 2 XPs. The levels are Iron, Bronze, Silver, Gold, Platinum, Diamond, Black Diamond, Diamond Master, and Diamond Legend. These levels have their sub-levels, and the site doesn't rule out introducing more soon.
As expected, as you level up, you get access to better perks. You get rakeback by betting on any game, regardless if you win or lose. There's an exception when it comes to betting on sports and dice, as you get no rakeback while betting on these two. You can claim your rakeback every half hour, or whenever you like. Rakeback increases with each VIP level – at Gold, it's 13%.
Also, as you move up from level to level, you get to open chests, which are level-up bonuses. In the case of this VIP program, these are effectively 2-6% rakeback on average, which is not bad, but other VIP programs at other casinos offer as much as 10%. The chest system provides some RNG with the chance to produce a prize that's between x0.5 and x500 the base prize.
It's also worth mentioning that Bitsler offers a "Nitro" for VIP levels platinum and higher. It's similar to Stake's reload, except you only get 1 hour claims and 5 minute claims (hourly/4) as an option. It's set weekly based on stats for past week and seems to be a lot more dependent on losses than Stake's reload is.

Bitsler Customer Support
Naturally, the first thing we went to, in terms of Bitsler support, was the live chat. It runs on Intercom, and after a twenty-minute wait to reach a customer representative, we gave up. We finally got a response an hour later, and communication was satisfactory, with the representative being knowledgeable and pleasant. She told us that the Bitsler live chat is active 24/7. However, we did not experience the 24/7 service.
The Bitsler FAQ section is terrific. You can find it under the name Help Center in the footer. Its content divides into eleven categories that house over sixty FAQs, all of which provide satisfactory explanations with bulleted lists and tables.
If you do not want real-time interaction, you can click the Support option in the footer, and it will pop open a support form. It's another way to establish Bitsler contact. However, the platform prefers that you use the live chat. You'll need to verify your email before the form option becomes available to you. We sent a ticket and got a response within four hours.
Alternatively, you can send an email from your email client to [email protected].
Security
Oyine N.V., the company that operates Bitsler, has an Antillephone gaming license, which is one of four Curacao master license holders. In most eyes, it is the weakest of the four. That said, this is likely the most common license in the crypto sphere.
Bitsler has advanced encryption in place to protect all data entered on the site. It has a certificate issued by AlphaSSL and utilizes an RSA 4096 Bits key. The platform promises that it will not disclose your information to third parties, unless it must, by law.
If a player has any complaints related to Bitsler's activities, he/she must first address them to the platform at [email protected]. If a dispute does not receive a satisfactory resolution, the player may move on to utilizing any remedies prescribed by Curacao law.
In case you are concerned about game fairness, you can head over to the Help Center and check on how you can verify the randomness of every result. There, you can also read how you can set up two-factor authentication to boost your security.
GOSU Conclusion
Pros / Cons
Good reputation
Twenty-two supported cryptocurrencies.
A few original games
Multiple promotions
We found no relevant complaints online concerning Bitsler, a modern platform that features some classic provably fair games that you can test out via Bitsler Coins. On top of these crypto classics, you can also enjoy games that you won't find elsewhere, like the slot Crypto Thugs, as well as get to use twenty-two cryptos. Bitsler does not fall far behind when it comes to promotions as well, and it has a fantastic community, complete with a chat room, a blog, and forums. We weren't too impressed with the customer support, but you may not need to turn to the staff for assistance, as the Help Center is extensive. All in all, this is a crypto casino that's available in twelve languages, and that is a must-try.
Various Promotions
Play now