Introducing KA Gaming to the Masses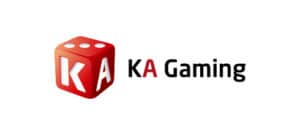 KA Gaming is a provider that has a decent footprint at online and crypto casinos. As part of SoftSwiss' gaming network, its games appear frequently. Despite having over 500 titles in their library, though, they remain a relatively little-known developer. Let's see if we can change that as we explore KA Gaming on this page.
First, let's showcase some of the top casinos supporting KA Gaming titles before we look at those games in more detail.
Join Our Top KA Gaming Casinos Today
KA Gaming Explained
Launched in Taiwan, KA Gaming first appeared in 2014, when many other casino software providers were taking their first tentative steps in the online betting world. Of course, for new providers to break into the industry, they often need a leg up. KA Gaming got that by becoming part of SoftSwiss' opening gaming network and game aggregation platform.
This partnership has seen KA Gaming appear at many more crypto casinos than they would otherwise ordinarily be able to hit. Despite being based in Taiwan, KA Gaming is very much an international company, with a multi-national team developing various titles for all sorts of markets. Gameplay is often available in English but also in Chinese, Spanish, Russian, and other languages. Over 100 currencies can be used to play their games, including the most high-profile cryptocurrency options.
KA Gaming is a believer in rapid game development. Around ten new games (mostly slots) debut each month. However, because of this rapid growth and seemingly conveyor-belt-like attitude to rolling out new games, not all its releases are high-quality, entertaining titles. Many tend to be repeats and rehashes of already released titles, albeit with different paint jobs and themes.
Next, let's explore the array of games you can find at KA Gaming in more detail next.
What Can KA Gaming Offer Me?
KA Gaming has over 500 titles in its arsenal, which is a considerable number given its small-scale statue. However, when you factor in that KA Gaming rapidly rolls out new titles, most of which aren't overly original in terms of features and mechanics, and the fact that they have been around for around a decade, the size of the provider's library won't come as much of a surprise. Amongst those games are slots, so-called fish games, and RNG table games.
KA produces HTML5-optimised games, so you can expect them to run well on most modern mobile devices via a web browser. Furthermore, while many of their slots have similar features and mechanics, you can still expect to benefit from free spins, flexible paylines, multipliers, and instant win features for the most part. Progressive games are few and far between.
As mentioned, KA Gaming doesn't just develop slots. It is also known for its RNG table games, which are limited in number and focus on blackjack, baccarat, and roulette, for the most part, but also its fish/shooting games. These oddities help KA stand out from the crowd.
KA Gaming has also dabbled with video poker options, as well as instant win, scratch card, and crypto-friendly games. You can expect fair RTP rates and low house edges but don't expect to see overly glamorous graphics or a wealth of side-bets in table games. For the most part, KA Gaming's slots and games aim their focus at the Asian and European gaming markets, and you'll find many "Asian sounding" titles representing that.
KA Gaming's Top Crypto Casino Games
Some KA Gaming titles stand out above the rest, as is the case with many software providers. While every player will have their own list of top five games, our team has played most of the titles that this developer has to offer, and we've put together ours. Here are our top five recommendations if you're eager to get started with KA Gaming slots today:
Fortune Ganesha
Rouran Khaganate
The Mask of Zorro
Witch Academy
Taketori Monogatari
FAQS: We Answer Your KA Gaming Questions
Can I bet on KA Gaming games with cryptocurrencies?
Yes. KA Gaming's titles can be played using FIAT currencies or high-tier and popular cryptocurrencies, such as Bitcoin, Ethereum and others.
Where can I play games from KA Gaming?
You should expect to see KA Gaming slots and games at any crypto casino which operates on the SoftSwiss game aggregation network.
Are KA Gaming's titles safe for me to play?
Absolutely. KA Gaming is a part of SoftSwiss' network, so they are licensed and regulated by the same authorities, making them trustworthy and safe, with fair RTP rates.