Blacklisted Bitcoin Casinos
It's pretty sad we have to do this but truth is, there are various unethical bitcoin and crypto casinos that should be avoided and for that reason we have created a GOSU Bitcoin Casino Blacklist.
With literally hundreds of crypto casinos online, they are all eagerly waiting for you to deposit your heard earned crypto and that is fine, as long the casinos don't mind giving your money back. There are occasions when casinos don't even follow their own terms and conditions. There are casinos with terms and conditions that could be considered predatory, there are casinos not offering fair games and there even are casinos who don't pay their affiliates or do not so in a fair way.
Such rogue (scam) bitcoin casinos actually make up a big % of all available destinations, which is why you should follow our blacklist in order to stay safe and not deposit at those shady bitcoin casinos.
Operators who make it to our blacklist are included for various reasons and before giving examples, we would like to state that not all websites agree with such a blacklist – actually, many affiliate sites couldn't care less and heavily promote shady sites just for the cash. This is unacceptable and we will do everything we can to warn our readers.
Main reasons for inclusion in our GOSU Bitcoin Casino Blacklist:
Manipulating game results / Claiming to be provably fair when results are being manipulated etc.
Needless to say that any casino should provide fair (random) games and if they don't, they definitely deserve a spot in our blacklist!
Withholding withdrawals/payments
There are cases when casinos simply don't pay out gambling winnings, very often referring to their own ToS, claiming players abused bonuses, broke the casino's ToS, etc. This is a very common scenario in online gambling and operators aren't always wrong and there may be legitimate reasons for not paying a player (cheating, bonus abuse, not fulfilling bonus terms), so before blacklisting a casino for such reason, we extensively check the case(s) and draw our conclusions. Fact is, you can't just accept deposits no matter what and as soon as a player wins, block his account/withdrawal just like that. Rogue casinos tend to use the reasons mentioned above as an excuse and here is the thing: If they do, they need to provide proof that the player is in the wrong – if they can't/don't, they have to pay – as simple as that.
GOSU Bitcoin Casino Blacklist
1xBet / 1xBit
What can you say about the group running 1xBet, 1xBit and various other skins? STAY AWAY! The group behind these sites is as shady as it gets. We are talking about hundreds (if not thousands) of unsolved scam accusations against these brands – concretely, they are known for their "selective scamming" by blocking player accounts and withholding withdrawals. It's not like they are doing this all the time but at one point, if you are a player and win big, chances are they will block your account and not pay your winnings. You may be playing there for months with no issues until they decide it's enough.
Please don't be fooled by the fact they are heavily being advertised. You can find their ads all over the net and even on affiliate sites that claim to be honest. Actually, rule of thumb: If you stumble upon a website that promotes 1xBit, you should leave it right away – this is a huge red flag!
It's also notable that the people behind 1xBit recently tried to get back to bitcointalk, saying they are now under new management, willing to solve all issues – that didn't work out – they didn't solve anything and it looks like it was just another trick to fool innocent players. We can't repeat this often enough: Avoid 1xbit and all their related brands with many of these brands disappearing as fast as they came up.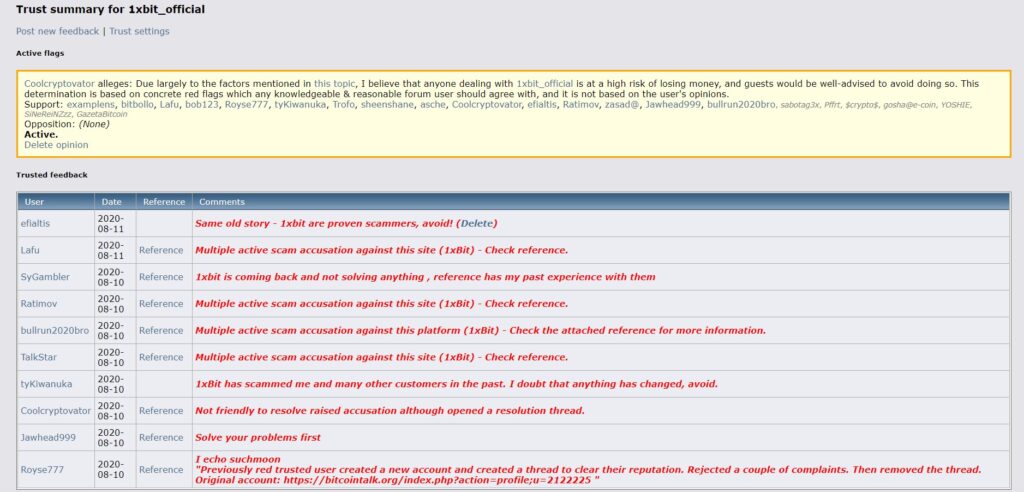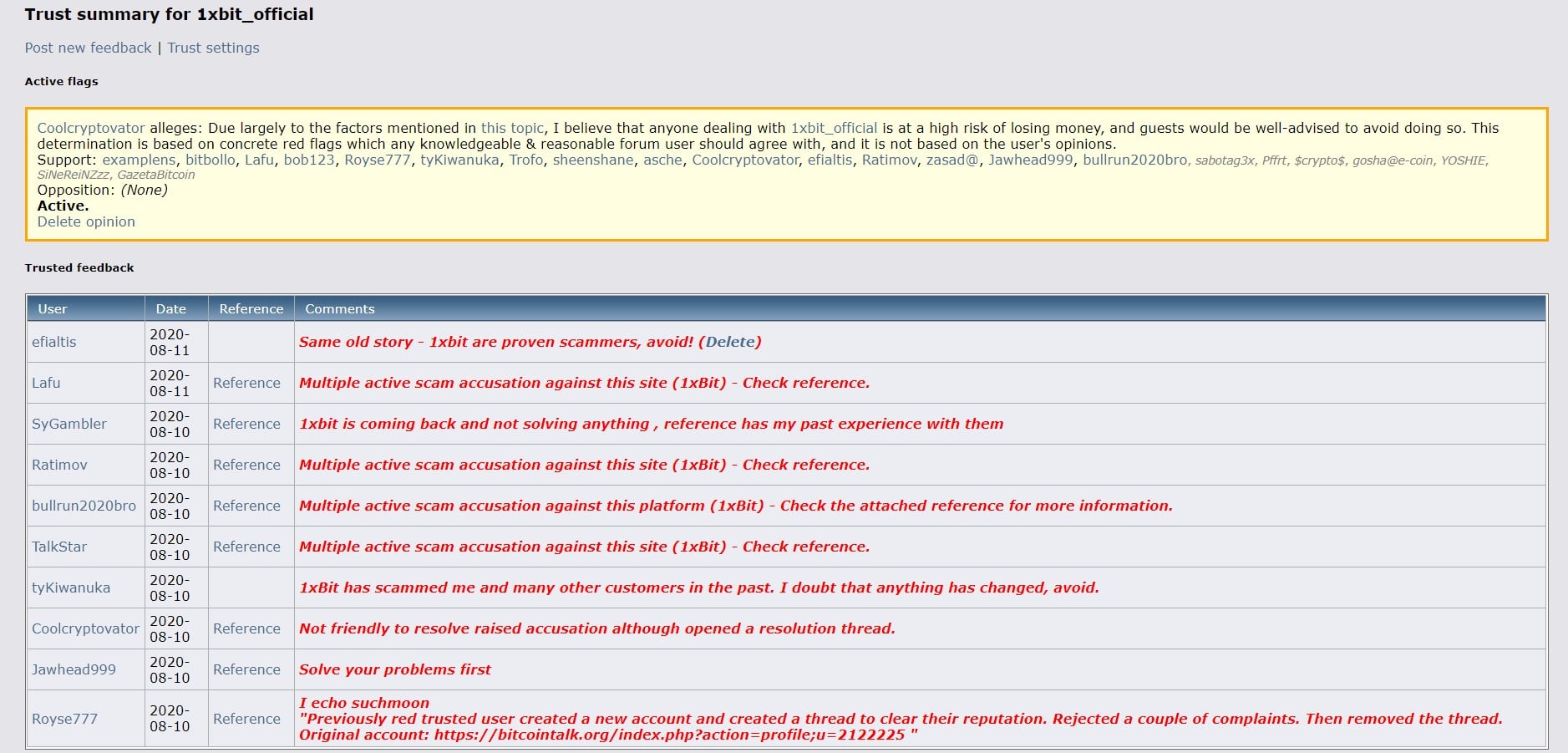 Wixiplay.io
Wixiplay.io claims to provide provably fair games – "good news" is that experienced users on bitcointalk.org found out and shared evidence that wixiplay's games are not provably fair / results can be manipulated. Wixiplay.io got tagged and came back after a few months, claiming they revamped their provably fair algorithm. Guess what? Their games still aren't provably fair. In addition to that, there are various unsolved scam accusations by players who have not received their withdrawals.

A more detailed post including the most important information regarding shady wixiplay.io will follow shortly and linked here.
Cryptodice.io / Satoshidice.io
Cryptodice.io was formerly known as Satoshidice.io. They switched their domain name (nothing bad about that) but even that switch sort of showed a lack of professionalism since many parts of the website were still referring to Satoshidice, they didn't announce it anywhere etc. Still, that wouldn't justify a blacklisting of course.
A fellow crypto gambler reported on bitcointalk that he won around 0.5 BTC on the site. He was approached by Cryptodice.io who stated they did not expect anyone to win this big (we are talking about a casino here…) and they can't pay out his winnings in a lump sum. Instead, they offered him monthly payment of $500. That alone justifies a blacklisting, you can't run a casino with such a "bankroll", obviously insolvent? Even worse though – the player agreed with monthly installments but has not received the latest payment, is being ignored and even blocked on Telegram with no communication at all. This is unprofessional and shady. Stay away from Cryptodice.io!