BC.Game
We don't know who owns and operates BC.Game. It is a mystery. One that will unravel when the site gets its license, allegedly. For now, we know that it launched in 2019, and has attained a large fanbase. The site claims to have paid out millions to players, and it lists some impressive VIP benefits. There's a community presence in the forums, as well as the chat room. It's a crypto casino you should keep an eye on.
First impressions
BC.Game casino features a clean, modern design. It's heavy on the color blue, with some yellow for contrast. It also incorporates many other vibrant colors, as well as flat 2D graphics with gradients. It uses an illustration style that has grown in popularity in recent years in web design.
Registration is a simple process. All you need to do is enter an email and password. If you're too lazy to do that, you can sign in using a social network account like Google, Facebook, or Telegram. Another option is to sign in with your wallet account.
The site promotes its multi-level VIP program, and we assume that it's responsible for the site's growth in popularity.
Games offered by BC.Game
Connoisseurs of classic slot games, and those used to non-crypto online casinos, may not fancy what's on offer at BC.Game. This is a crypto casino that features the site's take on Crash, Dice, Limbo, Keno, Hash dice, Blackjack, Roulette, Slots, Plinko, Video poker, Wheel, Hilo, and a game called Oriental Beauties.
Baccarat and Mines are coming soon to the game library, according to the home page.
These are simple games with low house edges ranging from 2.7% on Roulette to 0.48% on Blackjack. The rest of the games feature a house edge of around 1%. They are quick to load, fast, simple, and provably fair. You can also observe games in a multiplayer mode without betting.
Below each game, you can see all the bets on the game, only your bets, or you can go through the leaderboard of an ongoing contest.
There's not much else to say in terms of game selection, visit the site and have a look if you're not familiar with these types of games, aimed at crypto users.
Easy Access
So, is there a BC.Game mobile app? The site will tell you it does. It has an app download page. Once there, you'll see Add to Home Screen instructions for Android and iOS users. It creates a shortcut to the site by adding an icon to a user's launcher, allowing it to run like an installed app.
We tested the site out on an Android phone, via Chrome, and it worked beautifully. It's among the best mobile experience we've seen. Everything was readable, well-organized, clear, and everything loaded fast. You'll do a lot of scrolling as expected.
Once you access the site via a mobile browser, you get an annoying Add to Home Screen request. All the games run on HTML5, and as far as we could tell, everything is highly-functional through a smartphone. The mobile experience is more condensed, and more practical, in our opinion. The one on a desktop may be a bit busy in comparison.
Deposits & Withdrawals
BC.Game is not your run-of-the-mill crypto gaming site. It is a crypto heaven. Rarely have we seen a casino that accepts as many cryptocurrencies. The long list is as follows: Bitcoin, Satoshi, Ethereum, Ripple, DogeCoin, Tether, Litecoin, Bitcoin Cash, Stellar, Tron, Bitcoin SV, Eos, Multi-collateral DAI, USD Coin, Monero, Netbox Coin, AVC Coin, V Systems, TurtleCoin, Super Zero, VNDC, Axe, and JB.
The site doesn't have any deposit limits. However, since there are so many cryptocurrencies on hand, we can't go through all the BC.Game withdrawal limits here. If you're interested, make an account and go exploring. Here, we'll list a few 0.002 BTC, 0.05 ETH, 1,000 DOGE, 0.05 LTC, 0.1 BCH, 1,000 SATS, 200 TRX, 100 XLM, and 20 USDT.
Know that every transaction on the blockchain requires a specific number of cycles to confirm the transfer. If you encounter an issue during a withdrawal, visit www.blockchain.info to check the status. The confirmation process may take up to a few hours, depending on the blockchain, and the transfer fee.
Be aware that there are different fees for withdrawals using different currencies. For Bitcoin, it's 0.000591 BTC. Since this transaction is a two-way charge, it means that the sale of digital currency requires at least a 0.1% fee to the platform. There are also a different number of network confirmations for deposits while using different currencies.
BC.Game Bonuses & Promotions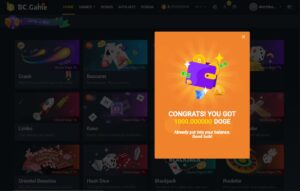 There are a few promotions on the site, though there is no BC.Game welcome bonus. You do get a daily free spin on the Lucky Wheel, one that provides the opportunity to win up to 1 BTC. None of the BC.Game promotional offers have decent explanations. Most tie into the VIP club. Once you open the promo page, you'll see that the offers divide into three categories, maximum bonuses, daily bonuses, and lucky prizes.
In the maximum bonus category, you have task bonuses. You complete different kinds of assignments to grow your balance, starting with newbie tasks, then you have daily and bonus ones. In addition, you can also win medals, which are like achievements, and you can enter Shitcode codes. These are bonus codes that you can find at various places that will add a gift to your balance.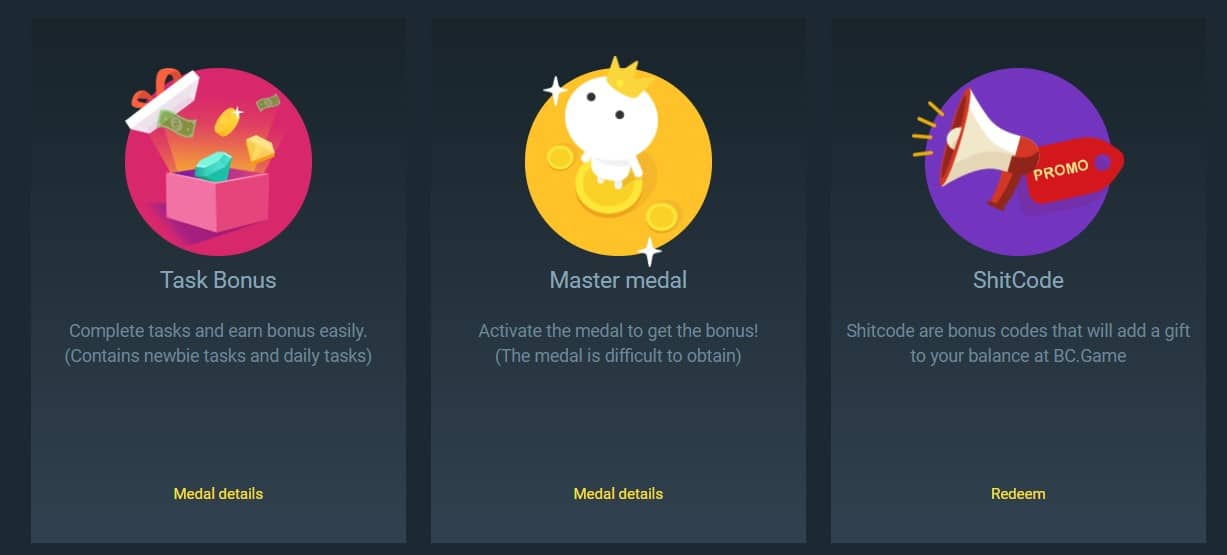 Exclusive BTCGOSU Bonus Alert: Get 10 USDT for free when signing up through our site. Register on the site, wager at least $100 and send us an email to claim your free 10 USDT BC.Game welcome bonus.
There's also a Faucet, a roll competition, and a "Where is Coco?" promotion. Every six hours, Coco (a crocodile) randomly appears. If you click on him, you'll get a reward.
If you are lucky, you may win a prize via the rain promotion. Every six hours, six random players from the chat room get rewarded. This selection is up to the rain algorithm. The more active you are in the chat room, the higher the probability that you'll get a reward.
Again, most of these tie into the VIP program and are exclusive to specific levels inside it. Read through the VIP page that's accessible in your account tab, and go through the promo page. Contact the support staff, or ask around in the chat room to get a grip on how things work.
VIP Program
Yes, there's BC.Game VIP program. It's a bit convoluted to explain, but we'll try. There's a VIP level system with five cards. Bronze, Silver, Gold, Platinum, and Diamond Cards. These are technically categories, each with its levels. These range from seven to thirty-two per category. Overall, there are seventy levels in the whole program. The 70th level is the SVIP level. You earn points as you play, and you move up the VIP ladder to claim better prizes.
The program has 10 Secret Treasures, and each VIP level-up gets a corresponding JB bonus or treasure, both of which contain crypto rewards. These increase as the levels rise. You also get to unlock rights, or features as you move up, such as one-on-one service, tips, chat with photos, coin drops, and more.
There are many exclusive VIP benefits you can enjoy at BC.Game crypto casino. There's an SVIP Telegram lounge where you can get exclusive rewards. There are complimentary daily, weekly, and monthly SVIP codes loaded with coins. You can take part in special trips, annual parties, and stay at elegant hotels around the world. Plus, many other exclusive offers.
The site does provide some premium VIP treatment if you play enough.
BC.Game Customer Support
It's interesting to note that among the BC.Game support options, email is not listed. However, you can see a BC.Game email option in the live chat. The site encourages you to use the live chat. So, we did. We had to wait two-three minutes for a customer service representative, but once we had access to one, he proved adequate. However, we had a suspicion that English is not his native language.
Even though the live chat is 24/7, if you can't get help there, the site tells you to join their Telegram community group, and enter the '/help' command, seek a resolution to your issue there. Site representatives lurk in the community.
You also have a small FAQ section at your disposal. If you head to the help page, you'll see nine sections. One is the FAQ page. Technically, they're all FAQ pages, as they provide information on different topics. You cannot search in this section, which is frustrating. If you're too lazy to go through it, just hit up the live chat.
Security
BC.Game casino, at present, has no gaming license. However, upon a conversation with the staff, they told us they're currently in the process of acquiring an MGA license. It would add a layer of credibility. Nonetheless, we have to wait to see if this will come to fruition.
The site uses advanced 256-bit SSL encryption to protect player data. All servers have full encryption, and all backups have encryption as well. When BC.Game is aware of a data breach it promises to notify users per GDPR timeframes. The Data Protection Act bounds the site, and it states that it shares data with Zendesk Inc.
BC.Game uses the Ethereum smart contract. All the blockchain data is transparent. You can track every transaction on the blockchain via Etherscan, and the site holds official certification from iTech Labs and the Crypto Gambling Foundation.
While all that is great, if you have an issue, you're at BC.Game's mercy. The staff assured us that they are very fair. They told us to visit the forum and ask around. Satisfied users would confirm fair practices.
GOSU Conclusion
Pros / Cons
Great design
Provably fair games
Lots of cryptocurrencies accepted
There is no doubt that we'll be hearing more about BC.Game. It's an innovative platform that will not only keep players engaged through its low house edge games but by offering constant prizes and allowing users to interact with each other. Building a sense of community is crucial to the site, and the users seem to be reacting by actively participating in the forums and chat rooms. The list of cryptos you can use here is vast, and the VIP perks are impressive. The site has no gaming license, at the moment, which is a negative. Customer support is also a bit spotty, though available 24/7. Nonetheless, if you've never tried out BC.Game, head over today and spin the lucky wheel for free upon sign-up.

Various Promotions with exclusive 10 USDT Bonus
Play now