SUMMARY
WOLF.BET is a great crypto casino & sportsbook that is featuring Dice, HiLo and Limbo games with amazing autobet modes and ultra-fast bets.
DETAILED RATING
INFO
Established 2019
License(s) Curacao
Deposit Options BTC, ETH, ETC, XRP, BCH, DOGE, TRX, LTC, XLM, USDT, UNI, SUSHI
Minimum Deposit No Minimum Deposit
Minimum Withdrawal 0.001 BTC
Customer Support E-Mail, Live Chat, Bitcointalk
Languages English, Russian, Filipino, Indonesian, Japanese, Portuguese, German
Restrictions USA, Netherlands, France, Curacao
KYC Yes (Uncommon but possible if deemed necessary)
POSITIVES
Good design with a responsive interface
Decent customer support
Multiple promotions
Twelve supported cryptocurrencies
Mobile-friendly
The Curacao-based company, HDS Technologies, owns and operates WOLF.BET crypto casino. As far as we can tell, this is the only gambling site in their portfolio, one launched in July of 2019 to great success. It may feature only three provably fair games (dice, Hi-Lo and Limbo), but it appeals to players through its numerous promotions, VIP program, the ability to use 12 cryptos, and its user-friendly design. In the past year, the platform has grown its social media presence, improving step by step, making players howl for more WOLF.BET action.
First Impressions
WOLF.BET's visual appeal is one of its main selling points. We don't know what is with crypto casinos and the color blue, but it's their favorite. You can see the minimalistic logo in the upper left, and a howling wolf in the background, one reminiscent of the now legendary Three Wolf Moon t-shirt. The white text provides excellent contrast, and design-wise we have zero gripes with this site.
Creating an account should be super-simple. All you have to do is enter a username, password, email, and accept the terms and conditions. After, visit your inbox and verify your email to be able to make withdrawals.
There is no welcome bonus, but there are plenty of promotions to keep you happy and playing. The site is available in seven languages, and as of mid-August, there's a Spanish speaking chat room. Click on the New Features tab in your account menu to see the latest improvements to the platform.
Games offered by WOLF.BET
There isn't much to say in terms of WOLF.BET games. The site started as a crypto dice platform, featuring just that one game, but in time, it added a Hi-Lo one, for a touch of diversity. Both are on par with what is available at other crypto gaming sites and have a house edge of 1%. By now, WOLF.BET have added a third game: Limbo – a variation of dice.
However, the robust auto bet function is something to note. It lets you set and save strategy. You can name a pattern and adjust how much to bet after a win or loss. How long your session should last, and so on. Now, the site also has a Flash Bet option, which lets you make thousands of bets per second.
The Hi-Lo game also boasts a unique deck of cards, where all the face ones feature cartoony wolf characters. There is no maximum possible multiplier on the Hi-Lo game, which uses unlimited decks of cards. It has a few unique aspects that set it apart and add some flavor.
At the bottom of the page, you can see a table of all the bets placed. You can see a detailed breakdown, including timestamps, amounts, payout multipliers, and profits. You can also look at the standings in the Wolf Race in a separate tab.

Easy Access
Does a WOLF.BET app exist? No, there is no WOLF.BET mobile app of any kind. We reached out to the support staff, asking if there are any plans to develop a Wolf.Bet Android or iOS app? They answered that, as far as they know, there is currently nothing in the books. However, they said that the site works perfectly on all types of mobile devices. We immediately grabbed our two Android phones and went to work.
Accessing this crypto casino through phones that work on Android 7.0 and Android 9.0 Pie systems, through both Chrome and Mozilla, we faced no problems. The Wolf.Bet mobile version is a mirror copy of what you get on a desktop. Just resize the screen so that it is a vertical rectangle in a ratio proportional to your phone's screen.
That said, everything functioned seamlessly. It impressed us, as not only did everything worked as about what you would expect, but usability didn't suffer from the smaller screen. Everything was readable, accessible, and the mobile experience was close to perfection.
WOLF.BET Deposits & Withdrawals
Given that WOLF.BET is such a popular crypto casino we expect to see the site support more than a few cryptocurrencies. It does not disappoint as it accepts seven of them, and you will have to generate a new address to obtain your unique one for each crypto. Once this happens, it remains assigned to your account for its lifetime.
There are no deposit limits, and the site credits deposits instantly. It does not wait for blockchain confirmation. You can place funds in your account using the following cryptos:
Bitcoin
Ethereum
Ethereum Classic
Ripple
DogeCoin
Tron
Bitcoin Cash
Litecoin
Tether
UNI Token
Stellar
SUSHI
You can make withdrawals through the cashout tab in your account menu. Naturally, each method has its withdrawal limit, and these are for BTC – 0.001, ETH – 0.04, LTC – 0.1, BCH – 0.02, DOGE – 2000, TRX – 250, for XRP – 50 and for UNI – 3. All Wolf.Bet withdrawals should happen immediately. Yet, in some cases, due to security reasons, the process may take up to 24 hours. There are no fees associated with deposits. For withdrawals, you must verify your email and activate the two-factor authenticator to remove funds. Please note that when withdrawing, the cashout amount will be subtracted by a fee in order to cover the transaction costs – for BTC that fee currently stands at 0.0002 BTC. You may also have to provide KYC documentation.

WOLF.BET Bonuses & Promotions
When it comes to WOLF.BET promotions, the site doesn't shy away from going all out to entice new players and keep those registered from veering off into the arms of competitors. There may not be any classic deposit WOLF.BET bonuses, but there's plenty of variety on hand.
The platform maintains a social media presence via giveaways through its Twitter account, which awards daily prizes. The site's Twitter budget has a limit of around $200. If that doesn't sound like much, know that there are also Telegram Contests you can get in on to win other lucrative rewards.
There's a Lucky Number Promotion that runs on the Bitcointalk forum. You have to be a member there with a specific number of posts to participate. You do so by picking a number from 1 to 100 before someone else does. A draw happens, and the winners get different sized prizes from a pool of around $100.
The chat is good for more things than casual conversation, as it is also home to many WOLF.BET competitions, which range from roll hunts to trivia games. A fun way to enhance your balance. You can also get in on the Chat Rain, one that happens every twenty minutes, so if you plan on playing here, have something to say.
However, the most interesting promotion on the site is the Wolf Races, which are daily wagering contests. The higher your position in the standing, the higher your prize becomes. If you stumble upon on a hot streak and can maintain your roll, then you can claim a prize, each day as your streak extends.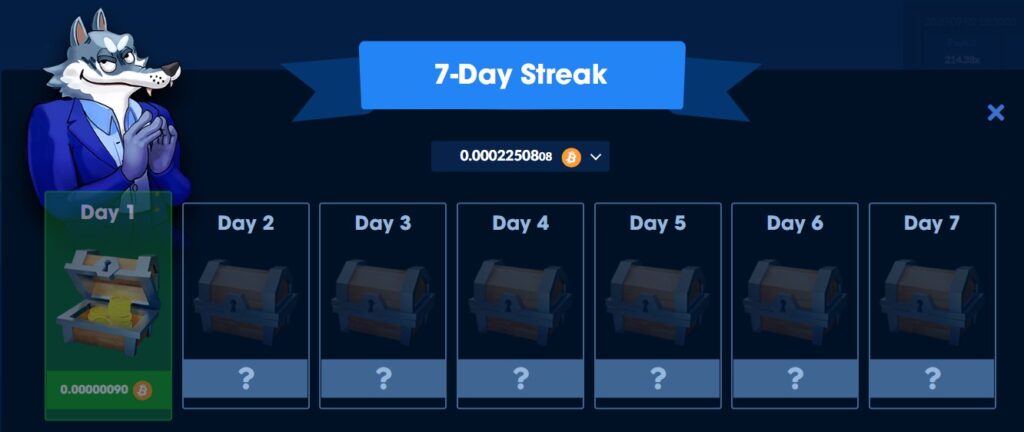 VIP Program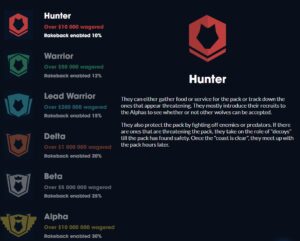 So, is there a WOLF.BET VIP program? Yes, it is called the Wolf Pack. It provides a rakeback, and its percentage depends on your rank in this system. For the uninformed, a rakeback is a continual rebate. You accumulate rakeback each time you place a bet on the site, and it gets calculated out of a 1% house edge. Meaning, if you bet $10,000 your rakeback will be $10,000 * 1% * 10% which is $10.
There are six levels or ranks in this Wolf.Bet loyalty program, or VIP club, whatever you choose to call it. To enter it, and attain the first rank, Hunter, you will need to have wagered over $10,000, which will enable a rakeback of 10%. Then comes the rank of Warrior, which you get for betting over $50,000. It comes with a 12% rakeback. As the ranks grow, so does the discrepancy between the bet amount needed to achieve the next one. To become an Alpha, you will need to have wagerd over $10,000,000 with the site, and it will allow you to receive a rakeback of 30%. In-between, the Beta rank will earn you a 25% rakeback, Delta 20%, and Lead Warrior 15%.
WOLF.BET Customer Support
If you run into an issue and require assistance, your best option is to plead your case to the live chat support staff. The WOLF.BET live chat is operational 24/7, and there is usually a team of about three representatives at the ready. You can establish WOLF.BET contact by clicking the headset icon in the lower right, do not click on the speak bubble icon, that it is the group chat button.
Like always, we tested out the live chat, and upon first access, we waited about twenty seconds before we were deep in conversation with someone from WOLF.BET's side. Their professionalism did not go unnoticed as they responded to all our inquiries swiftly and in detail.
The team answers within 20 seconds via live chat.
The WOLF.BET email support needs better marketing, as you can find the support address buried in the terms and conditions and the FAQ page. Unsurprisingly, it is [email protected]. We tested it out as well, with a simple question, and got a response within the hour.
Speaking of the FAQ page, it is home to twenty FAQs. These provide somewhat satisfactory explanations of common problems. We would have liked to see some categorization and a more in-depth approach to some of the answers, but it will make do.
Security
WOLF.BET, like most Bitcoin casinos, has a Curacao gaming license. HDS Technologies, the company that operates the platform, has an Antillephone License, which is one from one of four Curacao master license holders (License No. 8048/JAZ). These master holders provide sub-licenses, and they sell casino packages to interested parties. Antillephone is not the best of the bunch, but it is something.
The site features advanced encryption with a 256 Bits ECC key, and it may ask players at any time to provide KYC documentation if it deems it necessary. It also reserves the right to restrict service and payment until confirmation of player identity. While a hassle for most, it is a good sign contributing to their credibility. WOLF.BET also advocates for all players to activate 2FA inside the settings panel.
If you are curious about game fairness, you can visit the dedicated page that explains the cryptographic provably fair algorithm and how to verify the randomness of each result. Furthermore, the site has a certificate from iTech Labs, dating from July of 2019, that its RNG complies with relevant standards.
GOSU Conclusion
What can we say about WOLF.BET? Well, it has an impressive presentation, that's for sure. It may have been in the game for a short period, but it has accumulated a large following. In its beginning, it featured only one game, and it would give every new player a few Doge as a complimentary greeting. Today, the site is more robust, adding a Hi-Lo game, a limbo game and multiple promotions. It's ever-improving, recently adding a Flash Bet option, which allows you to make 2,000 wagers per second. It may not be the most diverse gaming site out there, but what it does, it does it well. It engages with its customers and provides all kinds of cool user options, such as the ability to view detailed stats. We're sure that WOLF.BET will only grow in the years to come. If dice, Hi-Lo and limbo are something you enjoy, you can enjoy them here, as it's a place better than most.
Is WOLF.BET a legit crypto casino?
We highly trust WOLF.BET and consider it as one of the most reputable casinos on the market for crypto gamblers. There is no doubt about this this casino being legit.
Does WOLF.BET have a gambling license?
WOLF.BET has a Curacao gambling license.
Is there a WOLF.BET deposit bonus?
Currently, WOLF.BET does not offer deposit bonuses. New players can take advantage of a free 7-day streak rewards bonus.
How long does it take to receive a withdrawal?
Withdrawals are processed in real time at WOLF.BET.