Space Cows to the Moo'n Slot Review
13/11/2023
|
Categories:
Booming Games Slots
|
Published by:
BTCGOSU
|
Last updated: 13/11/2023

As you may know, we are one of Booming Games' media partners. What does this mean on our end? Nothing more than that, we seek to pay attention to this provider a bit more than others in its rank, reviewing its games now and again. Given that it has been a minute since we looked at a Booming slot, we decided to do that now.
In 2023, this company headquartered in the Isle of Man (Douglas) made sizeable strides, expanding its presence in Denmark, the Netherlands, Spain, and many other markets. It also upped its release schedule, setting loose around three spinners on casino lobbies everywhere, on average. Space Cows to the Moo'n (an adorable name) is the latest Booming game. It first received an exclusive launch on October 25, 2023, and then got wide distribution on November 2. While it is not setting the interactive world ablaze, it is doing reasonably well for a slot from this level or provider, and we are examining it in this review.
Theme & Design
The theme of Space Cows to the Moo'n is UFOs. Those who have had somewhat of an interest in this field likely know that the abduction and mutilation of cattle are frequent myths linked with alien visits. That stems from a series of these incidents, somewhere in the neighborhood of two hundred, reported in Colorado alone between April and October 1975. Various theories existed about this unexplained phenomenon, many of which connected it with extraterrestrial visitors.
We checked and saw that around one hundred and fifty online spinners exist that incorporate cows in some way, and the same figure applied to UFO-based games. Yet, we only found one other slot that blended these two motifs, and that was Roswell Secrets by Capecod Gaming, released in 2017.
Audio-visually, Space Cows to the Moo'n reminded us of Booming's Dog Hiest Shift 'N'Win. We must say that over the past year or so, this provider's games have taken a massive step up in terms of presentation. They are now competitive with top-sector slot suppliers. That also holds true for this release as well, which features engaging painterly graphics and a subtly eerie soundtrack that matches the tone Booming was going for with this slot. Overall, we quite like the presentation here, with the setting being a farm at night, with a spaceship hovering over the semi-transparent grid, shooting different lights on it to signal varied gameplay actions. There are voice-over sound effects that announce many of these, and they can get annoying at times. Still, you get some cow dancing animations, and all in all, things look better here than we expected them to.
You can select your wager size in the bottom left corner of the screen using plus and minus icons, and then you can initiate game rounds through the spin functions in the bottom right one. Above these, you have the icon that pops open the info page, an alternative way to set your bet, and a settings button.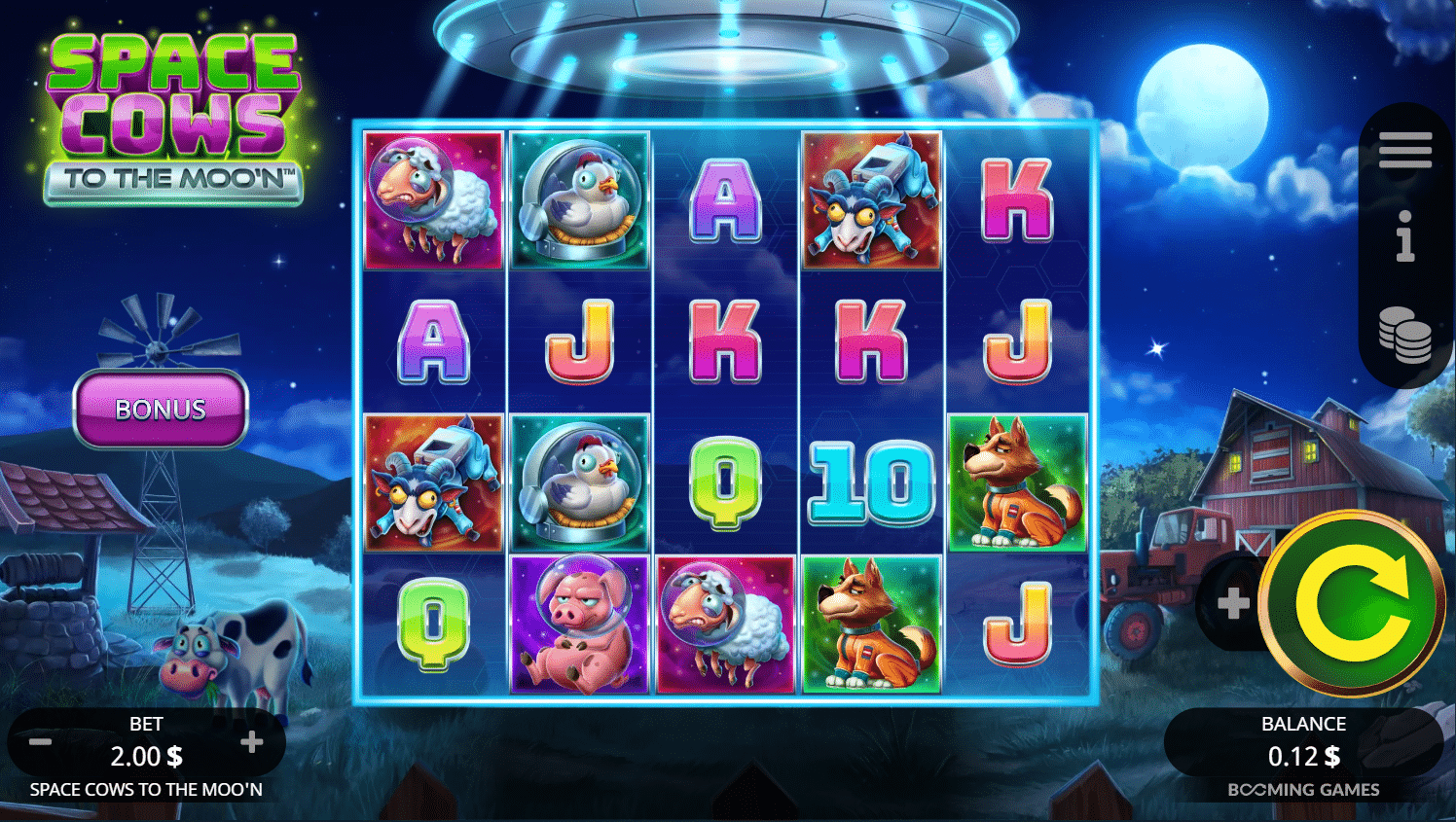 Specs & Gameplay
Space Cows to the Moo'n is a cascading high variance title with a hit frequency listed at 29.09 and a free spin hit rate of one in two hundred and forty-eight. It boasts a x5,000 max win, which is a pretty decent one for a game with a top wager of $100 and a minimum of $0.2. The gameplay here plays out on a 5×4 grid, and the return-to-player setting on this Booming Games product has gotten set to 95.6%. That is a bit under the sector average but still pretty good concerning the math model implemented. The number of paylines here is 1,024, and you claim prizes in Space Cows to the Moo'n when you hit three or more identical tokens on adjacent reels starting from the leftmost one. Only the longest-matching combo per symbol gets paid out, and multiple ones appearing on the same reel rotation can get added together.
The low-pay tokens here are the customary A to 10 royals, producing wins from x0.5 to x1.75 for five-of-a-kind combinations. Their premium counterparts are a chicken, a goat, a dog, a sheep, and a pig. These produce rewards up to x4 for the same number (five) matching symbols from this batch appearing on the 5×4 layout on one spin.
You get two cow wilds here, showing up on the middle three reels only, and the spaceship is the scatter of this game.
Bonus Features
Unlike in the past, Booming Games' slots now usually have a wealth of bonus features. That is also the case with the Space Cows to the Moo'n online slot. As mentioned, this is a cascading game with two wild types. First, you get regular substitution pay symbols, and then you have multiplier wilds that enhance your payouts and whose values get added together when they help form a winning combo.
In Space Cows to the Moo'n, after cascades happen, there's a chance to trigger one of four random UFO features. You can activate up to five of these features at once. They are Beaming Wilds, Multiplier Wilds, Minor Destruction, and Major Upgrade. The latter morphs low-pay symbols into premiums. Minor Destructions removes minor tokens, Multiplier Wilds randomly adds up to five x2 wilds, and Beaming Wilds transforms two to five pay tokens into wilds.
This slot also features a free spins mode that you can trigger via three to five landed UFO scatters. Depending on the number of hit scatters, you will get eight, ten, or twelve on-the-house spins. If you are impatient, you can opt for the Bonus Buy option and purchase your entry into this round for a price of x80.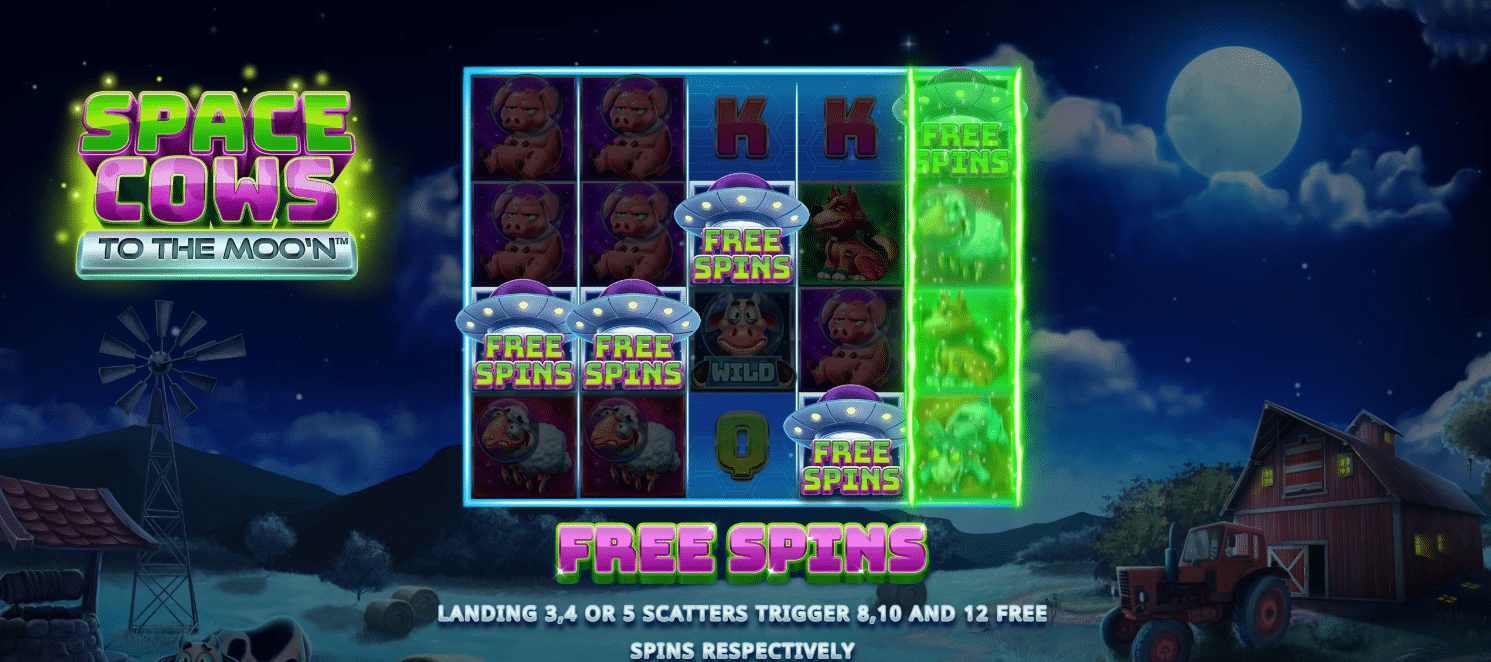 GOSU Verdict
We think that this game has loads of charm, a fun theme, and a quality presentation. Its top prize is more than acceptable, and the hit frequency here is solid. Plus, the number of bonus features is decent. While we cannot say that Space Cows to the Moo'n is one of the highest-quality spinners we have seen all year, it is an above-average slot that is quite entertaining and would get rated as one of Booming Games' better efforts. So, check it out if you see it in your lobby.
Best Bitcoin Casinos with Space Cows to the Moo'n Slot
Relevant news