TNT Bonanza Slot Review
14/03/2023
|
Categories:
Booming Games Slots
|
Published by:
BTCGOSU
|
Last updated: 05/09/2023

We have decided to pick things up in the review section on our slot page. Yes, we know we have been slacking off in this department lately, but our focus had gotten put elsewhere in the months that passed, and sadly, with limited staff, it is in limited supply. For our resurgence in analyzing slot games, we chose to check out and see what Booming Games is doing. As many of our readers know, we are on this provider's list of select media partners, so we feel we have an obligation to give its products some attention. Not preferential treatment, just a look-see at their catalog now and again. One of their latest releases that are doing well in multiple markets, ranking in the top one hundred most played games in Canada, Germany, Japan, and the Netherlands, is TNT Bonanza. Booming set this spinner loose on the digital sphere in late February (23rd) 2023, and it has garnered some decent reviews so far. That prompted us to give you our opinion of it.
Theme & Design
A bonanza is a situation that creates a sudden increase in wealth. Likely, most readers associate this phrase with the Western TV show that ran on the American network channel NBC for fourteen seasons, from 1959 to 1973. Yet, in the slot world, this phrase is now synonymous with specific subsets of slots. In 2016, Big Time Gaming released Bonanza, a game that is still massively popular. Nevertheless, in our eyes, Pragmatic Play's Sweet Bonanza was the reel-spinner that so many developers are now emulating, adding the word Bonanza in games that implement the cascading mechanic and the pay-anywhere system. That is also the case with TNT Bonanza. Hey, so many providers are doing it. Why not Booming Games also?
The visuals here are cartoony illustrations done in a style whose name we do not know. It features little to no gradients, where shapes assume the role of shadows. We would call it flat, but it works here, and in general, it is super established online, particularly in homepage website design. The symbol design has a Starburst feel, and the exploding animations could use some work. They are a bit choppy and low-rent, in our opinion. The music is upbeat and does not really fit the theme here. On top of this, the sound effects layered when wins occur caused us to experience a sense of audio confusion.
The reels here spin in a semi-transparent 6×5 layout before a mine entrance. The spin functions are in the lower right of the screen above the balance info, and above them is the bet adjuster, plus the info and settings icons. You can also set your stake size in the TNT Bonanza slot by clicking the extra bet adjuster in the lower bottom corner of the screen, using its plus and minus buttons.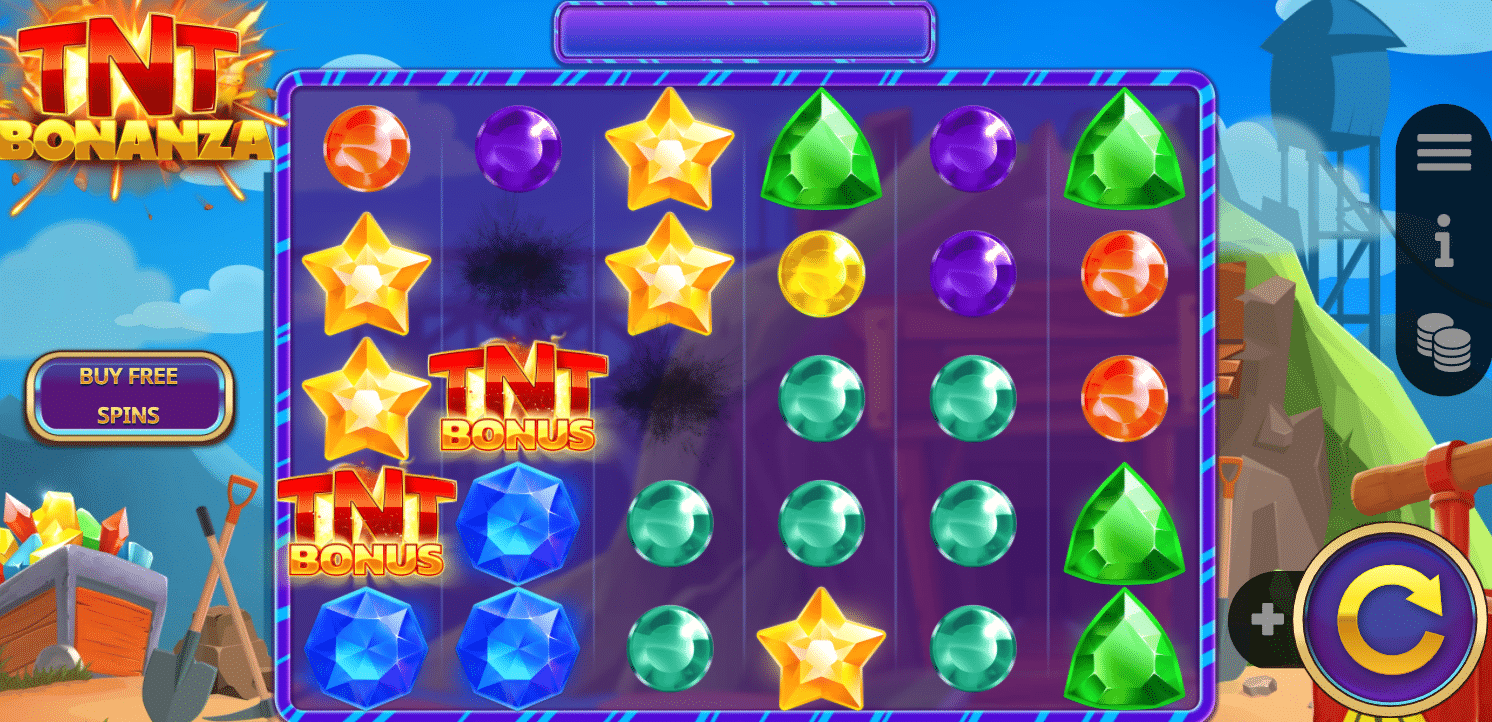 Specs & Gameplay
TNT Bonanza appeals to modest gamblers who do not wish to break the bank. So, its wagering range moves from $0.2 to $20. Booming has set the hit frequency here at 36.5, with a one in 281 free spins rate hit. The max exposure of this pay-anywhere 6×5 spinner is x6,500, and the variance in play here is medium-high. The RTP stands at 96.6%.
As touched upon in the intro, most Sweet Bonanza look-alikes have cascading-win gameplay, meaning prize combos explode, leaving their positions open for new tokens to fall in their place and occupy them, allowing chances for new winning combinations. The symbols in play here divide into the usual two groups low-paying ones and premiums. The first in TNT Bonanza are circular different-colored gams supplying wins of x2.5 to x8 for clusters of twelve or more identical tokens from this batch. The premiums are also gems. Yet, in varied geometric, non-circular shapes. These pay wins of x10 to x100 for groups of twelve or more matching ones materializing on the game grid on the same spin.
The TNT Bonus symbol (scatter) also delivers x2, x5, and x20 wins for groups of four, five, and six identical symbols. Booming Games has added random multipliers to spice things up in this slot, and they get explained below, along with the free spins mode in this title.
Bonus Features
Landing four or more TNT Bonus symbols provides entry into the free spins round, where the game awards ten on-the-house reel rotations. If you hit three or more of these scatters in this mode. Then you will get three extra free spins. Know that special reels with multipliers that carry random values appear in this feature. These arbitrary bomb multipliers can pack values of x2 to x100, appearing randomly. Know that their values get totaled at the end of the win cascade and then paid out.
Those who wish to attain instant access to the TNT Bonanza free spins mode can do so by paying a cost of x100. That is the sum of their current stake multiplied by a hundred. That is an option for those who do not wish to activate this feature via organic gameplay.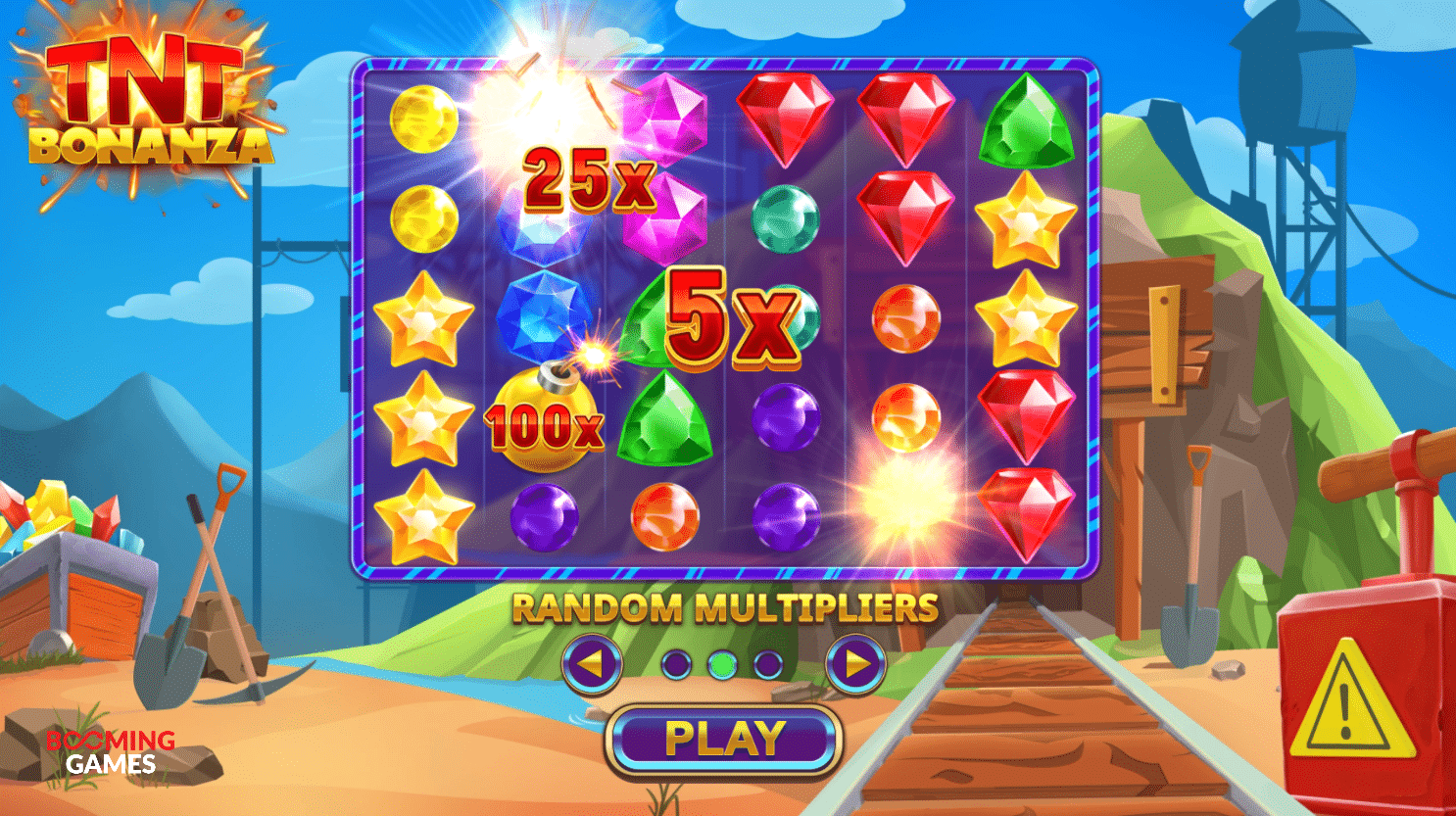 GOSU Verdict
We have stated before that we do not mind copy-cat games much if they are of a specific high quality. Is TNT Bonanza as good as Sweet Bonanza? In our eyes, the answer is no. It is not nearly as polished. And, in all honesty, it has worse specs. The cluster symbol payouts are similar, but the overall win potential is not. Overall, as a stand-alone product, TNT Bonanza is a fine slot. It is an apt substitute for gamblers whose chosen crypto casinos do not host Sweet Bonanza. For players who are members of platforms featuring both titles, we recommend Pragmatic Play's creation. It has a better presentation and a higher max exposure. So, it is the obvious choice.
Best Bitcoin Casinos with TNT Bonanza Slot
Relevant news