Deal or No Deal Live Game Show Review

If you live in the United Kingdom (or the United States), you will undoubtedly be familiar with Deal or No Deal. The hit game show may not be on the air anymore, but during its peak, it was one of the most-watched television shows in the world, and with good reason. Deal or No Deal is all about suspense and knowing when to make the right call.
Unsurprisingly, the king of live dealer casino games, Evolution Gaming, saw a window of opportunity with this game. Deal or No Deal makes for the perfect gambling game, and for the last few years, you've been able to find the live dealer title at all top crypto and fiat casinos offering Evolution's titles.
While some online casino games bear striking similarities with others, there are few titles to compare Deal or No Deal with. Instead, this is a standalone title, but one that you should instantly know how to play if you've seen the show before.
Theme and Design
Deal or No Deal is streamed out of Malta for the most part. Don't expect the same type of studio that you see on television. There's no red telephone, no Noel Edmonds, and no other contestants. Instead, the numbered briefcases sit on rows of tables, and the human host will walk between them to open them. There is a mildly different form of gameplay, too, but we'll come to that in a moment.
The game uses both RNG (random number generator) and HD cameras with a live stream to complete the action. In many ways, this format can be described as an early predecessor of the First-Person live casino games that Evolution Gaming would go on to develop. Don't worry about this, though. There's plenty of live-action in this mobile and crypto-friendly game of chance.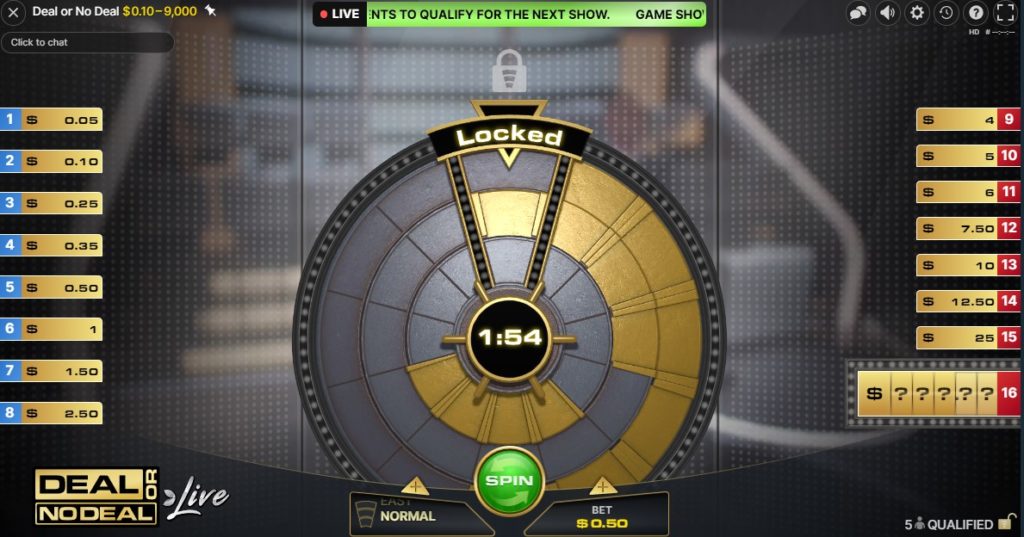 Specs and Gameplay
Deal or No Deal is a game with no seats so that everybody can have a crack at the game. You don't need to worry about "losing your place", so to speak. Of course, on the original show, each briefcase is filled with a cash prize, but that isn't feasible when so many players are joining in the action, each with different stakes. Therefore, each box has a number inside it.
Players will get to start with a qualifying round, where they can place their bets. You'll then be taken to a three-tier wheel reminiscent of a bank vault. This wheel has three difficulty settings, Very Easy, Easy and Normal modes require you to line up one, two or three gold bars to process. If you make it through, you can choose a briefcase and opt to "top up" your cash balance with an added bet worth 5x up to 50x your original stake.
With the preliminaries out of the way, the main game begins. Here, the host will begin opening sixteen briefcases, inside each of which is a number. The total prizes you can win are on your screen, and when a number appears, its corresponding prize is removed from the screen. The prizes are based on your total stake, ranging from 75x up to 500x a bet.
As with the game show, occasionally, the host will offer the player the chance to take the banker's offer, interrupting gameplay. You'll have a limited time to accept the offer that appears on the screen, or you can choose "No Deal" and carry on seeing the briefcases opened.
The objective here is to take a banker's deal if you believe it is better than what will remain in the last two boxes (the host's and your own). As touched on, up to 500x a bet can be won in this game, but it is a highly volatile release, with an RTP of 95.42%.
Bonus Features
Deal or No Deal is such a straightforward (and yet unusual) game that no bonus features have been woven into its design. What you see is what you get. You could argue that the preliminary, qualifying round is a sort of bonus, as is the top-up round, as they don't appear in the original game show. However, they just make it more challenging to get through to the final game itself, and honestly, we're not a massive fan of them.
GOSU Verdict
Deal or No Deal is a very tough game to crack. You're going to need a bit of luck to get through the opening phases and choosing the easier routes will cost you extra in the long run, and you'll need even more luck to bag the top prize. That said, we'd never turn our nose up at a top prize worth 500x a bet. There are plenty of other Evolution Gaming live dealer titles offering this prize, arguably more. However, they lack the thrilling excitement of those famous boxes opened. With that in mind, Deal or No Deal is a game you're surely going to want to try, especially if you're a fan of the original game show.
Best Bitcoin Casinos with Deal or No Deal
Relevant news