Pinup Girls Slot Review

I know many of you think we are overdoing it with our Pragmatic Play reviews but think of it like this. Nowadays, Pragmatic Play releases around six to seven slots per month. So, if we analyze two titles monthly, that means we are neglecting four or five of their games. Trust us. We don't look to give their titles preferential treatment. It is just that when we look at the charts, Pragmatic's products almost always rank well after debuting. That is also the case with Pinup Girls, a slot that showed up online the same day (January 3rd) as another one from this developer, 5 Rabbits Megaways. However, due to us analyzing this game a few days after it hit casino lobbies, not enough data exists regarding its placement in most-played standings. In all honesty, we chose to examine it because we liked its visual style. Thus, let us get into Pinup Girls by Pragmatic Play.
Theme & Design
What is a pinup? It is a female model whose mass-produced pictures were able to notch widespread appeal and seep into pop culture. Naturally, this phenomenon and the term are not as prevalent today. In general, it was something that was an in-thing in the 1940s and 1950s when scantily-clad photos of women were still somewhat taboo. Many famous actresses in the early 20th-century film era, who were sex symbols of their day, got painted/photographed and put on posters sold for personal use, triggering this trend, one that began in the 1930s and hit a fever-pitch high during World War II. We should note that, in the beginning, these images got painted by artists specializing in this field, such as Gil Elvgren and Duane Bryers, before photographs became the norm. According to many, Bettie Page was the quintessential pinup girl renowned for her 1950s Playboy work when she redefined how a pinup should look.
Concerning pinup girls on digital reels, one notable example of a model from the 1980s getting her online slot is Samantha Fox. In 2020, MGA Games released a game boasting the likeness of this pop singer and former glamour girl from London, who rose to fame thanks to topless photos of her appearing in the Sun newspaper in the early 1980s.
Pinup Girls by Pragmatic Play aims to remain faithful to the painterly style of the artists that made this genre established in its heyday. It is a faux oil on canvas technique that implements the classic retro style of sensual art influenced by traditional women's beauty standards. The colors are vibrant here, and the fonts are vintage. The setting of Pinup Girls is a beach house, in front of which the reels spin inside a frame that resembles a Las Vegas sign. The music is an easy-listening tune. Reminiscent of a few previous Pragmatic Play games. We cannot remember which ones precisely. Expectably, it picks up in the free spins round. Some of the sound effects here are novel, and others Pragmatic has recycled.
The presentation of Pinup Girls is more than decent, and this slot has a very 1970s game show feel, which we liked. The buttons panel of Pinup Girls is the standard configuration Pragmatic has used for the last several years.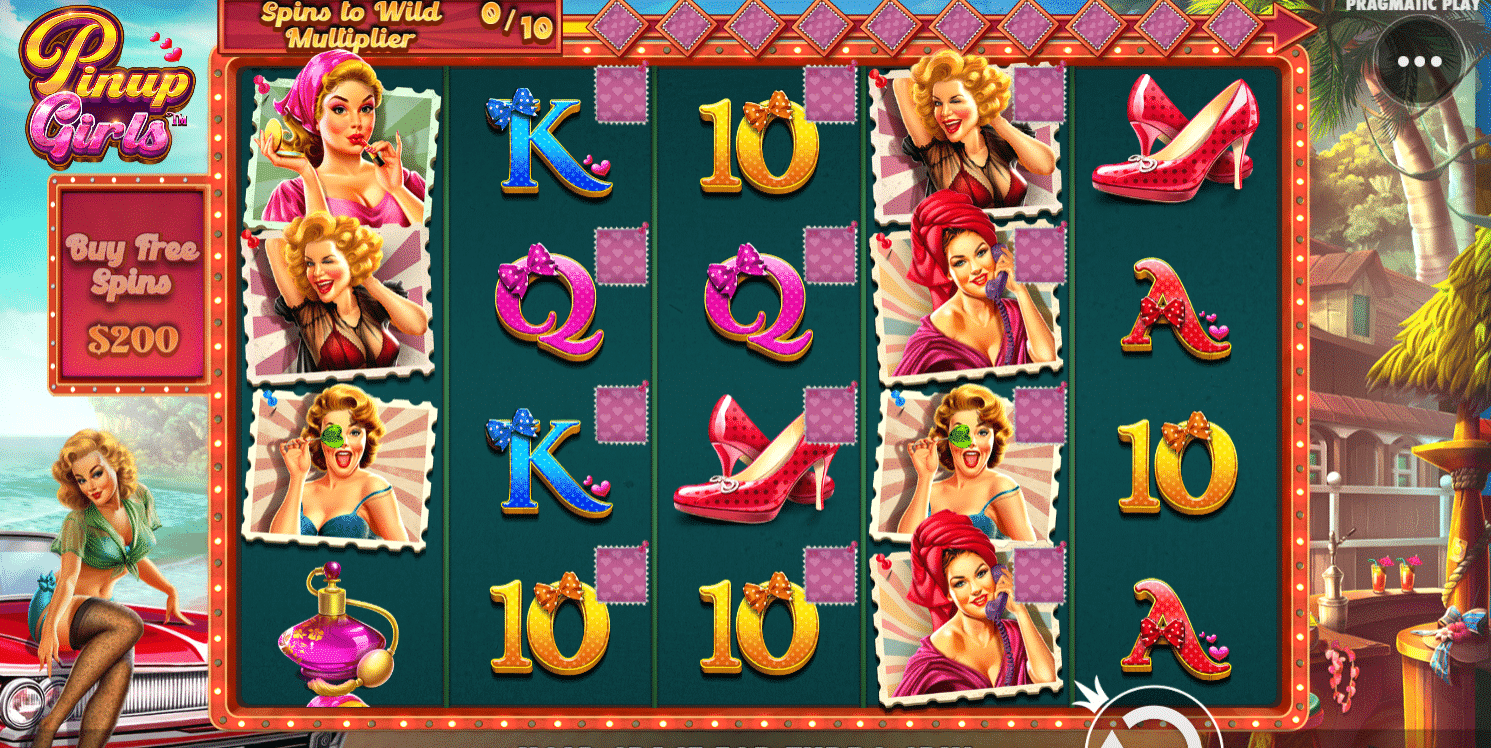 Specs & Gameplay
Pinup Girls is a high variance spinner with a default RTP of 95.28%, which can drop to 94.43% at some operators and rise to 96.44% at others. The number of paylines in play here is twenty and wins in this game occur when you line up three or more matching symbols on adjacent reels, left to right.
The slot utilizes a 5×4 grid and has a betting range that starts at $0.2 and ends at $100. The max exposure here is x3,000, a win attainable once every twenty-three million spins (in theory, at least).
The low-pay tokens here are the regular A-10 royals in different colors with pretty bows. They produce prizes of x2 or x3 for five-of-a-kind combos. The premiums of this game are red shoes, a bottle of perfume, and four pinup girls. Hitting five identical symbols from this batch on the same reel rotation will generate rewards of x5 to x37.5.
The wild of Pinup Girls is an image of red lips, substituting all other pay symbols but not the scatter, appearing only on reels two, three, and four. The scatter here is a red cabriolet. And it can show up anywhere on the 5×4 layout.
Bonus Features
It is paramount that you remember that Pinup Girls gets played in a series of ten spins that you can buy on any bet, with spin numbers getting boosted on each subsequent spin until the tenth one, after which they reset. The middle three reels get marked with possible multipliers, and at every reel rotation in the cycle of ten, random spots within this section of the 5×4 layout have their multipliers increased by x1. Their values remain on screen until the ten-spin series concludes. When the sequence ends, wilds that have appeared in the middle of the 5×4 grid will take the multiplier attached to them at that time. Multipliers get applied to any win that passes through them. If several multiplier wilds are a part of a prize combo, their multipliers get added together. At the end cycle, all multipliers get reset.
Landing three, four, or five red convertibles will activate the free spins bonus, giving away ten, fifteen, or twenty complimentary reel rotations, respectively. Know the feature described above is also available in this mode, but the multipliers get used every five free spins here. On every 5th spin, the positions labeled by wilds transform into wilds, assuming the multiplier spots. Multipliers remain on the grid until the round ends. The free spins round cannot get reactivated, but entry inside it can get purchased for a price of x100 your wager.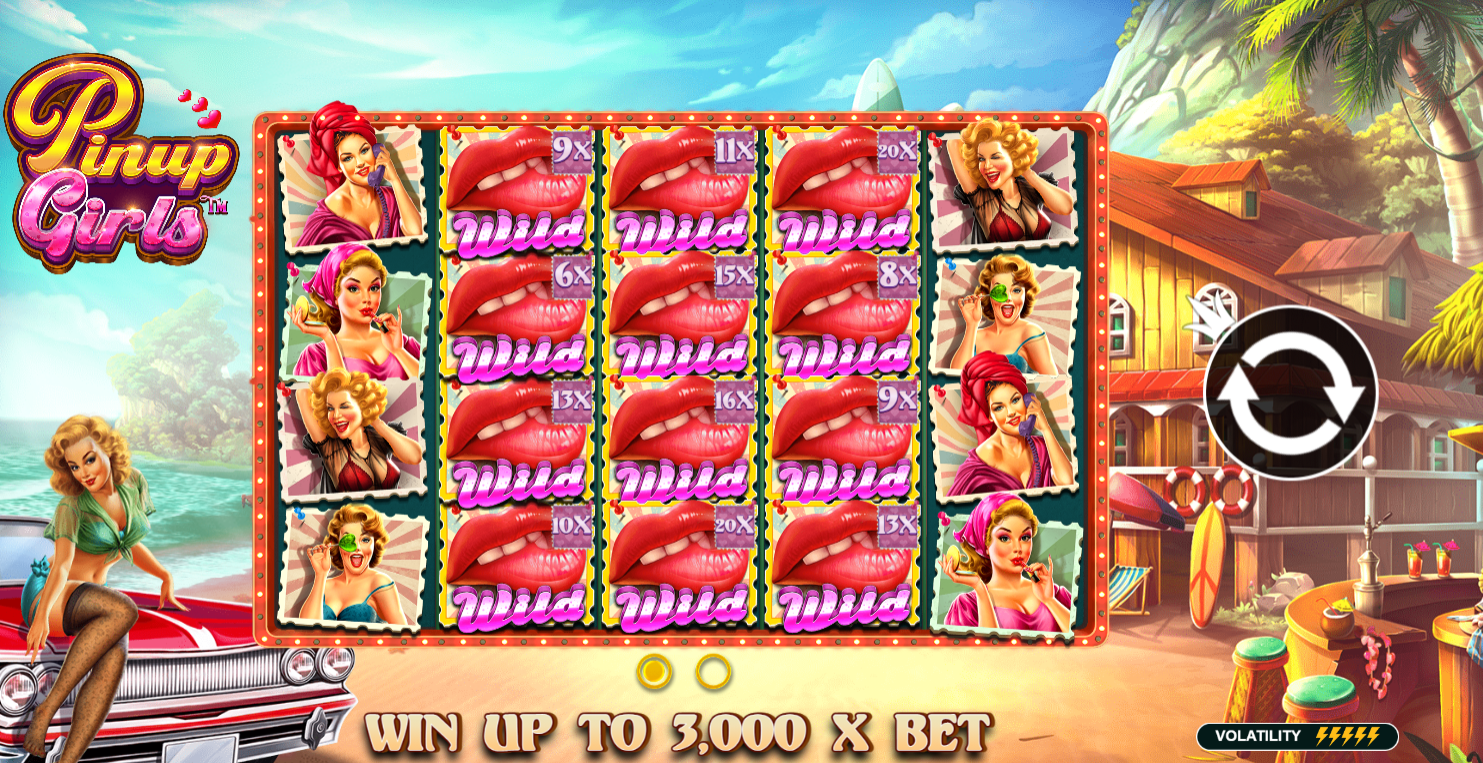 GOSU Verdict
Ah. We wanted to like this game more than it did. The look of it got us curious. And presentation-wise, Pragmatic delivered the quality we expected in this field. Nonetheless, we found Pinup Girls boring. The gameplay got tedious after a while, and the nice-looking women were not enough to keep us engaged in this game, one lacking in character and uniqueness. Even the max win here is disappointing, given that loads of high variance slots from Pragmatic boast one of x5,000. So, we advise that you skip Pinup Girls. Unfortunately, we cannot think of any games with good-looking women we would recommend, as there are no terrific ones we can come up with off the top of our heads.
Best Bitcoin Casinos with Pinup Girls Slot
Relevant news