Mega Wheel Game Review

Launched as the very first live game show from Pragmatic Play, Mega Wheel has gone on to be a massive success for the developer and played its part in helping them tackle Evolution Gaming's lofty position as the top dog in the live crypto casino software industry. Of course, inspiration for this game comes from its rival's Dream Catcher and Monopoly Live games, but there's nothing wrong with seeing what others have done before and improving it.
Truth be told, it is rare to see Mega Wheel and Dream Catcher go head-to-head. In many cases, the two live casino software providers seldom cross swords at crypto casinos, meaning that one is a viable alternative when the other isn't supported.
We're not here to compare these games, though. Instead, we're here to showcase the benefits (and any pitfalls) of playing Mega Wheel today. Let's get started.
Theme and Design
On the face of it, Mega Wheel doesn't look much different from its arguably more famous counterpart (Dream Catcher). However, it has more of a game show feel to it, courtesy of its background, enthusiastic hosts, and brightly colored spinning wheel. There are elements of "Wheel of Fortune" about this game's design and interface, and that is to be expected.
Of course, Mega Wheel is essentially a fortune wheel at heart, too. The basic idea is that you're spinning a wheel of fortune to try and land a win via a game of chance. Let's continue that thought by looking at how the game is played next.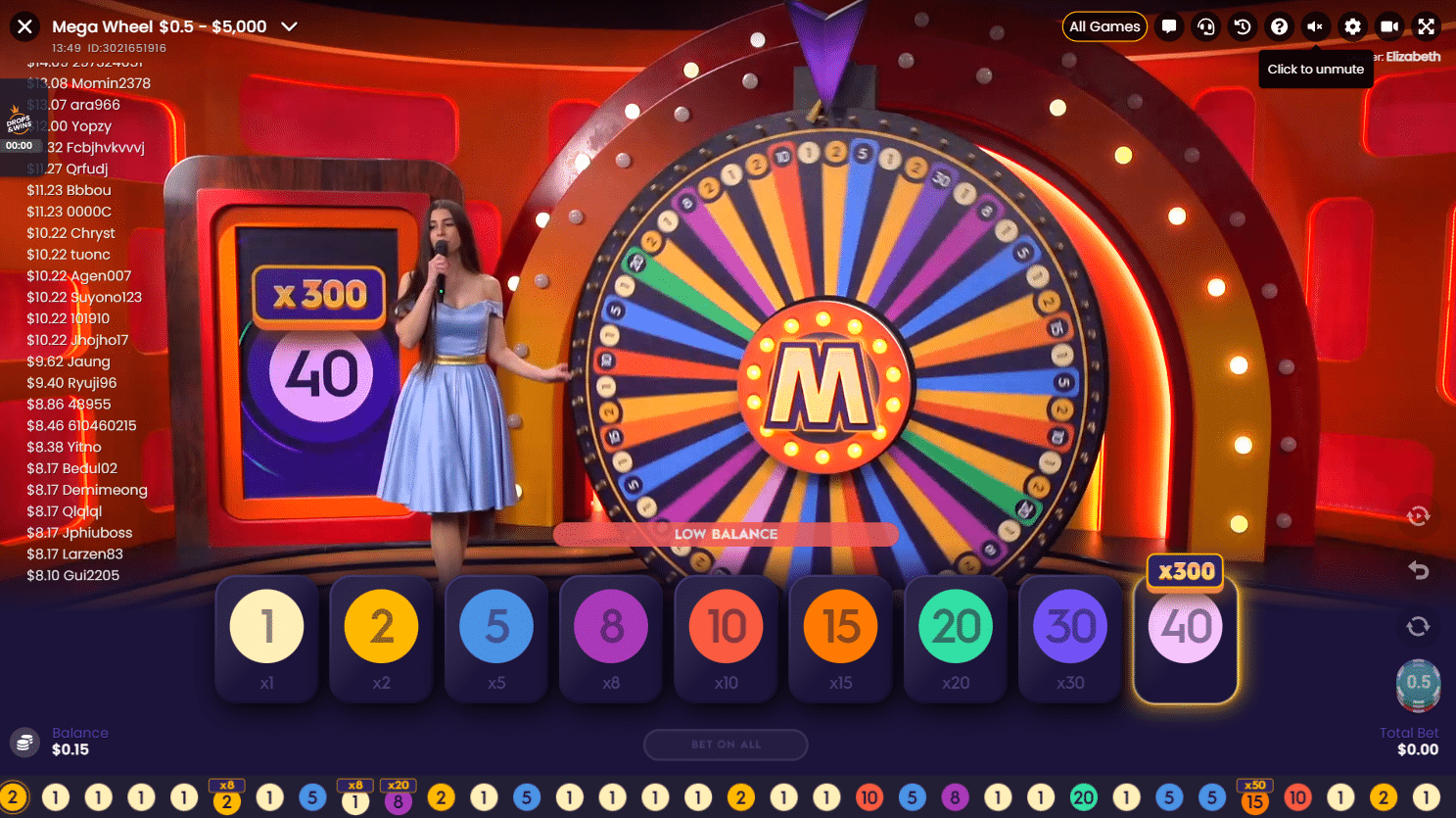 Specs and Gameplay
Before you start playing, you're going to need to use your betting buttons (located on the panel below the live stream) to place your bet. Bets can be wagered on segments which include 1, 2, 5, 8, 10, 15, 20, 30 and 40. You can only bet when the betting window is open. Once it is closed, you'll have to wait for it to open again after the current game has ended. Stakes must be worth at least $0.10 (sometimes $0.25/$1.00, depending on where you're playing) and can typically rise to $500.00 a bet.
Each segment on the money wheel has its own number, color, and prize. There are twenty segments numbered "1", and if you predict that the spinner will land on these, you'll win 1x your bet as a prize. As the prizes (and numbers) increase in value, the number of segments dedicated to them decreases. For instance, there are only two 20 segments and one 30 and 40 segment, delivering wins worth 20x, 30x, and 40x, respectively.
If the spinner lands on a segment that you have bet on, you'll pocket a prize based on the paytable and in accordance with the amount you've bet. The RTP rate of Mega Wheel is considerably generous for what is essentially and practically a game of chance. It stands at 96.51%. We've seen lower (but also higher) RTP rates out there for similar games.
Bonus Features
If Mega Wheel had bonus features, we'd say that there are "multipliers". Multipliers are assigned at random at the start of each spin. Segments numbered "1" and "2" can have multipliers worth no higher than 100x and 200x, respectively. Fives, eights, and tens can reach 250x, while all higher-numbered segments can reach up to 500x. You are less likely to see successive big-money multipliers.
If any multipliers are applied and are applicable to your win, then you'll naturally pocket those added prizes. It is these multipliers that really add spice to what would otherwise be a rather conventional and somewhat dull game. Well, the hosts add gloss, too, so let's not discount them.
GOSU Verdict
Mega Wheel has quite a few contemporaries and rivals. For instance, the Spin a Win game from Playtech, Evolution's Dream Catcher, Monopoly Live, and Crazy Time games are all similar – some would say identical. However, we like Pragmatic Play's attempt at this genre because the hosts are energetic and excited, the gameplay is simple and straightforward for any new player to understand, and the prizes can potentially be epic.
As touched on, Mega Wheel (and other Pragmatic Play Live) titles tend to appear at crypto casinos where you don't find similar titles from Evolution Gaming. However, it is still possible to find them side-by-side at some of our sites. Check our cryptocurrency casino reviews to find out the hottest places to play Mega Wheel online today.
Best Bitcoin Casinos with Mega Wheel
Relevant news