Discover the BetFury VIP Program
11/05/2021
|
Categories:
Casino Guides
|
Published by:
BTCGOSU
|
Last updated: 11/05/2021
We have talked ad nauseam about BetFury crypto casino. Other review hubs claim that it is the best crypto gambling site out there. While BTCGOSU may not necessarily go that far, we agree that it should be at the top of most players' lists. Launched in 2019, it shook things up by offering a vaster range of provably fair games than most competitors paired in with an excellent selection of third-party slots.
Other aspects that make this casino stand out are the BetFury staking option and its loyalty system. We get into the latter below. Before we do, we should point out that, similar to most e-commerce websites today, online casinos also heavily utilize reward programs. BetFury's is a prime example of a premium casino system, so read on to find out what you need to do to advance through its tiers.
How the BetFury Ranking System Works
BetFury Bitcoin casino calls its loyalty scheme the Bet Fury Rank System. It works like pretty much all other similar schemes. Meaning, you advance through its tiers via your betting activity. The more on-site wagers you make, the higher you move up the perk ladder on this platform.
There are eleven ranks, or tiers/levels, whatever you choose to call them within this program. They and the associated milestone betting limits needed to reach them are as follows:
Novice – 0 BTC
Gambler – 0.1 BTC
Miner – 1 BTC
High-roller – 4 BTC
Game Master – 20 BTC
Bet Hacker – 100 BTC
Elite – 300 BTC
Legend – 1,000 BTC
Satoshi – 2,000 BTC
VIP – 4,000 BTC
SuperVIP – 10,000 BTC
So, you play your favorite games, and as your betting history grows, you ascend the eleven ranks mentioned above to claim perks exclusive to each one.
Perks Inside the BetFury Loyalty Scheme
Naturally, the higher up you move up the BetFury VIP ladder, the better the benefits become. There are two types of primary rewards that exist within each rank. These are a rank bonus, which lands instantly in your casino balance once you reach a specific tier and an associated cashback percentage.
The rank bonuses start at 0.1 mBTC for the rank Gambler, and they go up to 1000 mBTC for SuperVIPs. The cashback percentages for all the ranks are:
Novice – 2%
Gambler – 4%
Miner – 6%
High-roller – 8%
Game Master – 10%
Bet Hacker – 12%
Elite – 14%
Legend – 16%
Satoshi – 18%
VIP – 20%
SuperVIP – 25%
Thus, from the first day on this platform, you get access to a cashback deal of 2%. As you stay and play, this percentage grows. You can get your cashback here twice a week, on Tuesdays and Thursdays, and it gets calculated for the amount of money lost divided by the percentage listed in your corresponding BetFury rank. Remember, you can only get cashback on deposited funds, not on ones won on BetFury.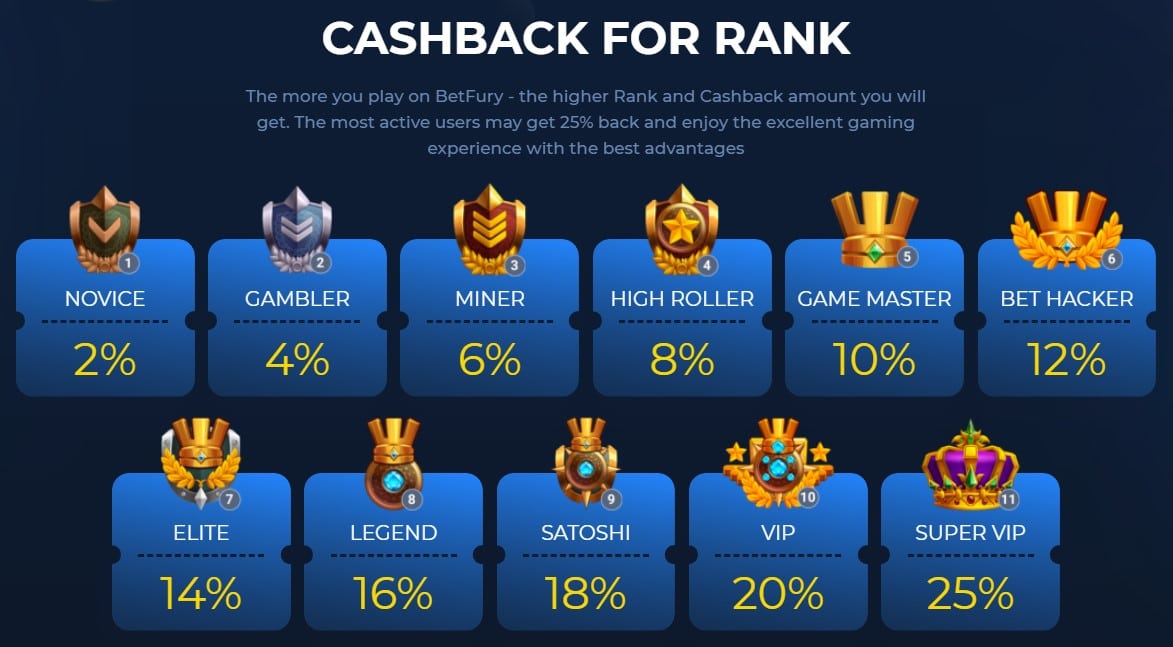 You also have an opportunity to perform daily tasks for prizes and get access to account personalization from the rank of Gambler on. Exclusive promotions begin from the Elite tier, and from that rank on, VIP support also becomes available. VIPs get notified of special deals via email or through their account page. These can include deposit matches, birthday gifts, a personal account manager, tailored deals, and free spins.
You can learn about how much you have wagered on this site so far and your attained rank by clicking the account option from the top-right user drop-down menu. There is also a My Cashback page, where you see what you can expect to get back, and a count-down timer, which tells you when your next accrual will happen.
Relevant news