BC.Game: Coco's World Cup Carnival with $2.1M and Tesla in Prizes
19/11/2022
|
Categories:
News
|
Published by:
BTCGOSU
|
Last updated: 19/11/2022
BC.Game, one of the most popular crypto casinos on the market, is offering its players promotions for the FIFA World Cup 2022 with prizes worth an incredible multi-million dollars. As a sponsor of the Argentine Football Federation (AFA), BC.Game will be present in Qatar to promote the crypto industry.
Coco's World Cup Carnival consists of three different promotional events, all of which come with massive prizes. Below, we will briefly go over all of the promotions and explain how you can participate in them.
$100,000 World Cup Carnival Promotion
As part of the $100,000 World Cup Carnival promotion, fans and sports bettors can make their World Cup predictions for free. The group winners, the knockout round winners, and of course the world champion has to be predicted.
All BC.Game players with VIP 4 or higher can participate. If several players submit the same predictions, the prize pool will be divided equally. Only one player per household is allowed to participate in this promotion. Multiple entries etc. will of course result in exclusion from this promotion.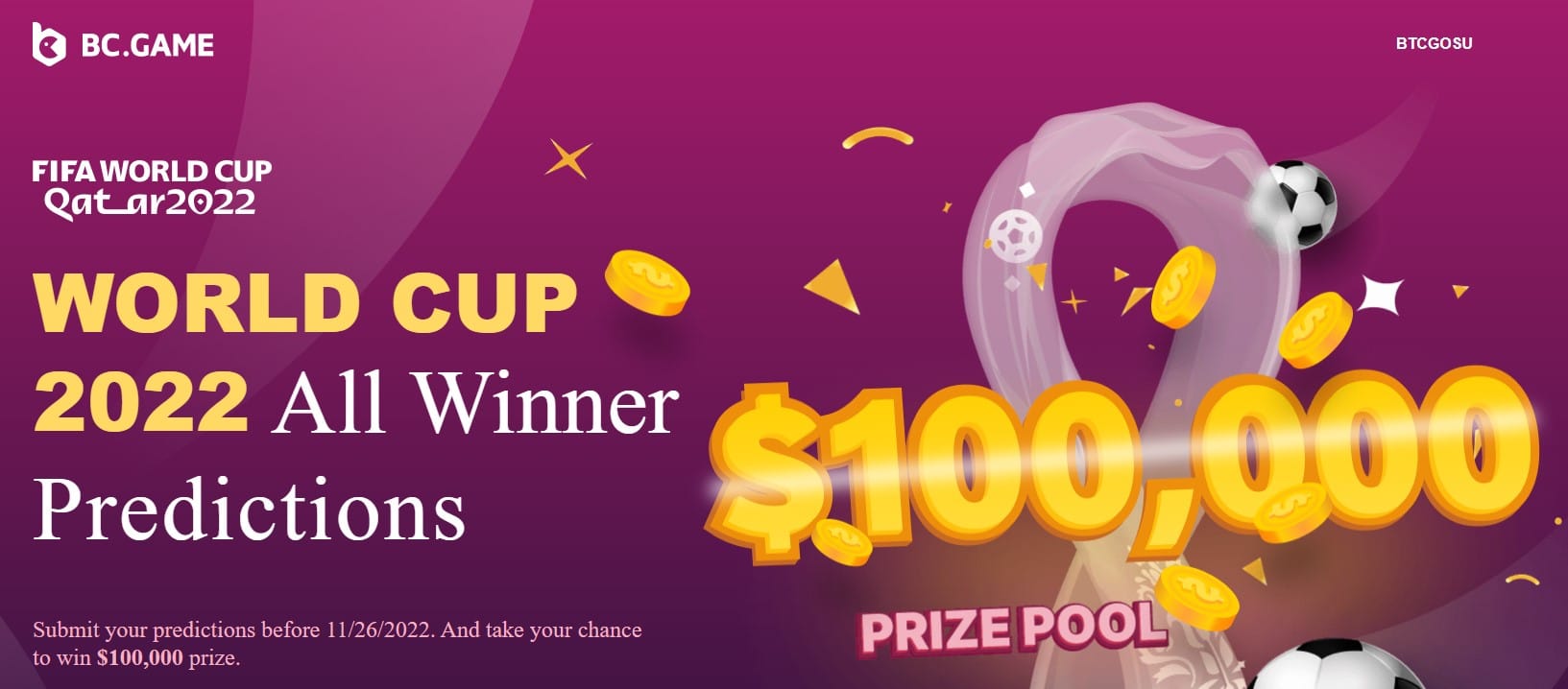 $2,100,000 World Cup Carnival Wager Contest
The $2.1M World Cup Carnival Wager Contest is the "Main Event" where players can secure their share of the massive prize pool. Every bet at BC.Game is rewarded with CUP (World Cup Coins) and the more CUP Coins a player has, the higher prizes await him/her.
The event starts on November 20 at 00:00 UTC+0 and ends on December 19 at 23:59 UTC+0. As already mentioned, the World Cup Coin (CUP) is a fictitious coin that BC.Game has created especially for the World Cup Wager event. By accumulating CUP Coins, players can win prizes.
For every $1 wagered, there are 10 Cup Coins. Players can also use the daily CUP Faucet to win between 100 and 1000 CUP. There will also be CUP sweetcodes to be found on BC.Game's forum and social media.
It goes without saying that cheating users, multi-accounting, etc., will be excluded from the event.
Coco's Mega Giveaway
Coco's Mega Tesla Giveaway includes over $230,000 worth of prizes, including shitlinks, iPhones, trips, cash and even a Tesla.
On the special giveaway event page, players must click on the "Join Now" button and complete certain tasks. Once these are completed, Cwallet will confirm that you are in the draw. Giveaway winners will receive their shitlinks directly to their BC.Game account within 5 business days. Those who win an iPhone 14, travel, cash or the Tesla will be contacted by BC.Game Support.
Good luck, GOSUS – we would love to see one of our users walk away with a Tesla!
Relevant news