SUMMARY
Neodice is a brand-new dice crypto casino featuring excellent free faucets as well as great user features as well as an exclusive $9 No Deposit Bonus for GOSU players.
INFO
Established 2022
License(s) Curacao
Deposit Options BTC, BCH, ETH, LTC, DOGE
Minimum Deposit -
Minimum Withdrawal $20 in crypto
Customer Support Email, Live Chat, Bitcointalk
Languages English
Restrictions -
KYC Yes (Uncommon but possible if deemed necessary)
POSITIVES
Different design
Excellent free faucets
Good user features
NEGATIVES
Slow live chat
No loyalty rewards
Dice-only
Your country is supported!
Neodice Casino Review
NeoDice B.V., a company registered in Curacao, operates this crypto-gambling website. As this entity's name suggests, this is the only casino under this organization's banner, and it got up and running in 2022. Know that this is a dice site akin to the ones that used to dominate the crypto gaming sphere. It accepts five digital coins for depositing/withdrawing, has an interface viewable in English and Russian, and is super proud of its free faucets. Neodice is light on bonuses and games, but it tries to make up for that through its neo-80s presentation.
First Impressions
While we are sure that many old-school crypto gamblers will love the look of this dice site, to us, it utilizes far too much cliché neo-retro imagery. The sunset on the horizon with the grid landscape has gotten beaten to death. Though, we appreciate the grain effect on the illustrations used. Nevertheless, while we know that many will like this platform's design, in our eyes, as fans of all things neo-retro, it does not do anything creative with its motif. It sticks too much to visuals that are synonymous with the genre.
Signing up here is a breeze. You must click the login button in the top right corner of your screen to open the register page, where you can create an account using your Twitter, Google, Metamask, or Facebook profile. And if you choose to go down the traditional sign-up route. All you need to do is input a username, password, and email address. Best of all, there is no need to click any confirmation link to activate your Neodice account.
At writing, Neodice casino does not have much social media presence. Nonetheless, the footer states that a Telegram channel is coming soon. If it is active when you are joining this site, hop on there and mingle.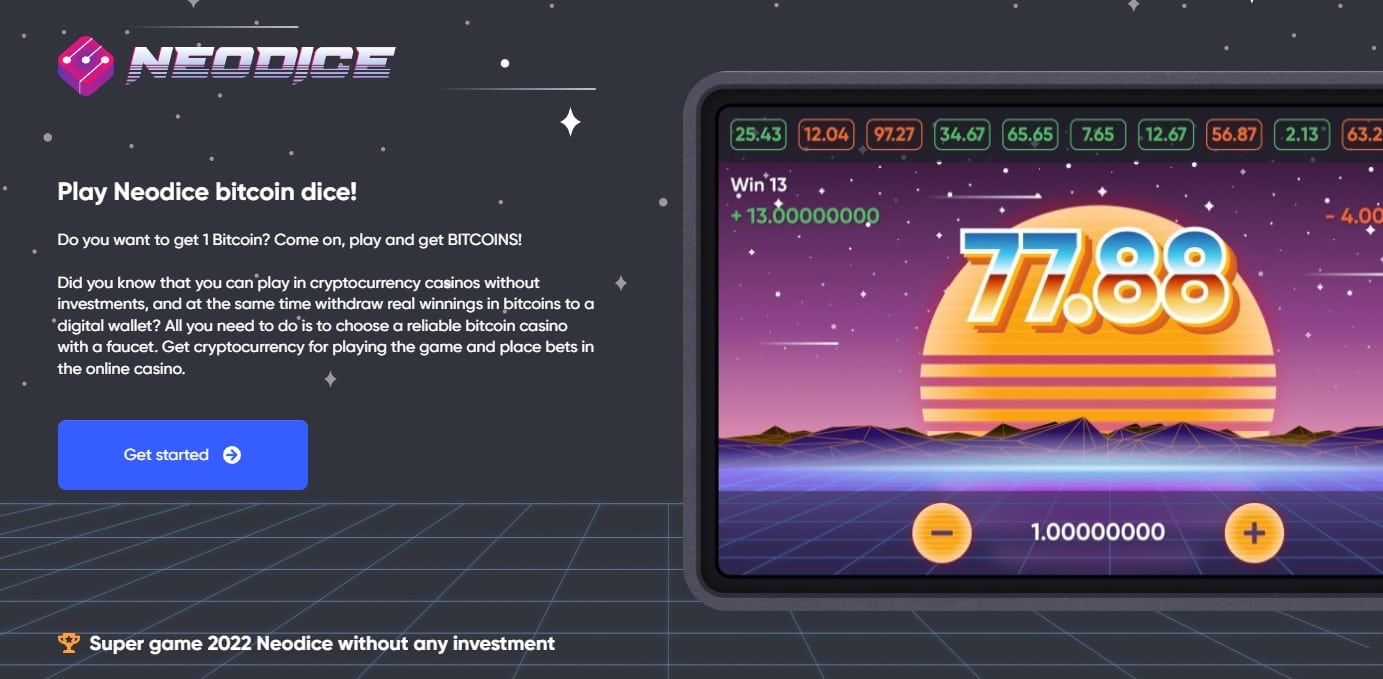 Games offered by Neodice Casino
Okay, so this is a dice-only crypto casino. As you likely know, most dice games have a house edge of around 1%, making them one of the more enticing gambling options online. We set the over-under figures here at 50/50 and performed one hundred rolls. The end result of our mini-session was forty-eight winning rolls and fifty-two losing ones. That sounds about right.
Inside your wallet window, you have a demo coin pick. If you select it, you can test this Neodice game for free, whose slider can get manipulated 1% per move from 2% to 98%. Though, if one chooses to utilize more advanced interface features, the range comes from 0.01% to 98%.
Note that the multiplier of this game includes an RTP of 99%. Hence, it will always be less than 1%. For instance, if you have a 50% of landing a winning roll, it will be x1.98. Also, this dice website appears to implement max bets. The one for Bitcoin is 100 BTC, with a maximum profit of 5 BTC, while the Ethereum limit is 500 ETH, with a max profit of 150 ETH.
At one point, it seems like Neodice offered a progressive jackpot. Yet, we did not see that option and read online that it has gotten removed. It will probably make a return soon. The staff told us they must sort out some legal paperwork surrounding it.
In essence, this is a basic dice game, but it seems to be missing auto-play functions. It shows your winning probability and expected profit in the neo-retro spaceship-like panel. In truth, the real highlight here is the graphics. Not the actual offered gameplay. But it is only dice, so what can you expect?
Easy Access
Naturally, you cannot download a Neodice app. Few provably fair gaming sites have one. So, you must use the Neodice mobile version. We did, and it looked and functioned about as we expected it to. Uncomplicated platforms like this one should run pretty smoothly on portable devices, and Neodice did just that. The responsive desktop website, in our opinion, is an adequate representation of what you will see on a smartphone. Just resize it to a vertical rectangle. It was vital to us that the entire game area appears in view on our phone, and it did.
There is not much else to say about the Neodice mobile website. It works, and we doubt you will encounter any problems with it. Everything is readable on it, and it is mobile-friendly enough.
Deposits & Withdrawals
The cryptocurrencies that Neodice accepts are:
Bitcoin
Bitcoin Cash
Ethereum
Litecoin
Dogecoin
From what we can tell, there seem to be no minimum deposit limits here. We could not find any in the wallet window. Nor any mention of any deposit caps on the general T&C page. The max one appears to be the equivalent of €2,500 per transaction. Withdrawal minimums exist at Neodice, and according to the site's T&C, they are the equivalent of €10. The FAQ page lists them as: 0.0004 BTC, 0.1 LTC, 0.025 BCH, 0.1 ETH, and 50 DOGE. The only exception to these caps is when this casino decides to close your account. Then, you can take out whatever is in your balance.
As a rule of thumb, there are no withdrawal commissions if you bet your deposited sum x1, but if you do not follow through with this requirement. Then an 8% fee with get deducted from the minimum sum of €4 to combat money laundering crimes. If your balance stands at over x10, your total deposit amounts, the most you can take out from your Neodice balance monthly will be €5,000. In all other instances, the monthly limit is €10,000.
KYC is a thing here, and it enters the mix when you make an aggregated total of deposits that pass the €500-mark or when you try to remove funds from your account. The process entails entering some basic personal info, then unloading a copy of your photo ID, a selfie of you holding said ID, and a copy of a utility bill or bank statement. Until you complete this procedure, you will not be able to deposit funds in your balance or ask for a withdrawal.
Update: The Neodice management confirmed with us that KYC will not be mandatory and only necessary in rare cases such as abuse of services (multi-accounting, Bitcoin mixing etc.).

Neodice Casino Bonuses & Promotions
You will not find any deposit matches or reload offers at Neodice. When it comes to Neodice promos, it is all about the three faucets here. They are mini-games that provide some on-the-house gaming funds. The first is Pyramid. Through the Eye of Providence, it awards free Bitcoins every hour. The second delivers a pick'em game with three monoliths, available for play every twenty-four hours, and the third bears the name Fortune, also on hand every twenty-four hours. The latter is a wheel game that yields random BTC prizes.
Aside from these three options, promo-wise, Neodice can reward you for bringing other people to this platform. It does this through its affiliate program, which lets you earn referral rewards for player deposits starting at 5%.
Exclusive BTCGOSU Bonus Alert: Get a free $9 No Deposit Bonus when signing up on Neodice through our site. All you need to do is use our links and your exclusive No Deposit Bonus with a x50 wagering requirement will be credited automatically to your bitcoin balance. This offer is exclusively available on BTCGOSU.
VIP Program
Currently, there is no Neodice VIP program. We asked the site staff about this, and they told us one is unlikely to show up quickly after we post our Neodice review. However, they mentioned they are continuously looking at ways to upgrade this site. And that a loyalty scheme will probably make its way onto this platform.
Neodice Casino Customer Support
As is usually the case, you can open the Neodice live chat window via a head speech icon in the bottom right corner of your screen. Maybe the design team should think about changing its color from grey to something like blue to make it stand out more. As is, it gets lost a bit in the background. When we popped it open, it said that the Neodice support team, on average, responds in under an hour and that this window gets powered by the Intercom chat software solution. It also tried to get us to explore the Neodice help center before we typed our question, but par the course, we ignored that option. When we wrote down our inquiry, a bot said that we should get a reply soon and to enter our email so that we receive a notification of a staff response there. We opted against this and chose to wait. Around two hours later, a reply came. It was Okay. We had a cordial conversation with the Neodice representative. So aside from the wait time, we have no qualms about the interaction we experienced here.
We had trouble locating the Neodice help email but finally found it on the self-exclusion policy page. It said there to reach out to support@neodice.com if you want to self-exclude or if any questions about your use of Neodice crypto casino arise. We sent a message to this address and got a reply within the hour. A so-so one that did not leave us 100% satisfied.
The Neodice FAQ page only has six questions and answers. Yes, these go into a decent amount of detail regarding their respective topics, but most of the subjects covered here are rudimentary and pretty general.
Security
Australia's iTech Labs, one of the industry's most famous accredited laboratories for QA testing and certification of online gaming systems, works with Neodice. It issued its seal of approval that the gaming services that Neodice provides are 100% fair on December 2021, noting that the RNG testing here got conducted according to the Malta Remote Gaming Regulations. One thing we did not like about the presented certificate is that its links are not clickable. It is an image rather than an actual PDF document.
Concerning if this site has a gaming license or not – it does have an active license from Gaming Curacao.
The Neodice security certificate has gotten issued by Sectigo, and the encryption and authentication technology used here is X25519, QUIC, and AES_128_GCM. Nothing particular to note about this online casino's privacy policy. It is fairly standard, stating that it will process your data under lawful bases for the purposes of adhering to the EU General Data Protection Regulation.
You can set up 2FA at Neodice and monitor your access history here, looking at where someone was using what device when accessing your account. Self-exclusion is possible for up to one year, triggerable through your profile page.
GOSU Conclusion
Should we recommend a dice casino in 2022, when most of the hubs in our best Bitcoin casino standings have one or more multiple dice options on top of thousands of other gaming picks? Particularly, a platform that has no VIP program and few bonuses? If you are a dice enthusiast, this is as decent of a place as any other for you to try your hand at almost 50/50 gambling, especially if you are new to the crypto-gaming sector. That is so because the faucets here supply small but frequent doses of on-the-house betting action. So, that is something we love about Neodice. Unfortunately, there aren't heaps of other things to praise here. Still, maybe give this site some time to develop. It is super young, and its management seems enthusiastic about its project. We don't want to bring them down, as they clearly have put loads of effort into Neodice. Thus, give it a look and see if you are into crypto dice. And if you are not, check back with it from time to time to see if it has made any progress. We believe it will.
Can I bet on games at Neodice with cryptocurrencies?
Absolutely. Moreover, you must bet with cryptocurrencies, as FIAT currency deposits aren't permitted.
Does Neodice have a gambling license?
As you might expect, Neodice has been awarded a Curacao gambling license.
What cryptocurrencies can I use at Neodice?
Neodice is happy to accept deposits made using Bitcoin, Bitcoin Cash, Ethereum, Litecoin, and Dogecoin.
Is sports betting offered at Neodice?
Nope. Neodice is a crypto gambling site with some bespoke options. However, sports betting is not one of the services they provide.
Are the bonuses and promos at Neodice fair?
They are certainly generous, and there's even a faucet system in place. We couldn't see anything untoward about the promos and bonuses there, either.