SUMMARY
Crypto.Games features provably fair games with very low house edge as well as a progressive jackpot.
INFO
Established 2014
License(s) Curacao
Deposit Options BTC, BCH, ETH, ETC, DASH, DOGE, GAS, LTC, SOL, XMR
Minimum Deposit 0.0001 BTC
Minimum Withdrawal 0.001 BTC
Customer Support E-Mail, Ticket System, Live Chat, Bitcointalk
Languages English
Restrictions USA, Netherlands, Curacao, France, Hungary, Spain, Israel, Australia, UK, Slovenia, Italy, South Africa, Niger, Nigeria
KYC Yes (Uncommon but possible if deemed necessary)
POSITIVES
Decent reputation
Eleven supported cryptocurrencies
VIP benefits
NEGATIVES
Provably fair gaming only
No deposit bonuses
Could use a more modern design
Crypto.Games Review
Curacao-based MuchGaming B.V. operates Crypto.Games under an Antillephone license. We could not locate any other gaming site in this private company's portfolio. They launched this hub in August 2014, boasting only one game, as one of the first crypto casinos on the internet. The platform is active on a range of social media sites and features nine provably fair games, a slew of daily challenges, and various wagering contests. The site interface is only viewable in English. And Crypto.Games accepts eleven digital coins.
First Impressions
Upon entry, the home page had a small business website feel to us, with font choices that can get called a bit too thick. However, once you scroll down and click on a specific game, you get a more familiar casino design that's a tad outdated. The platform, no doubt, has a retro vibe to it.
Registration here is a four-step process. You input your username, check the terms and privacy boxes, and click join, which prompts a captcha. Once that gets completed, you'll have to navigate to your account, enter your email and password, and set up 2FA. The latter is super important, as you cannot use the chat if you don't complete this step. You cannot change the site's theme to something more appealing.
When you get settled, you can click on your account drop-down menu and check the reward and contest pages or look to complete your KYC verification process. We would also suggest heading to this casino's forum or reviewing its blog page before playing.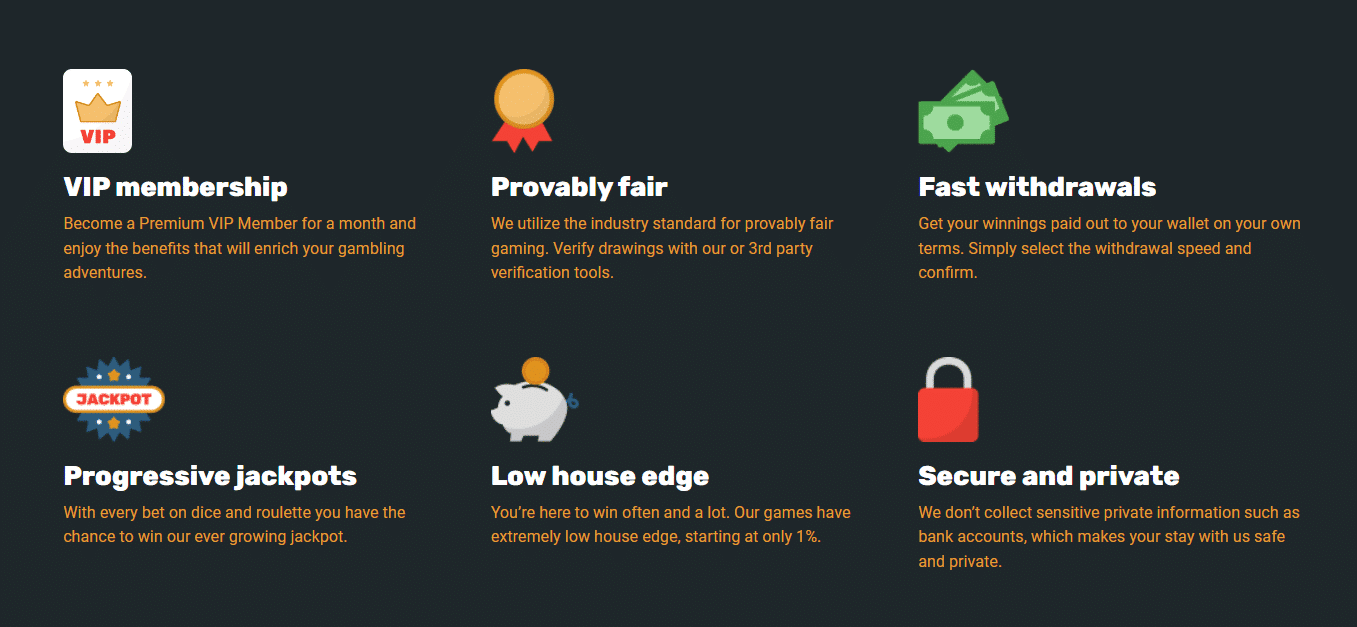 Games offered by Crypto.Games
When it comes to Crypto.Games games, the platform provides nine mediums of provably fair gaming entertainment. These are dice, slots, roulette, blackjack, Plinko, video poker, minesweeper, lotto, and dice v2. All are simple to play. Yet, if their rules are unknown to you, you can click on the How to Play tab in each one. If you want to know if the result of each round is 100% random, you can click on the provably fair tab for verification. The lottery uses the third-party website Randompicker for its draw, and the first-place prize produces 80% of the rewards pool.
You can test the games here by selecting the PlayMoney option. There used to be a free faucet on this casino, but Crypto.Games seem to have done away with it. Naturally, the housed casino games feature minimalistic graphics. They are crude. Video poker and blackjack share an almost identical interface. The slot is a five-reel, three-row virtual machine reminiscent of vintage Vegas spinners, and minesweeper, though simple, is a lot of fun. The two dice-like games are your traditional crypto dice picks, and Plinko is a basic old-school variant. Roulette is the classic version, and keno is a forty-ball one, where you get ten choices max.
The house edge differs from game to game and is most favorable at dice, minesweeper, keno, and dice v2, where it is 1%. Each also has different betting and profit rules. For example, in dice, the maximum bet amount is 20 Bitcoin, and the max win per wager is 2 Bitcoin, while keno only allows bets with a profit smaller than 2 BTC (the max win per wager)
Roulette has the most unfavorable house edge, which stands at 2.7%, and video poker trails behind in second place in this category, with an edge of 2.09% – 2.11%.
Lotto has no house edge, as it is a PvP game with varying prize pools. In it, you can either buy tickets or earn them. The more tickets you have, the better your chances of winning become.
We did particularly enjoy 'Minesweeper' even though it's a fairly simple game. You basically have a grid of 5×5 and a text field lets you set any number of mines from 1-24. If you choose more mines, your payouts are higher and every time you click on a slot that has no mine, you can cash out or continue clicking. No fancy graphics or complex gameplay here but still enjoyable.
Easy Access
There is no Crypto.Games mobile app. We talked to the staff about this a few years back, and they told us they plan on creating one. That they are in the beginning stages, looking at how to move forward. Though, they did not want to reveal if this was going to be a Crypto.Games Android app, one for iOS users, or both. Now in 2023, there is still no app, so we doubt one will ever get released.
Since no dedicated software exists, we accessed the site using an Android phone through the Chrome browser. Know that the platform does not support Android browsers below version 4.4. Once we opened the website, it looked the same as when we adjusted the size of a desktop browser. Yet some text and buttons do not shuffle in the same order. However, the real difference comes when you try to play the games, as their default size is inappropriate for a mobile screen. We had to zoom in for a better view, and we had difficulty when attempting to change games. The load times were also a tad slow. We switched to a different Android phone and got the same result. Thus, we cannot complement the load speeds of the Crypto.Games mobile version.
Deposits & Withdrawals
On the topic of deposits and Crypto.Games withdrawals, we were happy to see that the platform allows the use of eleven cryptocurrencies, and it offers the option to convert balances between all supported cryptos. You can see the exchange rates in their designated tab but know that this is for informational purposes only, as the rates fluctuate. The currencies that you can use here are:
Bitcoin
Bitcoin Cash
Ethereum
Ethereum Classic
Litecoin
Dogecoin
Monero
Dash
Neogas
Solana
Binance Coin
Only fully registered users can make deposits. All deposits should land in accounts almost instantly. You can send deposits in any currency listed in the dropdown menu. The system will automatically convert your deposit sums to the chosen currency available on our website. ChangeNow, a third-party provider, handles this service. It determines the exchange rates and fees. Also, the site uses Onramper, an aggregator for fiat-crypto gateways provided by a third party. It enables users to purchase cryptocurrencies using fiat currencies. Nevertheless, it is vital to clarify that this casino has no affiliation, association, authorization, endorsement, or official connection with Onramper. Please be aware that if you decide to use this service, you must complete Onramper's KYC process, even if you have already completed the Crypto.Games ones.
Those stemming from the exchange option can take longer. There are different deposit minimums for each currency. They are 0.0001 Bitcoin, 0.001 Bitcoin Cash, 0.01 BNB, 0.01 Dash, 0.01 Ether, 0.02 Ether Classic, 20 Dogecoin, 0.01 Litecoin, 0.01 Monero, 0.001 Solana, and 0.02 GAS. If you deposit an amount lower than a minimum, you will not see those funds in your account.
The minimum withdrawal is 0.001 BTC or altcoin equivalent. That applies to the first time you request a payout. The following withdrawals here carry a 0.0005 BTC limit. Transfer fees also apply. So be aware of that.
While deposits usually need one confirmation. For withdrawals, it takes two. The waiting times differ depending on the currency, even though they feature the same number of confirmations. For Ethereum, your funds should leave your account within one minute. For Bitcoin, it could take up to twenty. The speed of the transfer also depends on your chosen fee. Furthermore, inside the withdrawal tab, you have a fee slider below your wallet address. If you opt for a higher one, the process will move faster. You can check your transfer history inside your withdrawal tab.
Crypto.Games Bonuses & Promotions
Regarding Crypto.Games promotions, some may find their organization on the site confusing. And rightfully so, as you cannot locate all the information in one place. If you head over to the promo link in the footer, a schedule of daily promotions pops up. Challenges get added every week for different games with varied prize pools. Hence, it is hard to get bored here. However, you'll often have to migrate to a Bitcointalk thread to get all the details on how things work.
Crypto.Games also holds monthly wagering contests that start on the first of every month. These feature leaderboards for each crypto and the top players receive lottery tickets according to their standing. The top five BTC/ETC players, the top three for LTC, as well as the top player for every other coin, besides their prizes, also get the VIP tag. You can see a list of the number of rewards for each crypto and their respective amount. The contest rewards can change from month to month and are different for different cryptos.
Chat rain is also a thing here, referring to small amounts of cryptocurrency distributed randomly in thirty to ninety minutes intervals. However, the rain will only get given if enough users have participated in the chat since the last instance of rain distribution.
A minimum of two users and a maximum of six site users will receive rain. The amount of rain given to each user depends on their chat activity, calculated based on the character count of each user's messages since the last rain. The RainBot intelligently rewards users based on the quality of their messages.
And be aware to check this brand's Twitter page often, as giveaways also get run there.
The site features a free faucet, and the number of your requests depends on your level (more on that later). At the highest one, you get 60 requests per day.
Users can also tip each other, and you can refer others to the site. Every time you do, the platform will share 15% of the house edge. You can reach out to the marketing team to negotiate a custom rate.
VIP Program
The CryptoGames' VIP Membership program gets designed to provide a range of benefits for site users. To become a Premium VIP Member, you must showcase your skills and secure a top position in the monthly wagering contests. The top performers in various cryptocurrencies will enjoy exclusive perks for a whole month. Of course, PlayMoney winners are not eligible for VIP status.
Once you attain this label, a world of advantages awaits. Firstly, you'll experience a reduced House Edge on Dice, allowing you to enjoy the game with a 0.8% advantage over regular users. That can substantially improve your chances of winning. You will have the highest bet priority, meaning no delays when placing wagers of any size.
Another notable benefit is the higher exchange limits. Say bye-bye to third-party exchanges and save time by exchanging up to ten times per day with a total limit of one Bitcoin. That provides flexibility and convenience for your cryptocurrency transactions.
As a VIP member, you'll gain access to a private VIP chatroom where you can engage with other VIP members and talk directly to casino managers, creating a more exclusive and personalized experience within the CryptoGames community.
The scheme also includes additional perks like a VIP tag on the chatbox, a generous birthday bonus of $100, monthly voucher drops, and more.
Overall, CryptoGames' VIP Membership system supplies a compelling package of benefits for loyal gamblers.
Crypto.Games Customer Support
Well, when discussing Crypto.Games support, we must point out that the golden help trifecta is in play here. If you have an issue, you can reach out to the staff via email to establish Crypto.Games contact, which you can do so at – support@crypto.games. The site says you should allow up to 24 hours for their team to handle your request. However, we sent an email with three questions and received a response after four minutes.
You can find the support email address in the lower right. In that portion of the website, you can also locate the support link, which will take you to a Zendesk page where you can browse through the 45 FAQs, read the chat rules, or go through the terms of service. You can also access the FAQ page via another link in the footer, in the lower left.
There is also a Zendesk live chat support and a public one where you can ask for aid. The on-site chat is active around the clock, allegedly, but you may have to wait a while before a representative can take your questions, as there is often a queue here. We waited some ten minutes for one to free up.
Security
The gambling operator behind Crypto.Games casino, MuchGaming, has an Antillephone license. This body provides only one license type that covers all forms of interactive gaming, and it has IP compliance services and data centers worldwide. It has been in business for around two decades, and it regulates hundreds of crypto casinos.
Crypto.Games Casino mentions in its terms of service that it ensures and guarantees the security of all financial information between users and the platform. Plus, tax authorities. It also complies with KYC policies, so you may need to complete such a procedure before withdrawals. The site aims to perform this check within 24 hours, but sometimes the process may last longer.
Crypto.Games uses advanced encryption with an ECC 256 Bits key to encrypt all data entered on the site, and it is big on users setting up 2FA. If you do not want your name appearing in the last bets and in the High Rolls tab, tweak your privacy settings. The site has an iTech Labs certificate and a server one from Cloudflare. You can self-exclude through your profile page and activate a cooling-off period there, but you cannot set any loss/deposit limits. Though, you can view your betting/login history here.
GOSU Conclusion
If you want a modern design and a variety of complicated games, this is not the place for you. If you desire an established crypto casino with provably fair games, then Crypto.Games casino is worth considering. It supports ten cryptos, and its games have pretty low house edges. In terms of promotions, it doesn't provide anything overly exciting, but you can take part in daily challenges, and the referral program is pretty sweet here. It may appear dated for some, and some of its limits and fees will not be up everyone's alley, but this site is for a different kind of crypto gambler. So, if you enjoy primarily playing provably fair games on a platform with a large community presence, give Crypto.Games a try. It may just tickle your fancy. Lastly, be sure to join the forum discussions here, as, in a way, they are the heart of this site.
Can I bet on games at Crypto.Games with cryptocurrencies?
You can. Crypto.Games supports a selection of in-house, crypto-exclusive titles for you to wager on.
Does Crypto.Games have a gambling license?
Yes. Crypto.Games has been issued a license by the Government of Curacao.
What cryptocurrencies can I use at Crypto.Games?
You can take your pick from BTC, BCH, ETH, ETC, DASH, DOGE, GAS, LTC, SOL and XMR options at Crypto.Games.
Is sports betting offered at Crypto.Games?
No. Crypto.Games only offers in-house cryptocurrency casino games, not sports betting options.
Are the bonuses and promos at Crypto.Games fair?
The games are curtained RNG-certified and Provably Fair, and the free faucet system is great. There isn't much in the way of bonus T&Cs, so we'd say so, yes.