SUMMARY
BitKong is one of the best provably fair crypto casinos and welcomes new users with massive bonuses.
INFO
Established 2015
License(s) None
Deposit Options BNB, BUSD, DAI, DASH, DOGE, ETH, LTC, BTC, CAKE, MATIC, SHIB, USDT, USDC, UNI, XRP
Minimum Deposit 0.0002 BTC
Minimum Withdrawal 0.0002 BTC
Customer Support E-Mail, Live Chat, Bitcointalk
Languages English, Spanish, French, German, Italian, Russian, Chinese, Japanese & more
Restrictions -
KYC No
POSITIVES
Terrific reputation
Decent bonuses
Excellent community
Free Faucet
High-quality blog & mirror sites
NEGATIVES
Slow customer support
No third-party games
The VIP scheme is a bit convoluted
Your country is supported!
BitKong Review
We do not know much about PlayHub, the company behind BitKong. Other than it also operates two other crypto-gambling sites, Lucky Dice and SimpleDice. That said, BitKong is their baby, as it is the oldest of the three, having launched in 2015. The support staff did not want to reveal the company's location, so we do not know where they operate. We do know that BitKong has a terrific reputation, allows the use of eighteen cryptos, that the site is available in seven languages (English, German, Portuguese, Russian, Spanish, Thai, and Turkish), and that it features seven provably fair games. It recently underwent a substantial update. So, if you have not checked it out in a year or so, do so to get a taste of the new and improved BitKong.
First Impressions
If you've ever rolled a digital die on either of BitKong's sister sites, you should be well-familiar with its design. We should say that the other two are mirror copies of BitKong, but it came first. It main difference is that it uses a dull blue color palette. Plus, it is more content-rich now.
Registration at BitKong crypto casino is simple, as all you need to do is leave your email address. After you do, the site will send a six-digit code to your inbox that you have to copy to enter the BitKong crypto gambling domain. You get presented with the options to continue with your Apple, Google, Coinbase, and WalletConnect account for instant sign-up as well.
Once you complete your account creation process, you can explore your account menu, customize your experience, or look into the bonus page. Another option is to access the Telegram group at https://t.me/playbitkong and get all the low-down on this old-school casino there.
Games offered by BitKong
The BitKong game offer consists of seven products. These are provably fair picks, many of which have been around since the birth of the Bitcoin gambling landscape. That is a reference to Dice, Limbo, and Mines, found on this hub, which also hosts Tower, Digital Dice, Gems, and Keno fun.
The Towers game is the original BitKong title, and it is similar to minesweeper. Once upon a time, it was the only gaming choice here. The goal in it is to avoid the mine, or in the case of this game, not to step in poop. You play the game on a tower of four columns and nine rows. On Easy mode, your job is to pick one of the four options per row without selecting the poop. If you are successful once, you move on to another row, then another, on your quest to reach the top.
There are five difficulty modes. They are Easy, Medium, Hard, Extreme, and Nightmare. The number of columns and rows changes in the different modes, as do your chances of making the correct choice. The prizes depend on the chosen mode. On the Easy level, the top reward is x10 your bet. While on the Nightmare one, there are seven rows, with one correct choice per row. The most you can win here is x11,441. The game has a house edge of 1%, and at times, a random multiplier may appear, boosting your prize as you go up a row.
Keno is a variation of the popular lottery-style draw. And it also has a casino advantage of 1%. Limbo, Dice, Mines, Digital Dice, and Gems have edges of 3%, featuring rudimentary gameplay. Mines is another minesweeper iteration. Limbo, Dice, and Digital Dice are all pretty much dice games, and the Gems pick has a slot twist.
Easy Access
So, is there a BitKong mobile app? In the past, this casino website featured a BitKong Android app page but no BitKong iOS app. We can no longer find this section of the site and got no app pop-up on our phone like we used to get here. Therefore, we assume that the management team has chosen to do away with the dedicated Android software. That is not a massive deal-breaker, as the BitKong mobile version works fine when accessed through a smartphone/tablet browser.
Everything is readable, and everything is an appropriate size. The text may be a tad too large, but we don't mind. When viewed on a smaller screen, this crypto casino appears compact. Its mobile variant is far less complex than the somewhat cluttered desktop website, for a provably fair-only platform at least. The load times could be a bit faster, but we did not mind the ones we got.
Deposits & Withdrawals
BitKong crypto casino tries to appeal to crypto gamblers by allowing them to use eighteen of the most popular cryptocurrencies. In the cashier tab, it notes that the payment options may vary depending on your location, but as far as we know, these are the cryptos that you can use on the platform:
Binance Bitcoin
Binance Coin
Binance USD
Bitcoin
DAI Stablecoin
DASH
Dogecoin
Ether
Litecoin
Pancakeswap
Polygon
Shiba Inu
SushiSwap
Tether USD
UniSwap
USD Coin
Wrapped Bitcoin
Ripple
BitKong allows you to exchange fiat currencies into cryptos without leaving the site. However, you cannot deposit funds, exchange currencies, or withdraw without placing bets. The types of fiat money you can use at BitKong are BRL, GBP, EUR, IDR, PHP, RUB, THB, TRY, and USD.
BitKong supports Segwit and Legacy Bitcoin addresses, as well as Bitcoin lightning. To deposit, select your crypto, and the cashier panel will instantly provide you with the following information, the number of confirmations, the minimum deposit limit, and your deposit fee. For Bitcoin, the minimum deposit is 0.0002 BTC, and the deposit goes through after one confirmation. If you decide to deposit less than this limit, a fee will get deducted from your deposit. The Ethereum minimum deposit limit at BitKong is 0.0001 ETH, and the Litecoin one is 0.002 LTC, requiring two confirmations.
When cashing out, you have to choose between multiple networks available. That depends on the selected crypto. Each withdrawal carries a minimum limit, often identical to the deposit one, and an accompanying fee. For Bitcoin, the minimum withdrawal is 0.0002 BTC, and the platform will charge you a fee of 0.0001 BTC for it.
As far as we can tell, there is no KYC on BitKong. We could not find any info regarding it in the general terms and conditions, and the players we asked in the public chat told us they have never encountered such procedures here.
BitKong Bonuses & Promotions
On the subject of BitKong promotions, the one most worth talking about is the four-part welcome package. It consists of three deposit matches with an increasingly-higher minimum deposit amount. The first one supplies a 270% match for a minimum deposit of $400. The second gives away one of 300% for a deposit of at least $800. The third provides a match of 330% for $1,600, and the fourth awards 360% for a minimum account funding of $2,000. It is vital to point out that these deposit bonuses also have lower match percentages for smaller deposits. For example, in the first deal, you can get a 120% bonus for deposits between $30 and $79 and a 150% match for ones ranging from $80 to $399.
BitKong also has an Unlocker Bonus, which will be discussed in the VIP subheading, as we do not want to get overly repetitive in this BitKong review. The hub also gives away five free spins on the Magic Wheel to every user. These can yield BitKong Dollar prizes, BTC, and USD ones. The rewards given away here can be locked or unlocked, and three categories get presented. They are Rookie, Super, and VIP. In the last one, a reward of up to 7 BTC awaits. In the other tiers, 3 BTC and 1 BTC prizes are available. The Magic Wheel functions much like a faucet. And the same can get said for the Recharge Bonus on hand in this crypto casino, whose most efficient utilization strategy is to get claimed every hour for maximum compensation.
BitKong offers a Jackpot prize, where the win percentage of it that depends on the size of your bet. For example, for a wager of $0.5, you can win 1%. For one of $5 or more, you stand to win 10% of the total jackpot, and for a bet above $500, you can potentially take home the whole thing.
We should also not fail to mention that subscribing to the BitKong Telegram Affiliate bot can lead you to earn up to a 50% revenue share and that this site has a multi-level BitKong referral program. The BitKong affiliate system has three tiers, generating up to 15% in commission rates at most. Plus, it gives away 100 BKD for each new player you refer.
Tournaments are a thing at BitKong, with prize pools that swell up to $10,000.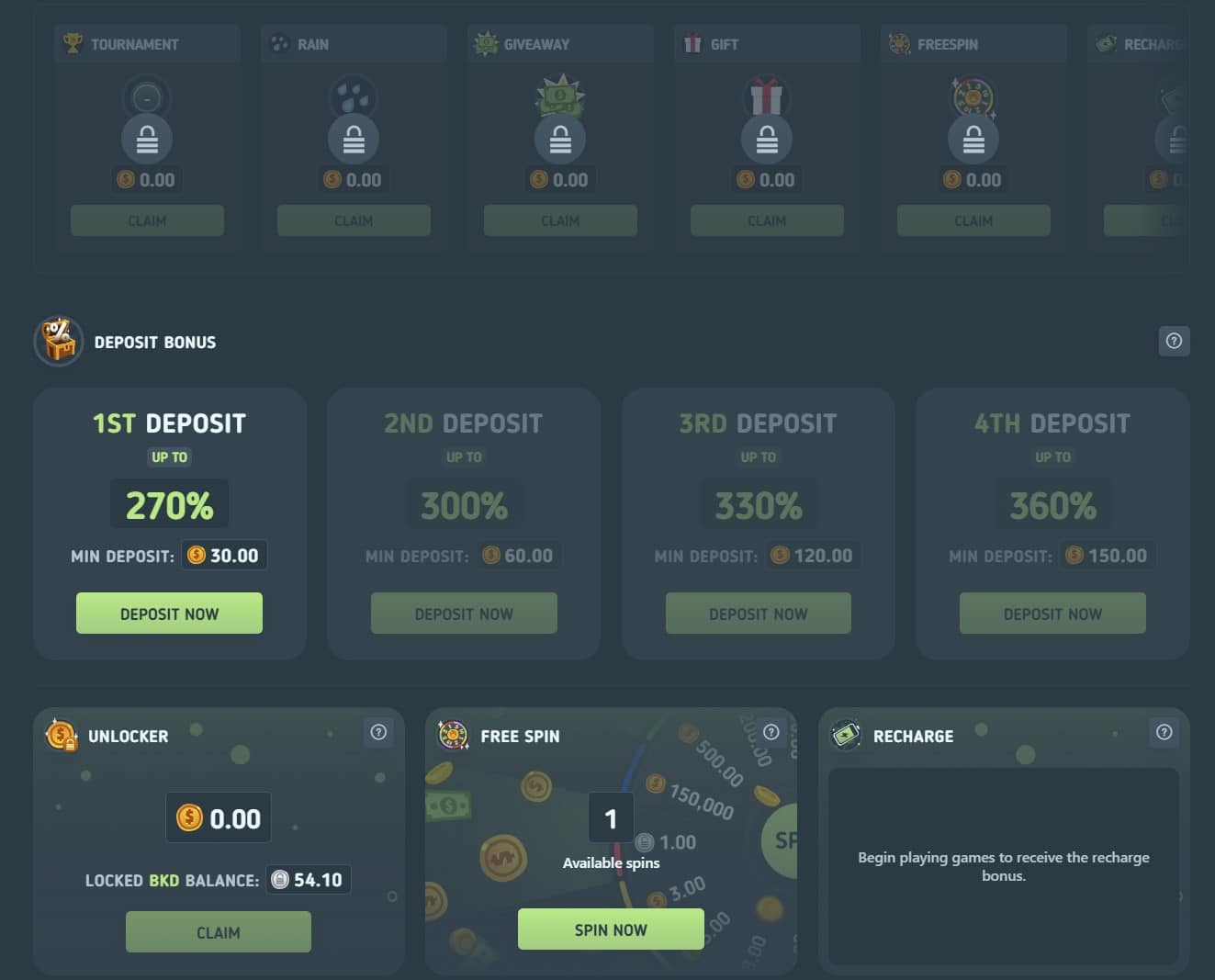 VIP Program
There is no classic BitKong VIP program. Instead, what you get at BitKong is a somewhat convoluted point-collection scheme that rewards loyalty. The platform used points as a metric to compare users' bets, a super practical choice given that BitKong allows multiple cryptos. So, using one metric was a convenient solution to follow everyone's progress. Now, it seems like this hub has moved to utilize dollars (wagered amount) instead of points. Hence, as you make more bets at BitKong, you move up its six-tier loyalty system. You start as an Adventurer with zero dollars wagered. And you need to bet over one-hundred-and-fifty dollars to become a Champion. From then, you need more than $2,600 to get the label Hero, over $40,000 for the Master one, around $700,000 to get called Legend, and more than eleven million to become the King. Note that we are pretty sure that these figures change according to how the crypto market fluctuates. So, by the time you are reading this, different ones may be in play. Also, each tier has ten sub-levels, except for the first one.
Rewards depend on your ranks. Naturally, the higher your rank, the better your benefits. In the past, the BitKong loyalty scheme worked with cashback. For instance, at the Adventurer level, the size of the provided cashback was 0.1%, but if you were a King, you would get 0.3%. But now, loyalty rewards have been merged with the Unlocker Bonus, where you unlock 2% of everything you wager. The same goes for leaderboards and level-up bonuses. When you bet on this site in any currency, you get/unlock BKD (at a rate of 1 BKD = 1 USD), and locked BKD gets obtained through specific bonuses like the Magic Wheel and the deposit promos. As mentioned, you can swap BKD into other currencies whenever you wish.
BitKong Customer Support
Your BitKong support options are live chat (powered by Intercom), an FAQ page, and email. Par for the course, we go to the live chat window first. Note that you have to log in first before using this option. Once you do, the communication window appears, or you can pull it out by clicking support via the pull-out left-side menu. We did and opted to send a message through it. The instant auto-reply was that a response would get sent to our email address. That would happen when the BitKong support team shall return to work later in the day. We waited multiple hours for this to happen. Also, eventually, we did establish BitKong contact through the BitKong live chat window. When that occurred, it didn't go smoothly. Most of the answers received were copied and pasted from the FAQs.
Therefore, perhaps before attempting to reach the staff, you should first navigate to the help page. You can find it in the live chat window. There is a search field there. It goes through its content, which has thirty-three articles in total that divide into four general categories. They feature detailed explanations of some basic questions, but we did not find them overly handy.
There is email support at – support@bitkong.com. The platform doesn't advertise this option, and it says that you should use it only to file a complaint or in case you have located a vulnerability on the BitKong website. You can also seek assistance in the site's official Telegram group, its Bitcointalk thread, and the platform's public chat. The latter has chat rooms in eight languages. These allow conversations to take place with other BitKong players in Thai, Portuguese, Russian, Indonesian, Spanish, Japanese, Korean, and Turkish. Frequent participants can look forward to attaining one of six chat badges awarded at the BitKong support team's discretion. They are Super, Lucky, Star, Cool, Guru, and VIP.
Security
BitKong has no gaming license. According to the staff, they operate from a country that does not require one to provide gambling services. Not a rarity in the crypto-gambling sphere. Although, most platforms try to attain a Curacao license to put players at ease and add to their credibility. But the Curacao regulators' approval does little in terms of player safety. At least they let you complain to someone, right?
BitKong does have advanced encryption in place to protect player data, with a certificate issued by GeoTrust Global. They used to have one from Sectigo RSA. It implements TLS 1.2, AES_256_GCM, and ECDHE_RSA with P-384 protocols. The site says that under regulations, it has to retain your data. Yet, it fails to mention what these laws are, from what country, and so on. It also claims to use anti-fraud methods, but again it doesn't mention anything specific. Thus, the terms and conditions are vague and do not provide adequate information regarding player safety.
The good news is that BitKong promotes 2FA, and you can use Yubikey, Rezor, Ledger, Android Biometrics (Android OS 7.0 or above), MacBook Pro Touch ID, and any FIDO2 compatible device. What is also encouraging is that the platform has been in business for a few years now, and there have been few complaints, with the site receiving positive feedback on crypto forums. If you want to self-exclude (a minimum period of three months) here or activate a cool-off period, you can contact the support staff. There are no on-profile options for these functions.
GOSU Conclusion
If you are looking for gaming variety, look someplace else, as BitKong has only seven simple, strangely engaging games. Except for Towers, these are the crypto classics many of us know and love. That said, as far as provably fair crypto gambling platforms go, in our eyes, this is one of the best ones out there. It delivers no-fuss mobile-friendly gaming, allows the use of multiple cryptos, and lets you easily ensure the fairness of all your bets. It lacks decent support, plus concise explanations on how some things work, but if you look past that, you can have fun on the platform as you grab BitKong Dollars and enjoy the things you can do with this on-site currency. We love that the blog has a vast array of decent articles and that BitKong has a dedicated domain where it encourages users to leave feedback, request features, and report bugs. The platform also has four mirror sites, which we don't remember seeing elsewhere, and it offers on-hub conversion while listing all the current crypto market prices. Excellent.
Can I bet on games at BitKong with cryptocurrencies?
Bitcoin and other crypto-friendly options can be found at BitKong, so you should have no trouble doing this.
Does BitKong have a gambling license?
Unfortunately, we couldn't see any verifiable license attached to BitKong. This is not uncommon for sites with homebrew games.
What cryptocurrencies can I use at BitKong?
BitKong accepts leading cryptocurrencies such as Bitcoin, Ripple, Ethereum, Litecoin, Dash, and Dogecoin.
Is sports betting offered at BitKong?
No. BitKong isn't even an extensive casino. Instead, it is more of a game than a generic casino. Therefore, you can't expect to wager on sports at BitKong.
Are the bonuses and promos at BitKong fair?
There is an excellent faucet system at BitKong, and most of the Ts and Cs attached to deals are reasonable. We've no complaints here.