Chips.gg: Super Spinner Event Winner announced
17/10/2020
|
Categories:
News
|
Published by:
BTCGOSU
|
Last updated: 17/10/2020
Chips.gg announced the big lucky super spinner event on twitter a few hours ago. We had already reported on various generous promotions this new site launched and this one goes to show that they are serious about becoming the ultimate crypto casino.
The lucky winner's username is "SyGambler" – happens to be a guy we have known for quite a while now, which makes this even better – and he just bagged a Tesla Cyber Truck!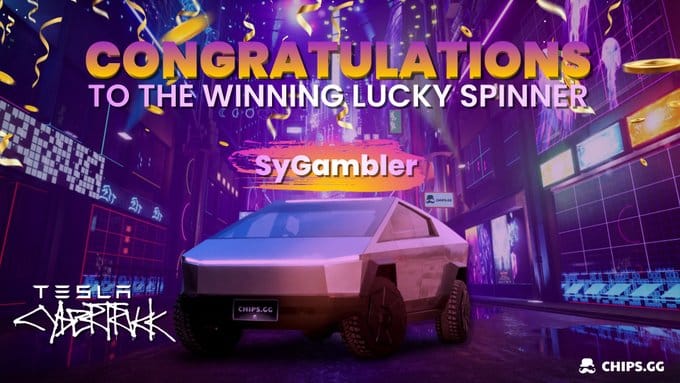 The Super Spinner Promotion was basically a wagering competition where players would get 1 ticket for every $1000 wagered – SyGambler got 135 tickets for the raffle and these were enough!
Congratulations to SyGambler once again and let's wait and see new promotions the people from Chips.gg Casino will be coming up with.
Relevant news