BetFury: 19th BFG tokens burning completed
03/06/2021
|
Categories:
News
|
Published by:
BTCGOSU
|
Last updated: 03/06/2021
BetFury completed another token burning session yesterday and shared the details. In total, the amount of burned tokens from the 19th token burning session is 17 536 798 BFG.
We are happy to see that BetFury keeps burning tokens as initially "promised".
Read on for more info and a quick overview.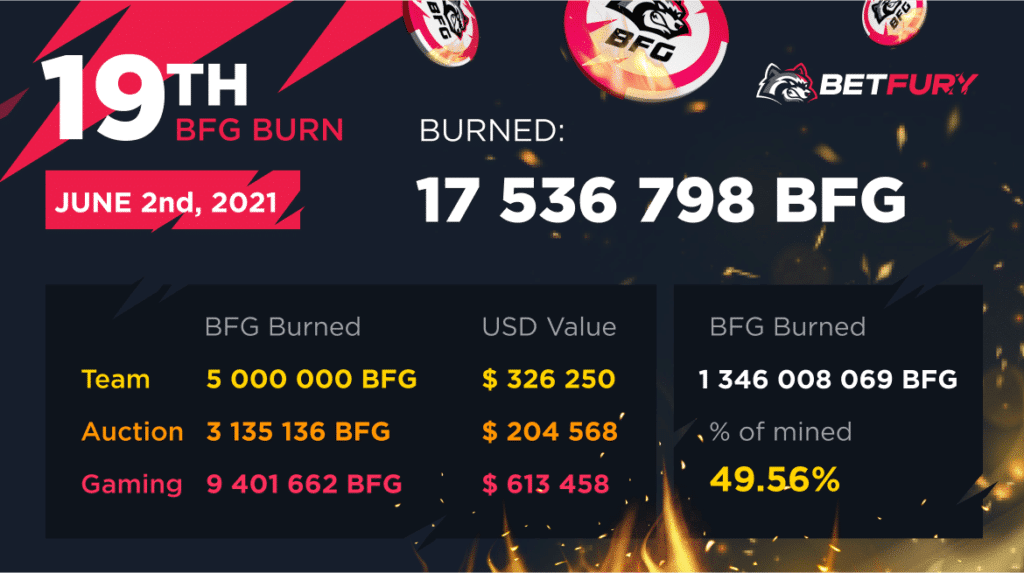 Transaction hash of 5 000 000 BFG burning: d23f6ec1271eb949109f55e7073e91ac0d34180e973b63ee7d8720bcfa85b207
Transaction hash of 3 135 136 BFG burning: 7fa2b8705000c846c79102de2f151f2cd2e76b974df5a2fc8c1a9bd89066cfd8
Transaction hashes of 9 401 662 BFG burning: 2ff86d1d1cc8038222f27fdf2c84e9770244b9f6a792048ce95e4c466ccdcdf9
Auction burned – BFG tokens used in auctions
Team burned – The team`s BFG tokens (received through mining)
Gaming burned – BFG tokens from players who bet their BFG and lose
BetFury contract address: TNE6kmX6EiCgE9HH4bSuWZBuknQ389kU7w
Cold wallet address: TF7mYoRhLqUddroeExLvBUfYmQUH6aTKQJTP4Me9WvS6WgmPL9uYAcq1jBqrMfEZfM8b
Relevant news