Demon Pots Slot Review

Every hard-core slot gambler nowadays knows of Reel Kingdom, the Pragmatic Play partner that attained a massive foothold in the online gambling sphere through its Big Bass Bonanza games. In truth, this company seems to be living off the streak of gold they struck with the first Big Bass release, so much so that most of their business model is based on unleashing sequels to it. The two latest ones are Big Bass Crash, a Bustabit-inspired title, and Big Bass Halloween, appropriately set loose on the Web in late October.
That said, now and again, Reel Kingdom does offer up non-Big Bass-related slots, and the newest one is Demon Pots. This is a spinner that appeared in online casino lobbies on the 5th of October 2023 and seems to be doing pretty Okay for itself, ranking in the top fifty most-played games in multiple high-profile markets like Canada, Finland, and Australia. So, let us explore and deduce if it is worth your time and if Reel Kingdom should stick to repackaging its hit fishing-theme slot many more times over.
Theme & Design
The motif in play here is, as this game's name suggests, a demon. Though, the featured one looks more like a cool little devil than a demon. Still, in truth, we, and everyone else, do not know what an actual demon would look like if one were to exist. We are only going by what literature and art have told us they should look like. The one here is red, has horns, and carries a trident. He also has a gold chain and an earring. Hence, our cool comment.
Doing some quick research, we can see that you can play around one hundred and sixty demon-themed spinners now, with the three most popular ones at the time of writing being Print Studio's Darkness, Scatter Monsters by Quickspin, and House of Doom from Play'n GO. Concerning devil slots, the selection is a bit shallower, with around one hundred and thirty releases. Ones to check out from this category are Holy Hand Grenade from Print and 4 Horsemen 2 from Spinomenal.
Regarding the presentation of Demon Pots., we will call it colorful, a tad ole-timely, and a bit overly repetitive. What do we mean by all this? Well, the graphics here boast vibrant images, and the palette is dominated by primaries. But the visuals, in general, feel a bit overly simplistic, and they have a cheap shine to them and a beveled look that we do not like. The 3D devil makes appearances on the game grid quite often, but he keeps performing the same action, throwing flames, so his popping up is not anything special. It gets a bit annoying. The same goes for the sound effects here, which are also too old-school for our taste. We do like the music used. It will not be everyone's cup of tea, but in our opinion, it has a sinister vibe that you would expect to find in a cartoon about a mischievous devil.
The button configuration in Demon Pots is the standard Pragmatic play one. That means the spin and wager functions are under the bottom right corner of the game grid.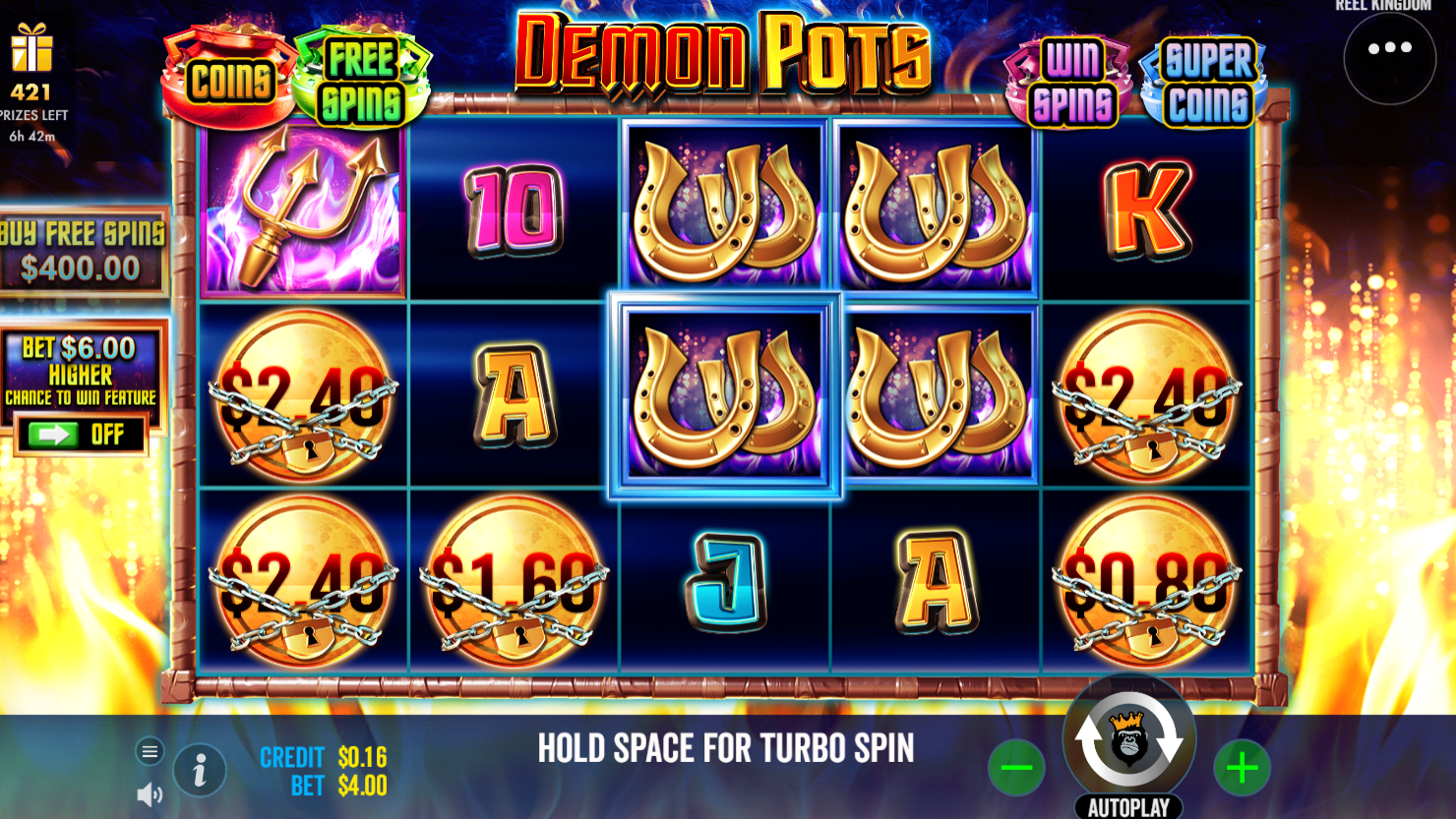 Specs & Gameplay
Demon Pots is a high-variance 5×3 game with a ranging RTP that stands at 96.1% at default. It features forty paylines and lists a max win of x6,000, attainable one in every million spins. Of course, that is only in theory, going by math model simulations run by Reel Kingdom's team. The lowest wager you can place on a reel rotation here is $0.4, and the highest is a whopping $240 (the info page says $360).
You snag rewards in this reel-spinning product by landing three to five identical tokens, with the low-paying ones being different-colored A-10 royals, producing wins of x0.3 to x0.5 for five-of-a-kind combinations. Their high-pay counterparts are a pair of horseshoes, a golden trident, stacks of cash, a bag of money, and a crown. Five matching symbols from this group landing in view supply rewards of x0.8 to x5.
The devil is the wild here, substituting all the mentioned pay tokens, only materializing in the central grid position. Note that the devil cannot substitute coin tokens, which we will get into in the following subheading.
Bonus Features
In Demon Pots, coins with values from x0.2 to x2 may appear. When a wild lands alongside them, their multipliers get awarded. Wilds can also activate pots above the reels, adding six coins with values from x0.2 to x1x to the grid when the coins pot gets activated. If the super coins pot triggers, then six coins with x0.4 to x2 values get added.
When activating the Win Spins pot, you get six re-spins, and during this feature, the wilds remain sticky, with each re-spin guaranteeing a win. Triggering the Win Spins pot in this mode again delivers six more re-spins, so keep that in mind. The activation of the Free Spins pot grants you six on-the-house spins with the wild stuck in the middle of the 5×3 area. Any of the pots can randomly activate during this round. Furthermore, fully stacked wilds can hit on the last two reels. When a stacked wild appears on reel five, another can land on the fourth one. These stacked substitution symbols remain sticky throughout this mode. If a fully stacked wild is on reel 5, all coin value collections receive an x3 multiplier, increasing to x6 when a fully stacked wild is on the last two reels. Any sticky wilds get cleared when Win Spins activate during the free spins mode, but the multipliers still apply to coin collections. After returning to free spins, stacked wilds get placed back. Triggering the Free Spins pot during this mode awards an extra six complimentary reel rotations. There is a Bonus Buy option here, available for the cost of x100, activating the Win Spins pot initially.
GOSU Verdict
Do we like Demon Pots? To be 100% honest, we are not sure. We like that it dares to be different, and its specs are not bad. But to us, it felt a bit awkward, and the overall presentation irritated us somewhat. It made us feel like we were playing an older slot and not a game that came out in 2023. Be aware that the RTP of Demon Pots can go down to 94.02% at some sites, and free spins activation, on average, should happen once every one hundred and seventeen spins here.
All in all, we would tell you to skip this Reel Kingdom release. The pot gimmick did not grab us, and it may be a bit complex for newbies to grasp how it works in their first session. Thus, Demon Pots is a pass in our book.
Best Bitcoin Casinos with Demon Pots Slot
Relevant news