Cowboy Coins Slot Review
We have not reviewed a slot game in some time. So, we thought it was time to end the drought, and when looking at the slot standings in multiple markets, we saw that Pragmatic Play has a few new titles that are ranking high. The Malta-based provider has been in the news this past month due to growing its presence in Venezuela, updating Sic Bo Live, donating €100,000 in aid for the Turkey-Syria earthquake disaster, and releasing several spinners, including a new entry in the Dog House franchise. Plus, two seemingly super popular Wild West-themed products. The latter are Wild West Duels and Cowboy Coins. Both made a sizeable impact upon their debut. But Cowboy Coins is currently trending in the top-ten most-played territory in multiple regions, leading us to choose it as the game that will end our review slumber. It hit exclusive platforms on February 23rd and got its wide distribution on March 2nd. You can find it at most sites that carry Pragmatic Play titles.
Cowboy Coins Slot Key Facts
| Reels | Paylines | RTP | Min Bet | Max Bet | Bonus Rounds | Volatility |
| --- | --- | --- | --- | --- | --- | --- |
| 6 | 2304 | 95.06% | 0.20 | 100.00 | 5 | High |
Theme & Design
As explained in the intro, and as you can figure out by the name of this game, the theme here is the US in what is likely the 18th century, a period when the American frontier produced unique folklore immortalized on the silver screen and in literature countless times. It was a section of history plagued with massive settlement and migration embedded deep into United States culture. It is a section of American history that slot developers also love, as they have created over four hundred games where it gets featured. Pragmatic Play alone has nine entries in this genre, and some, like Wild West Gold, Cowboys Gold, and Mustang Gold, that we have reviewed. So, check those analyses out if you love this theme.
Unfortunately, Pragmatic Play does nothing novel with the presentation of its latest West spinner – Cowboys Coins. In all honesty, we did not expect them to break their tried-and-tested formula. Nevertheless, what we did not like about this spinner is that the setting here is very similar to the one in Wild West Gold. It is the cliché empty town street on a mid-scorching-hot summer day. Moreover, Cowboy Coins' entire look and feel are reminiscent of Wild West Gold. That includes the game's characters. We will say that this slot has a more polished vibe to it, with more depth and 3D-like visuals, but that does not change the fact that the overall presentation is boring as it has a sizeable been-there-done-that moment to it.
The music in the game is another story. Yes, it is also passe, but the blend of rock with a western touch always creates positive results in our eyes. The electric guitar sounds good here, and you have a few other string instruments and whistles now and again, giving Cowboys Coins that classic Western vibe that Sergio Leone movies inspired. So, the audio side of things in this slot differs dramatically from the saloon motif tune in Wild West Gold, which seems outdated now.
The button configuration of this slot is the same one that Pragmatic Play has used for years. Hence, we won't get into it. If you have played a Pragmatic game, you already know how things will work in this one.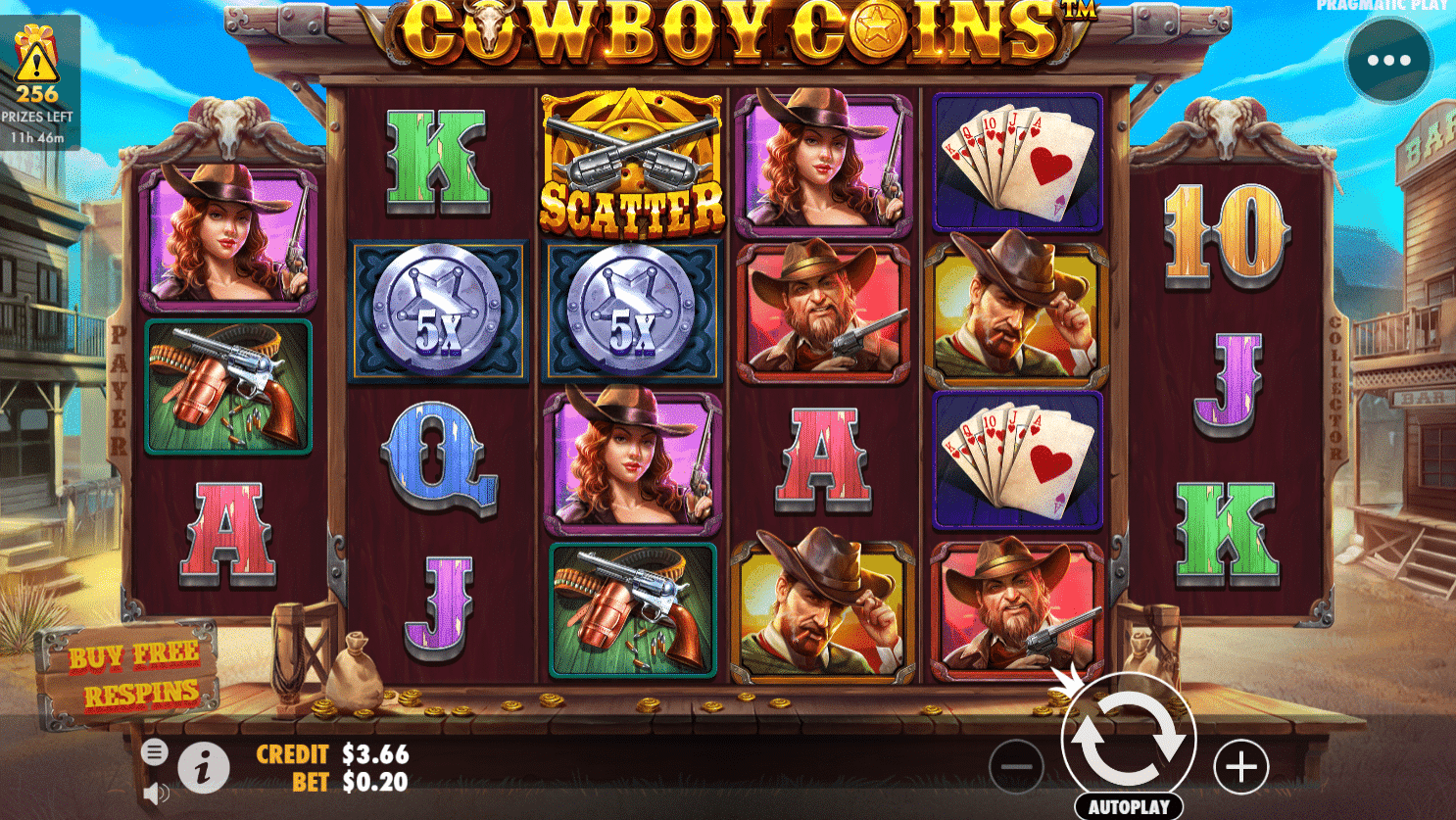 Specs & Gameplay
Cowboy Coins has a 3-4-4-4-4-3 with 2,304 betways. The variance of this slot is high, with the RTP setting standing at 95.06% by default. The lowest stake you can put down on its reels is $0.2, and the highest is $100. Pragmatic Play has set the max exposure here at x30,000 and going by the available data, on average, this product should produce such a reward once every ten million spins.
The game produces rewards when three to six matching symbols land on adjacent reels, left to right. The low-pay tokens are your standard 10-A royals, giving away prizes of x1.25 to x2 for six-of-a-kind combos. The premiums of this slot are a royal flush, a gun, and three-character symbols. These yield winds of x3 to x10 for six identical images from these batches showing up on the grid on the same spin.
Cowboy Coins has no wild but has a two-revolver scatter appearing on the second, third, fourth, and fifth reels.
Bonus Features
Aside from the mentioned tokens, money symbols are also in play in Cowboy Coins. These appear in the base game and can carry values up to x9, and if they materialize in the Free Respins feature, they can have up to x50 multiplier attached. They appear on the same reels as the scatters (second, third, fourth, fifth), and if a payer symbol, also carrying a random value, stops on the first one, his value gets added to the money tokens also on the game's layout, and these get collected and paid out. Almost the same thing happens when a collector symbol hits, except this one, shows up on the sixth reel, and its value will not get added to the money tokens.
Three or more scatters activate the Free Respin mode. When that occurs, three respins get awarded, with money tokens landing on the main grid area, while special ones hitting on the reels get added to the edges of the primary game section. When symbols hit in this round, they lock in place, and the number of respins resets to three. The payer symbols here only pop up on the leftmost reel, and the same applies to the super-payer one. In the case of the latter, at every respin, its value gets added to the money tokens on the main area, then those, plus, its get pooled and paid. You also have the collector and super collector serving a similar function but only showing up on the leftmost reel. The distinction between these is the same as between the payer and super-payer.
You also have a multi-collector, appearing on the top row, and it can pay its value and one of the money tokens anywhere from two to thirty times. The super-multi-collector also does this at every respin. Now, at the bottom row, the double booster, two stacks of dynamic can land. They also have a random value to them, and select two to five money tokens on screen and double their multiplier, with the difference getting awarded. Naturally, a super version of the double booster exists.
Players in select territories can buy the Free Respins round, with normal respins for x100 their stake, or they can pay x500 for the super version. The RTP in these two modes differs. It is 95.99% in the first and 96.27% in the super-powered feature.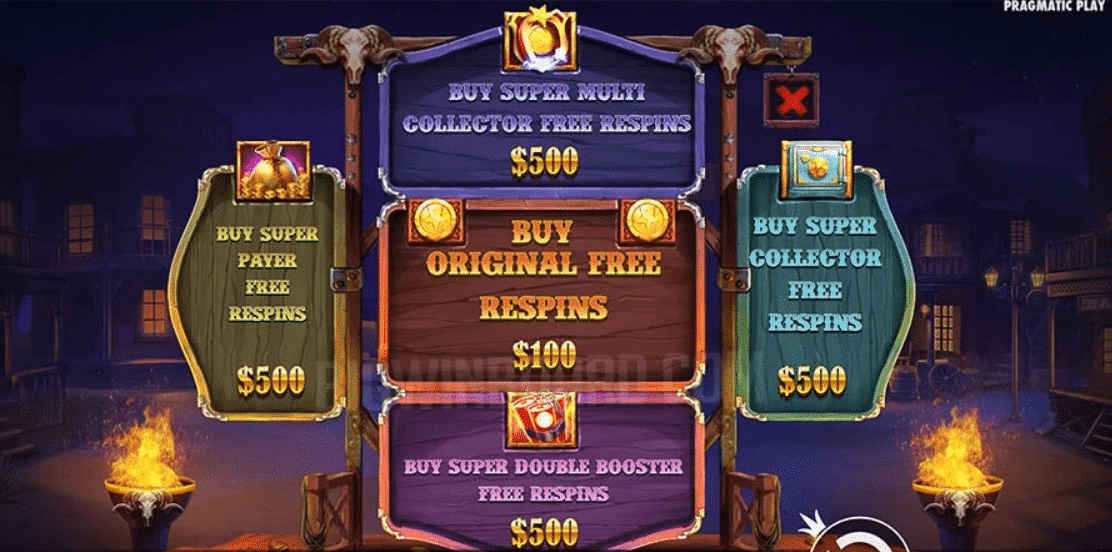 GOSU Verdict
Money-collect games are usually always super fun. It is clear that this is Pragmatic Play's attempt to take on the Money Train series from Relax Gaming, and while we do not believe that this game will kick off such a franchise, we have no doubt that it will stick around for a while. Its top win of 30,000 is an alluring proposition. On top of it, the Free Respin round of the Cowboy Coins slot offers loads of excitement, and chances for you to stay in it, accumulating sizeable rewards before exiting back to the base game.
Best Bitcoin Casinos with Cowboy Coins Slot
Relevant news