XXXtreme Lightning Roulette Game Show Review
XXXtreme Lightning Roulette debuted in 2022, and we don't remember there ever being so much hype around one game as this one. Produced by Evolution Gaming, XXXtreme Lightning Roulette offers a new way to play one of the software provider's most loved live dealer games (Lightning Roulette, of course). It is the third new roulette addition to Evolution's library in twelve months and is considerably volatile and action-packed.
Of course, we can jibber-jabber all day about the pros (and the cons) of XXXtreme Lightning Roulette. That won't help you get any closer to deciding to play or not, though. Instead, join us as we explain how XXXtreme Lightning Roulette works and why you may wish to consider having a crack at the game at live casinos today.
Theme and Design
First off, how does the game look? Visually, XXXtreme Lightning Roulette has more of a genuine casino interface than perhaps its counterpart and predecessor, Lightning Roulette, did. This game is played using 4K graphics if you want them, and a rich gold and jet-black interface oozes class and regal gameplay. There's more to roulette than stunning visuals, though.
In terms of the specifics, XXXtreme Lightning Roulette is streamed live from Latvia, where Evolution Gaming runs a sizeable studio. The game can be played in over seventeen languages and is fully mobile optimized. Moreover, with an RTP of 96.1%, we'd say that this highly volatile live roulette game is fair. It is also considerably affordable. So, what's it all about? We sent our team in to play the game and report back what they found. Here are the results…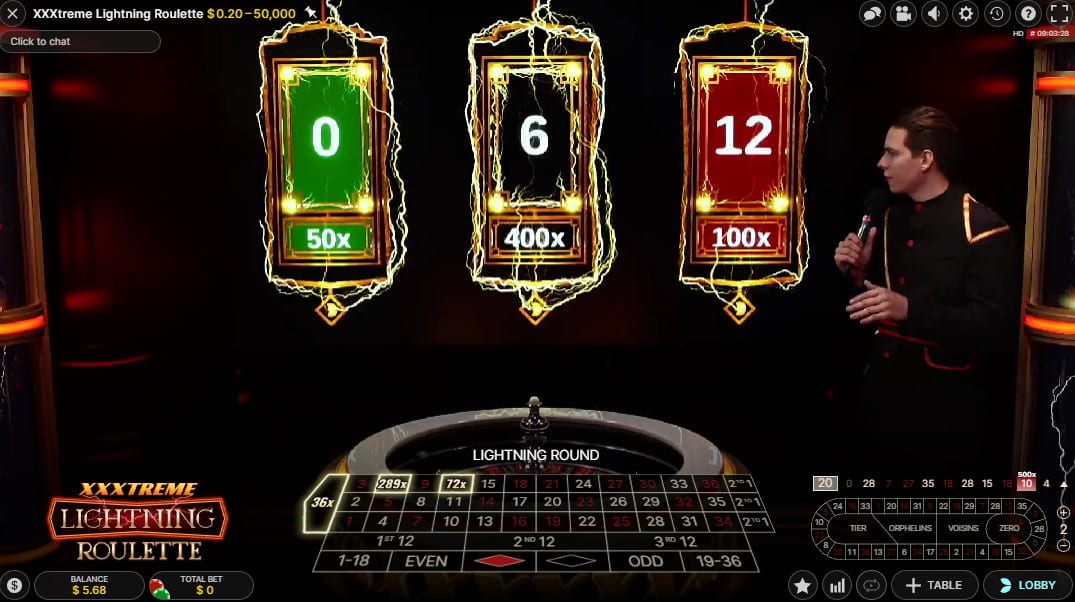 Specs and Gameplay
Like any roulette game, there are on-screen menus you can use to place your bet. All live dealer roulette games have defined betting windows, and XXXtreme Lightning Roulette is no different. When the window is open, you can wager anything from $0.20 up to $5,000 a pop. With a bit of luck, you'll be able to win up to 2,000x a bet here. Notably, that has substantially smaller prizes than you could ever win playing Lightning Roulette. It appears as though Evolution Gaming has taken a step back, but let's hold our horses and see.
Firstly, the game is played using a classic European Roulette wheel. Everything from the bets to the pockets all screams European Roulette, and it is entirely possible to play this game as a conventional roulette release if you want to. Well, sort of. You won't win 35:1 for straight-up bets in this game – not even close. You can win 19:1, which is far less than even we'd expect to pocket. You'll win standard payouts on all the other conventional roulette bets. There is a good reason for that 19:1 payout, though. While shockingly low for a straight-up bet, it "may" be the beneficiary of a much larger multiplier, far larger than anything you'd expect to see in the original Lightning Roulette live game.
However, if you want to crank things up a notch, you can place call and neighbor bets, and there is, of course, the added benefit of the bonus elements. To make use of those, well, potentially anyway, you're going to need to place a straight-up bet. As we've already discussed, there is no shortage of drawbacks to doing that – the question is, is the risk worth it? If you've got money-hungry fingers, exude confidence, and have a balance that can sustain losses, it may just be worth a shot. Let's find out why.
Bonus Features
As with its predecessor, Lightning Roulette, Extreme Lightning Roulette is played with multipliers. Between one and five random numbers will be "struck by lightning" after the betting window closes. These Lightning Multipliers will be worth 50, 100x, 150x or 200x, 300x, 350x, 400x or even 500x. As you can see, they are worth a lot more than they would be in Lightning Roulette.
After the multipliers have been determined, a Chain Lightning Mode kicks into gear. This will rise up to nine additional numbers hit with multipliers. You cannot have more than ten numbers with Lightning Multipliers at any one time, so the number you get depends on how many were "struck" the first time around. Either way, you're guaranteed at least one in Lightning Round and one in the Chain Lightning Round.
Finally, another round of multipliers can occur, this time on any of the previous Lightning Numbers. This is known as a Double Strike; it can see you pocket multipliers that range from 600x up to 2,000x the rate of pay.
The downside to all this good fortune is that Lightning Roulette dramatically lowers the amount you can win from straight-up bets. This is dropped to 19:1, lower than Evolution's original Lightning Roulette (29:1) game offers. Evolution Gaming has tried to offset this by offering up to ten multipliers per round, some of which pay out up to 2,000:1.
GOSU Verdict
Evolution Gaming has called this release XXXtreme Lightning Roulette, and we'd have to concur. A highly volatile game, there is a great deal of risk attached to playing it. You won't win anywhere near the same amount with a straight-up bet (with no multiplier attached) in this game compared to Lightning Roulette. However, does the offset of 2,000x multipliers make XXXtreme Lightning Roulette worth the risk and a better game? That depends on whether you win or not, doesn't it?
We'd say this – XXXtreme Lightning Roulette is a game that offers you more risk, more extravagance, and the potential for bigger prizes than its predecessor. However, it is a step into the dark, a leap of faith, and a gamble for those on a budget. If you want a safe pair of hands, Lightning Roulette is for you. If you fancy going wild, then XXXtreme Lighting Roulette offers exactly the kind of gameplay its title promises.
Best Bitcoin Casinos with XXXtreme Lightning Roulette
Relevant news