PowerUP Roulette Game Review
Most live dealer roulette games feature subtle takes on the basic game combined with a few tweaks to the rules to provide added spice. While Evolution Gaming may have stolen a march on its rivals with its live roulette portfolio, Pragmatic Play is fighting back with its second live roulette variant. Hot on the heels of Mega Roulette, Pragmatic Play's PowerUP Roulette delivers bigger wins and more impressive features, with a top multiplier worth up to 8,000x.
In fact, the multipliers you can land in PowerUP Roulette are considerably more valuable than those found in seemingly any other live roulette game, of which there are plenty. Moreover, this game doesn't require added bets or side-bets; it has the same house edges as conventional European Roulette games at just 2.70%, although its Straight-Up Bets pay just 24:1, compared to the 29:1 you'd see in rival games, which also have bonus payouts. That's not the end of the world, though, and you'll see why as we dive deeper into our PowerUP Roulette review.
Theme and Design
PowerUP Roulette looks and feels like any other online roulette game when the base game is being played. There are no RNGs going on in the game here, with the host/dealer having full control of when and how the wheel is spun. However, once you start messing around with the PowerUP features, the game starts to look a little different.
When the PowerUP mode (and we'll discuss that more shortly) kicks into gear, PowerUP Roulette resembles a mix between an RNG roulette game, a live dealer roulette game, and a live casino game show. The Pragmatic Play game is fully mobile-optimized and can take crypto stakes (mainstream cryptocurrencies only) at selected casinos. You can find those on our site.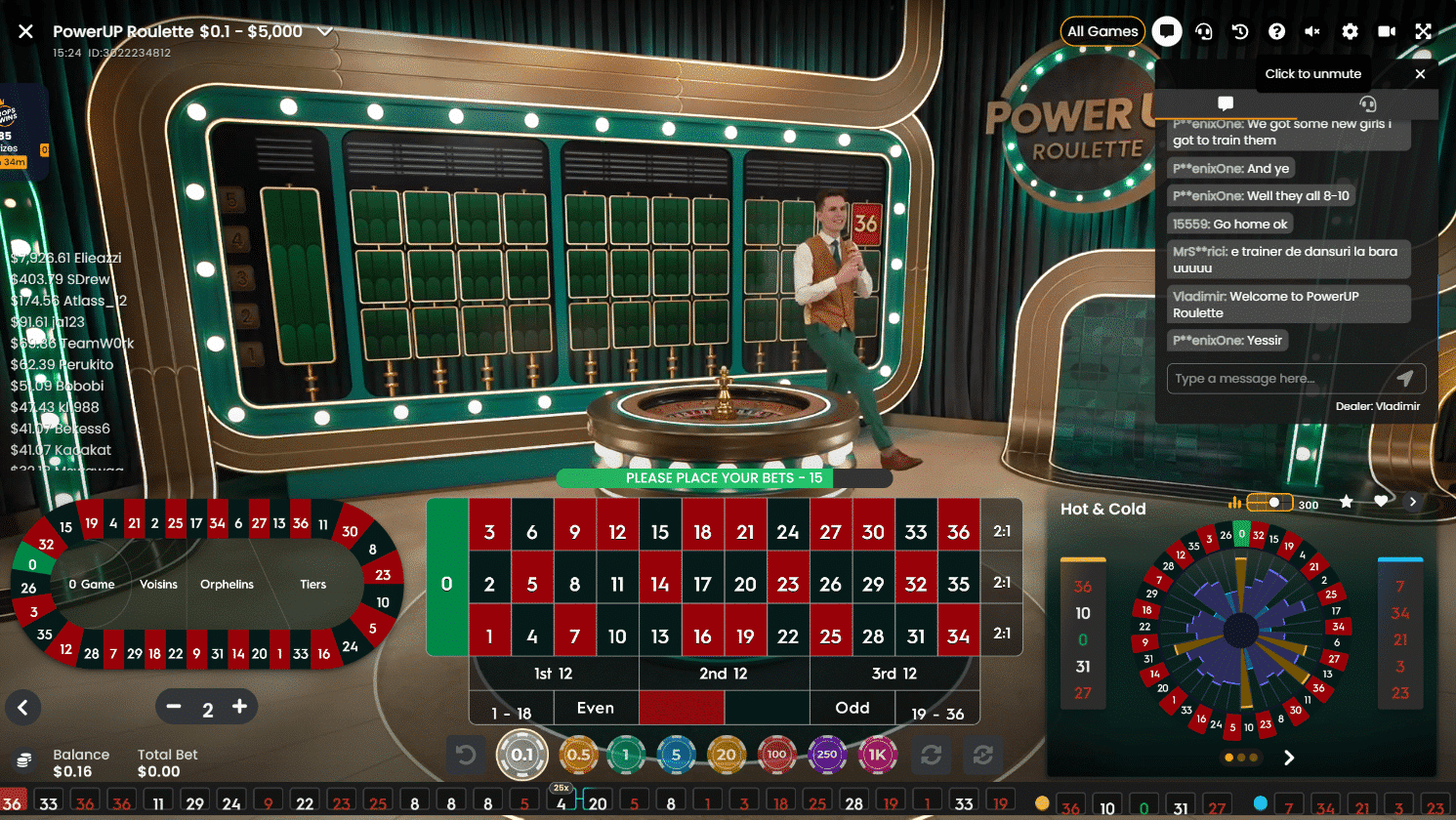 Specs and Gameplay
PowerUp Roulette is, at heart, a conventional live dealer roulette game. On the face of it, the game is played like any basic European Roulette game. It is the PowerUP feature that gives the game extra spice and makes it stand out.
You'll have a betting window of around twenty seconds. You can place wagers on the main betting board or on the racetrack as you see fit. All bets (save for Straight Up Bets) are standardized. You'll need to place Straight Up Bets if you want to take advantage of the game's bonus mode.
The primary addition (added feature) in PowerUP Roulette is the PowerUP mode which first debuted in Boom City. Firstly, this works a little differently from the way it sounds. It won't reward a player with a multiplier in the first phase of the game (which offers basic roulette action). Instead, you need to land one of the three, four, or five PowerUP numbers (highlighted) to enter the PowerUP bonus. After that, you can start dreaming of big wins.
Because Straight Up Bets always trigger the bonus round, and because there are no side bets required to take advantage of this, the game's payout for these bets has dropped from 35:1 (found in normal European Roulette games) to 24:1.
Bonus Features
As mentioned, you first need to qualify for the PowerUP Bonus by landing one of the three, four, or five PowerUP numbers in the base game. This is already a big enough task, as you'll need to have a Straight Up Bet in play to pull this offer. Only once the bonus mode is triggered can you look at multipliers.
This roulette game ensures that a multiplier will apply to each number in the roulette game during the self-titled PowerUP Bonus Round. If you've got a bet in play on a number, and the ball lands in a pocket that complements that number, then you can expect to land an epic multiplier, which, as mentioned, could be worth up to 8,000x a bet.
GOSU Verdict
There is no denying that it is very tricky to land the PowerUP Bonus. Even if you get this far, you'll still need more than a fair dose of luck to land multipliers in the game that follows. However, while this system seems challenging, you should remember that at no point is PowerUP Roulette asking you to place a side bet to enjoy this feature. Instead, it comes standard in the game – as long as you've got a Straight Up Bet in play, you could potentially win. That's a rather nice addition when most other live roulette games with multipliers make such features side-bets that can bleed you dry while you attempt to land them.
Ultimately, the PowerUP Bonus Round is what makes this live roulette game stand out. If you're a fan of live roulette, you may as well give it a go, as you have absolutely nothing to lose by playing conventional online roulette via the base game. You never know; you may even trigger the bonus round and win multipliers without having to stake anything extra. In short, this feature is a perk with no drawbacks.
Best Bitcoin Casinos with PowerUP Roulette
Relevant news