WOLF.BET Dice Review

In this post we will be previewing/ reviewing the Dice game of WOLF BET casino, which is one of our readers most popular destinations for crypto gambling.
Firstly we have to admit that the background of their games pages is great and unique, very cool and catchy, without distracting your eyes from playing your favorite game. You will see the chat/troll box on the right side of your screen, which can you remove it if you click the conversation button on the downright corner (next to the Help button). It's a bit bigger than usual and since we are more of players rather than "talkers", it was a "must" to get… rid of it!
So, let's focus more on the game itself. From top to bottom you will see:
The Numbers bar with the typical green-red coloring, divided into quarters (0-25-50-75-100).
The Bet Amount bar and beside it the Profit bar, both with an approximate indication of $USD and the symbol of the coin that you choose to play with. The Bet bar also has two options for fast betting (handy for those who like to follow Martingale betting system), ½ and 2x buttons.
The three and most important bars: Roll – Payout – Win chance. By default, "Roll" bar will be Under, which can be changed easily by pressing the bar itself or the button next to the betting number (the two opposite arrows). "Payout" and "Win Chance" bars are set by default to x1.98 and 50 respectively. Of course, you can put the ratio that you want to win. For "Payout" bar, the limits/ range is minimum x1.0102 and maximum 9900, as for Win chance the minimum is 98% and the maximum 0.01%. Any change to any of these bars, change the others as well. Eg. If you put "Payout" bar x15, then the "Roll" bar will be set to 6.6 if you want to roll Under, 93.39 if you choose to roll Over and the "Win Chance" ratio will be set automatically to 6.6%. Don't forget that the "Numbers" bar (the first bar) will change respectively to the proper setting/ number range that you need to roll, in order to win your bet.
The basic BET button (big and green) along with a quick deposit button on it's left with the Preferences/ settings button (which is "scroll over pop up") next to it and on it's right, the "Autobet" button. WOLF BET makes a very good job with this feature and it's sure that you will find more than enough "tools" to create, edit, store, and finally gamble with your own personal strategy. You can choose "Easy mode", "Expert mode" or "Strategies" a mode that you can pick one of the defaults and well-known strategies that they have implemented, like Paroli, Martingale, and more. It's worth exploring it!
The Statistic bars with your winnings, losses, wagered amount, etc, as well the History of your betting, High Rollers, All Bets, and their promo called (until this point) Wolf Race. By the way, you can reset your stats at any time and you have also the option to see your History of profits in a chart! Indeed a very cool addition.
GOSU Verdict
Concluding we can definitely say that their provably fair Dice version is very good. The speed of betting is fast with no lags or "cool time" between your bets and your History/ Stats will follow at the same speed. The customization of your Autobet strategy has more than enough tools to help you make it as you desire. All the bars and buttons are legible and you can't miss them or make a mistake by pressing something that you don't mean/ want to. Also, changing between your coins to gamble will not affect your previous gambling settings. They will remain the same, even if you decide to logout from the WOLF BET site. So, be careful and solid for your betting preferences the next time that you log in there to play.
Playing WOLF BET's Dice game was a pleasure to do and we are sure that you won't be disappointed. Perhaps their "too much" blue theme can be relaxing more than enough but what the heck? Gambling relaxed maybe it's luckier…
Relevant news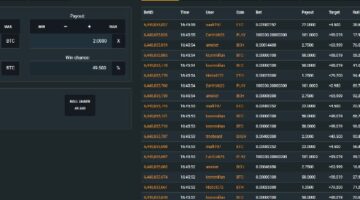 Crypto.Games Dice Review
Hello fellow GOSUS and welcome back to check another review. Time for the Crypto.Games dice…
read more +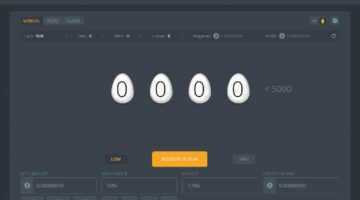 DuckDice Dice Game Review
Time for another game review, this time for the dice game of DuckDice casino. DuckDice…
read more +