Wolf.Bet Dice Game Review
Intro
Wolf.Bet is one of the first crypto-gambling sites we ever reviewed. And we are so happy to see it grow to the level it has now reached. It was not so expansive back in 2019, let us tell you, as it only had two games available, Hi-Lo and Dice. Naturally, the latter is the subject of this review. We will get to it below, but here we will also tell you that you should use this platform because it has a pretty nifty Rakeback-powered VIP program, loads of social media giveaways, a vast library of slots, and a pretty decent sportsbook.
When Wolf.Bet Casino got up and running (in July of 2019) the hub's management team selected to advertised this website as one containing the sector's most advanced dice game. While that may have been true back then, other crypto casinos have caught up. Nonetheless, let us dive deep to see how Wolf.Bet dice holds up today, and if it lives up to its original marketing.
How Does Wolf.Bet Dice Work
At its core, Wolf.Bet Dice is your traditional crypto dice wagering. However, it has a few twists. Playing this game in its standard form, you select a number from one to one hundred and bet the over/under. The lowest number you can roll under is 0.01, and the highest you can roll over is 99.98. Conversely, the lowest number you can roll over is 1.99, and the highest number you can roll under is 98.
Now, the mentioned twists here are that, unlike many other proprietary dice picks, the one at Wolf.Bet also allows you to set a betting range. Not just that, it permits one to select an inverted one and two at the same time. How cool is that? Once you define what precisely you wish to bet on and how much, Wolf.Bet's dice interface will inform you of your winning chances and looming payout. Then, once you roll, depending on what number the site's RNG produces, you will win a prize or lose your stake.
How to Play Wolf.Bet Dice
You pick a number using the green slider, or you select the type of range you like to bet on by first clicking on one of the different wagering option icons above the one to one hundred range. Then, you can type in your desired wager sum in the Bet Amount field and click the green Bet button to initiate a roll.
You should know that while Wolf.Bet has no deposit and withdrawal restrictions. It has a maximum rate and profit limit for dice gameplay. What does this mean? For example, the max bet for Bitcoin was 3.17562715 BTC at the time of writing, and the top win (how much you can profit) stood at 0.31756271 BTC. For USDT, the maximum wager was 100,000 USDT, but the top prize/profit was 10,000 USDT. Note that you cannot make a wager that surpasses a defined max profit point for your chosen crypto. Hence, you can bet 3.1 BTC on Wolf.Bet dice, but only with a multiplier of x1.10.
The terrific thing about Wolf.Bet dice is that this site-specific crypto gaming product has robust auto-play features. It has an easy auto-wager panel where you can tell the game to stop your session on a specific profit or loss point. Then you have an expert mode tab, where you can include condition blocks, and there is a designated strategy section where you can pick one of four default betting patterns (The D'Alembert, the Paroli, the Martingale, and the Delayed Martingale) or create and save your own.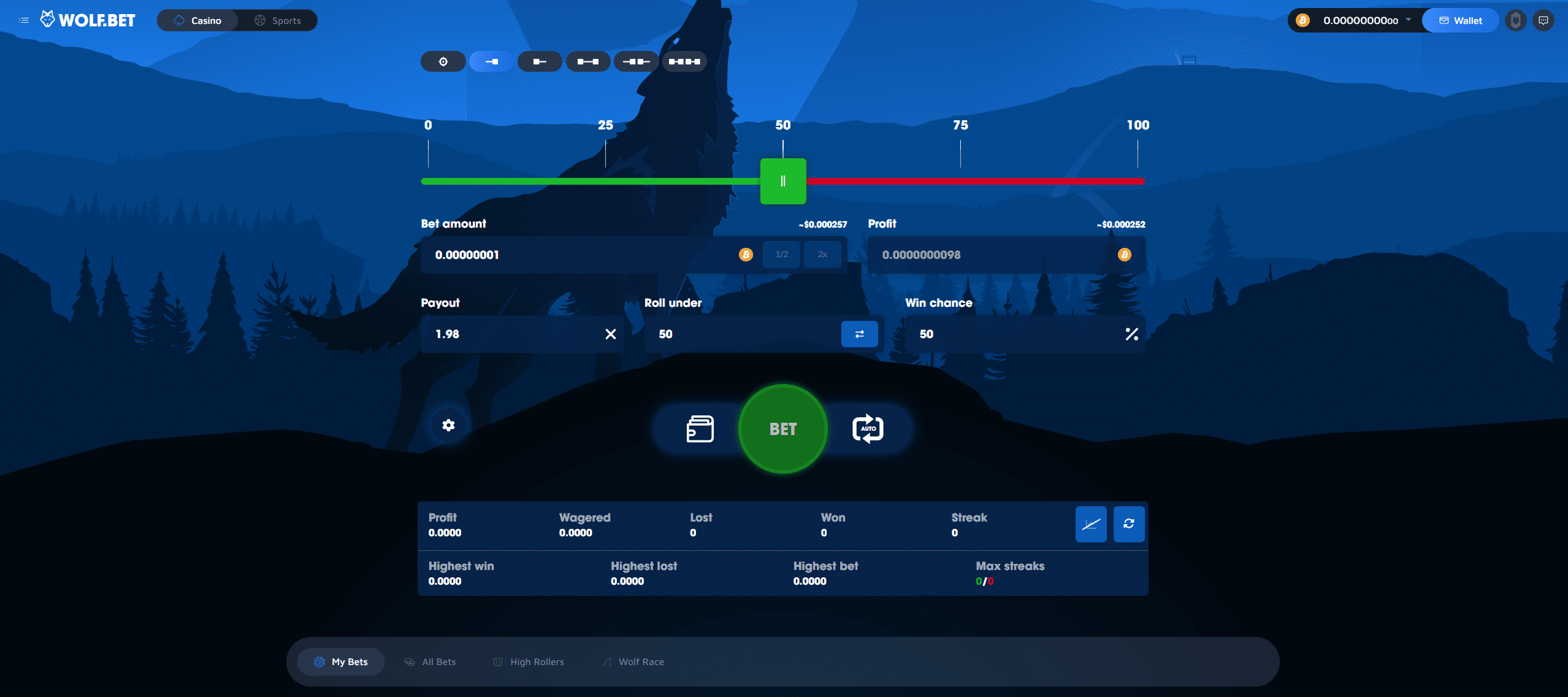 Where Can You Play Wolf.Bet Dice
Of course, you can only play Wolf.Bet Dice at Wolf.Bet.
Pros
1% house edge
Robust auto-play functionalities
Quality interface options
Cons
The max profit could be bigger
Graphics Quality
The Wolf.Bet dice game seamlessly integrates with the site's theme. There is not much to talk about its presentation, as it has a dice interface overlayed. The backdrop here is a howling wolf, illustrated in the regular flat style with diverse blues that this platform loves.
User Experience
At first sight, the Wolf.Bet Dice interface may seem fairly standard. Nevertheless, once one explores it, many of its secrets get unveiled. At the top, sit chart candle-stick-type icons that allow different wagering functionalities. Below them is the 1-100 range slider, and underneath this is the field for you to enter your bet amount, with the max, ½, and x2 options inside it. Next to this is the profit informer, and below these two areas is your payout/multiplier information, the roll between/under/over function, and win chance data. Then comes the betting section, where a cog icon lets you wager the max sum, mute the sounds, convert to USDT, play animations, and activate hotkeys. Right of the main bet button is the auto-play one, which houses three distinct panels we discussed above.
Like most other proprietary dice gambling choices, this one also has tables at the bottom of the page rattling off all the bets made, your wager, and those of high-rollers. Above it is a section of the game that tells you of your highest win/loss and pulls out a nifty profit chart that we love.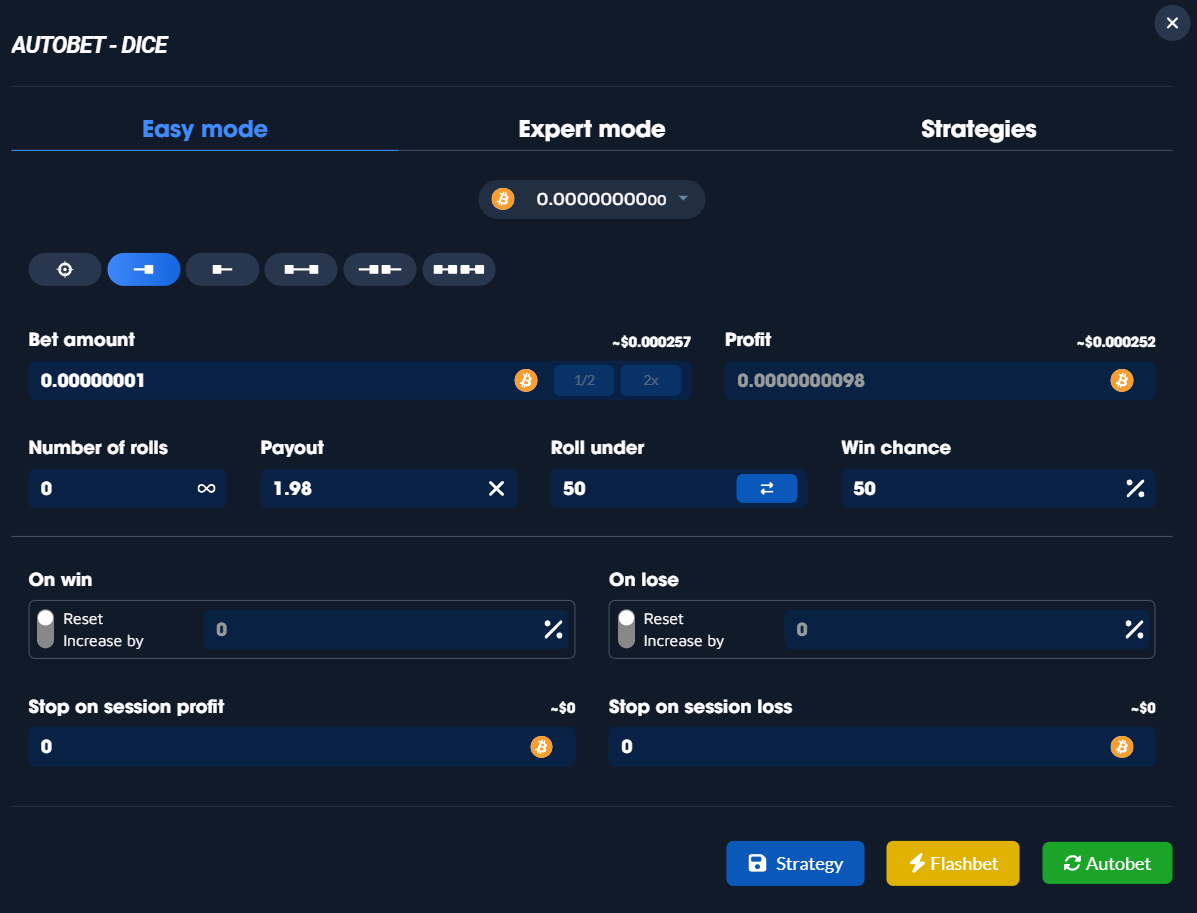 Tension & Anticipation Value
If you have read our other crypto dice reviews, you are well aware that regarding anticipation/tension produced via gambling gameplay, entries in this genre do not do it for us. That said, Wolf.Bet dice stands out from the pack thanks to its profit chart and auto-play functionalities. Thus, if you have a set budget and wish to gamble it all in a dice session, it may be exciting to automate your gameplay and stare at the profit chart as your staked coin stack grows in your favor or dissipates.
RTP & Variability
There is no variability in play here, and the RTP is 99% at maximum. Though, you can play with your winning chance depending on how much risk you wish to take. So, the odds presented in each round hinge on the settings you input in the Wolf.Bet dice interface.
Min/Max Multipliers
The lowest multiplier here is x1.0102, and the highest stands at x9,900. Yet, remember those max profit limits we touched upon in the How to Play Wolf.Bet Dice section.
House Edge
As mentioned, the max RTP in this game is 99%, making the house edge 1%. That is the casino advantage that Wolf.Bet Hi-Lo offers.
Winning Strategies
Since Wolf.Bet Dice has built-in progressive betting tactics available. You are free to try those. We cited them above (the Martingale, the Delayed Martingale, the Paroli, and the D'Alembert). But, as we usually do, we would primarily recommend that you stick to those low multiplier wins, utilizing the lowest house edge possible. Slow and steady wins the race in our eyes.
Summary – Is Wolf.Bet Dice Worth It?
As far as site-specific dice gambling choices go, Wolf.Bet may be the best one out there. Heck, it may be the top pick overall as far as we are concerned. We say that because it mixes multiple wagering possibilities with a low house edge. Yes, the max profit limit here is not on par with what slots offer, as it is in the sub-$10,000 range. Yet, it is still better than what some third-party games from this category can supply and what other crypto casino competitors deliver. Therefore, we must say that if dice betting is your preferred gambling form, then there is likely no better hub to indulge in this entertainment pastime than at Wolf.Bet. Plus, this is a crypto gaming brand renowned for its reliability in this sphere and one that we have been following since its very start, meaning no one should encounter any complex issues playing here.
FAQ
Can You Play Wolf.Bet Dice for Free?
No. Unfortunately, Wolf.Bet does not allow fun-credit play on its proprietary dice game.
Can You Watch Wolf.Bet Dice Live?
In October 2022, Twitch banned gambling streams emanating from sites like Stake, Rollbit, Duelbits, and Roobet. While Wolf.Bet was not on the restricted list. We do not remember seeing any high-profile feeds featuring gaming action on this site on the world's most popular video streaming hub from that moment on. There may be some. We are unsure. That said, such streams may exist at less renowned websites.
What Is the Most You Can Win at Wolf.Bet Dice?
It depends on your chosen cryptocurrency. At the time of writing, the most you could snag wagering Bitcoins was a profit of 0.31756271 BTC.
Relevant news