Roll the Dice (Woohoo) Game Review
Intro
Woohoo is an online gambling product supplier established in late 2019. December of that year, to be precise. It has made a name for itself by working with US-centric offshore sites that seek to cater to American gamblers. Woohoo Games, as the company's official name is, has teamed up with sites like Bovada or Bodog's US arm and even made exclusive games for this and other platforms. We have not reviewed any of their slots. But today, we will explore Woohoo's Roll the Dice game. We previously analyzed a dice title from Evoplay that boasted the same name. However, this one seems a bit more polished, so strap in and let us check out one of Woohoo's most underappreciated releases in their arsenal of around sixty products at the time of writing.
How Does Roll the Dice Work
If you have read our Jhandi Munda review, then this game plays similarly to that one. You have three six-sided dice here, and each features six symbols. These are fish, crab, prawn, coin, calabash, and rooster. The goal is to make anywhere from one to seven bets per round and roll the three dice, hoping they will display your chosen symbols. Roll the Dice pays one-to-one if a single picked image appears in a roll, two-to-one for the same symbol appearing twice, and twelve-to-one if it shows up three times. Also, remember that betting on three-of-a-kind rolls provides rewards of thirty-three-to-one if a token appears three times in a roll and you have selected this choice beforehand.
You can bet on all six symbols in a round, wagering different amounts on each one.
How to Play Roll the Dice
As discussed, the game automatically transports you to a board with six illustrations. Below these, you have five different color chips. These are your bet sizes. Note that you can press multiple tiles to enhance your overall bet. Once you have settled on what you are willing to stake on your upcoming roll, you must click the images you believe that the dice will show when they stop their roll. Then, a bowl will shake them, and Roll the Dice will produce three random dice symbols. Now, depending on which ones they are and your chosen batch. You win a prize or lose in the round.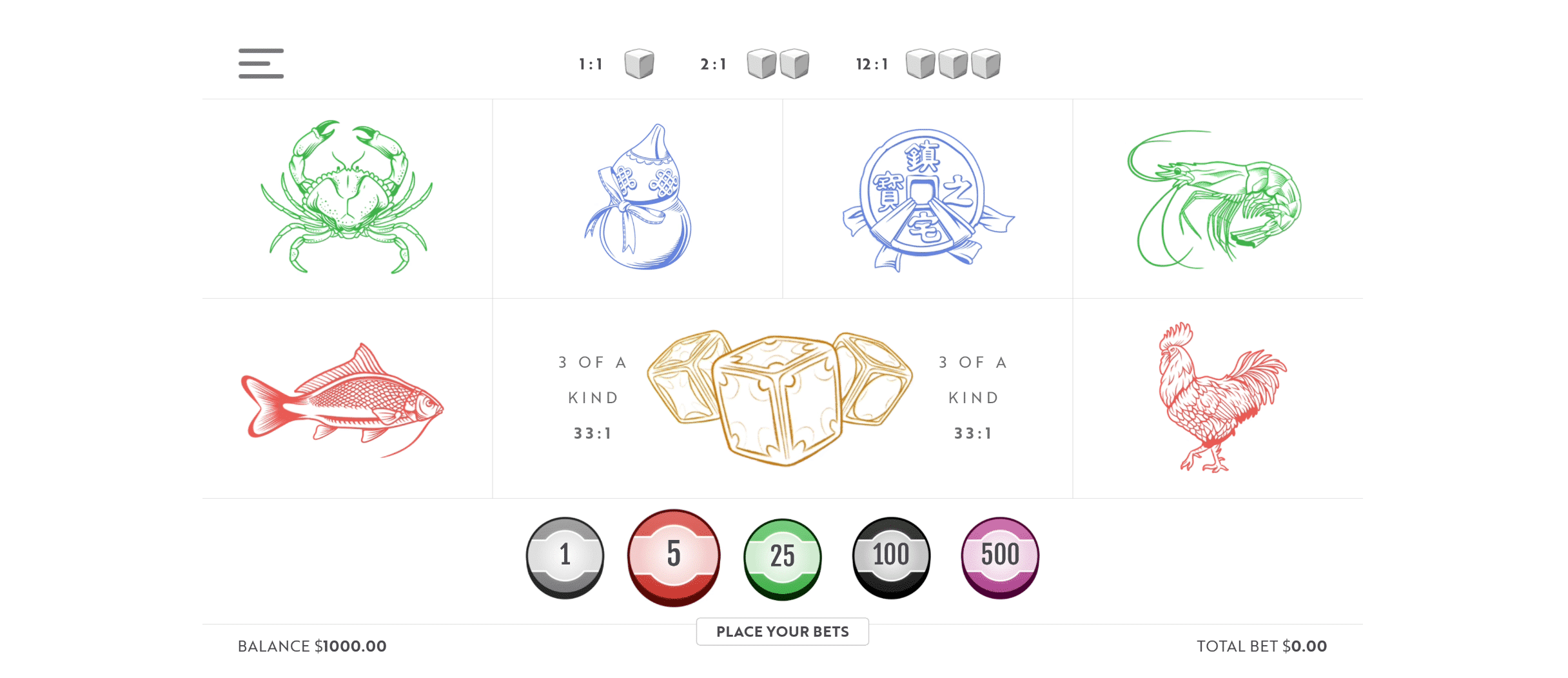 Where Can You Play Roll the Dice
Woohoo's slots and various other gaming products are not widely available. They most commonly are found at sites targeting the US market. We touched on this in the intro. The terrific thing for crypto gamblers is that most of these platforms accept Bitcoin, and the majority also allow Ethereum, Litecoin, and various other popular altcoins.
Pros
Interesting presentation
Multi-bet option
High max bet
Cons
Low RTP
Becomes repetitive quickly
Graphics Quality
The approach to the design of Wohoo's Roll the Dice is minimalistic, or that would be the cliché way to put it. The backdrop here is what we assume to be a white sheet of paper, or that is what it should represent. On it, you have different single-colored lithographic-like illustrations of the symbols you can bet on. When selecting an image, a little animation plays, and when you press roll, a 3D cup appears, shaking a trio of 3D dice that display your roll outcome.
The music here is a tune created in a traditional Chinese style, and while suitable, it is super repetitive, as it loops every few seconds.
While the presentation of this crypto dice game is simplistic, it attempts something novel. So we will give it props for that. We always like it when someone tries something new.
User Experience
The UX is pretty straightforward in Roll the Dice. You have your chips bet amounts below the game's symbols. Once you click on them and pick a token, four buttons will pop up, two on each side of the chips. The ones on the right are the roll and the double your wager options, and those on the left are the undo and clear functions.
Your balance and total bet information live in a lower section of the screen, and in the top left, the three-bar icon has gotten positioned, giving you access to the payout explanation by default. You can go to the rules and settings page via scroll and cog icons at the bottom. They are on the right of the payout coin stack.
Tension & Anticipation Value
We experienced no tension playing this game. It is light-hearted in a way, thanks to its soundtrack and visuals. Given its maximum wager of $500, we can see how things can quickly get hot and heavy here. Yet, seeing as we fall into the low-roller crowd and do not expect to walk away rich from a game like this, particularly after seeing its winning odds, we cannot say we were brimming with any anticipation playing it.
RTP & Variability
There is no variance setting here. The default RTP is 92%.
Min/Max Multipliers
The lowest payout you can attain in Roll the Dice is a one-to-one win. The highest prize is a reward paying odds of thirty-three-to-one.
House Edge
If the RTP of this game is 92%, then that would make its house edge 8%.
Winning Strategies
We do not know what to tell you. The odds here are not terrific, and there is no bet combo available ensuring quality winning chances comparable to those in proprietary dice games or something like blackjack. Hence, we will just say play for fun. You can explore standard betting schemes. That is up to you, but we would advise against it.
Summary – Is Roll the Dice Worth It?
We liked that this game has a different vibe to what we usually see in this genre. Furthermore, its max wager is quite substantial, at $500. Still, the RTP in Roll the Dice is low. And we are not going to lie. The gameplay does get a bit monotonous. We do like that you can bet on all the symbols in this game and appreciate its overall look and simplicity. Therefore, we will – say pop it open and see if it satisfies your needs. We doubt it will become anyone's favorite, but it is a nice change of pace.
FAQ
Can You Play Roll the Dice for Free?
Absolutely. Go to Woohoo's website and test this game out in demo mode. You may have to verify your age first before getting allowed this option.
Can You Watch Roll the Dice Live?
Sure, you can find such a feed. However, as discussed twice above, few gambling websites carry Woohoo's creations, and not loads of streaming platforms allow crypto casino streaming.
What Is the Most You Can Win at Roll the Dice?
Since the max wager here is $500, and the best payout stands at x33, this dice game's top reward is $16,500.
Relevant news