Crypto.Games Dice Review
Hello fellow GOSUS and welcome back to check another review. Time for the Crypto.Games dice game to be reviewed. Crypto.Games is one of the oldest (since 2014) crypto-related casinos with a very good reputation and almost all crypto gamblers have tried them out and made some rolls on the site. If you are not among them, then it will be great to visit it and play. Let's start with our review, shall we?
The first thing that you will notice on their Dice page (they have other games as well) is that it is an "all in one" page. Meaning, that everything that you want/ need can be found on the same page. No fancy graphs or impressive templates, just simple and pure things. At the top and from left to right you will see the balance that you have, a drop-down menu for the game that you want to play, another drop-down menu with the available coins, a button to switch from Light to Dark color, and your account menu. The page is some kind of a split-screen. On the left side you can find all the betting options and buttons, on the right side you can find the history and all the statistics that you might want to see, personal or general (the whole casino).
On the betting side you can find four buttons from top to bottom. "Manual Bet", "AutoBet", "Info/ How to play", and "Provably fair". In the "Manual Bet" mode you will see the "Bet size" (Min – ½ – X2 – Max), the "Payout" (Min -/+ Max), "Win amount" and "Win chance", the basic buttons (and adorable) "Roll over" and "Roll under". The default setting is the minimum in "Bet size", which is 1 satoshi with "Payout" in 2.0000, meaning that your "Win amount" is 1 satoshi as well, and "Win Chance" is 49.500%. You roll over or under and depending on the outcome you will see a red or a green box. I really wish you all to see the green one, in every roll of yours!
"Auto bet" mode is probably the most complex mode in dice sites. Besides the classic Base bet size and Payout, you will see other helpful options like On win, To win, On loss, Limits. Personally, the last one was pretty handy, if you get my point… As always, be careful when you use "Auto bet". Mistakes can be heavy (and costly).
The "Provably Fair" tab is a very good tool for fast checking your or others bet and be sure that everything is working great. Also, Crypto.Games run a lot of contests with great vouchers and good money prizes, plus that you can bet in 8-9 different coins besides BTC. From its start, Crypto Games kept a straight forward clean-lined appearance. No spectacular graphics neither fancy colors. Just big options, an easy navigating system with no fuss, and a feeling that you are betting as safe as possible.
P.S: On the left side of your screen, when you are on your favorite game page, you will notice the small chat box. There are some contests and small games in the chatbox, why not say "hello" and try to get a boosting reward. Thank you for reading and until next time, ₿e lucky GOSUS!
Relevant news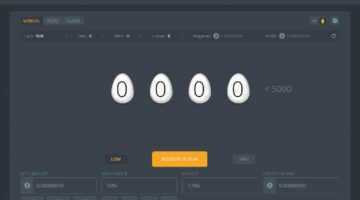 DuckDice Dice Game Review
Time for another game review, this time for the dice game of DuckDice casino. DuckDice…
read more +
WOLF.BET Dice Review
In this post we will be previewing/ reviewing the Dice game of WOLF BET casino,…
read more +